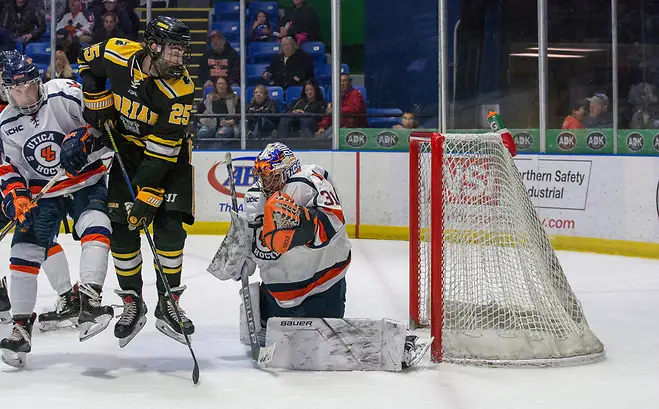 There have been many changes of note in the UCHC this season. New contending teams like Wilkes, a new playoff format that includes a two-game series in the semifinals, and, most importantly, the first autobid into the NCAA tournament in league history. For Utica coach Gary Heenan, the goal from the beginning of the season was to win the league and earn the ticket to the big dance. Starting on Friday night, that journey gets very focused for the red-hot Pioneers.
"After last year, I looked for making our schedule more difficult, particularly against nonconference opponents," noted Heenan. "I did that before we knew about the waiver and the conference autobid, so we took a while to find ourselves with just three seniors and a pretty young roster overall."
At the end of November, Utica carried a 5-5-0 record that saw them struggle for consistency and winning weekends. Chasing the newcomers from Wilkes and others in the UCHC standings, Utica has lost just once since Nov. 24 and is unbeaten in their last nine games, which catapulted them to the regular season title and top seed in the tournament.
"The trip to Wisconsin really turned things around for us as a team," said Heenan. "Anytime you get a group together for four days on the road, there is definitely some bonding and chemistry that comes together. On the ice, I thought the big comeback in the third period against a good St. Thomas team proved to our guys that we could play. In the championship game against Stevens Point, even though we lost I thought we played very well, taking a 2-1 game deep in the third period. We came back from that trip a different team and have been on a good roll since."
A key ingredient in Utica's recent run of success has been the guy standing in the crease. At the beginning of the season, incumbent Patrik Virtanen figured to be back in goal for the Pioneers, but the Finnish netminder left the team just six weeks into the season. Little did Heenan and the staff know they had a number one guy waiting in the wings in junior Gianluca Baggetta. Baggetta (13-3-2; .944 save percentage; 1.65 goals-against average and three shutouts) has been part of a defense that has surrendered more than two goals only twice since the end of November. Numbers like that will find your team having a chance to win almost every night.
"Even last season 'Baggs' wanted time and felt he was just as good as Patrik," said Heenan. "He is a steady presence out there, even though he is only about 5-foot-10. He is a quiet kid, and you never know how a goalie is going to respond when he is suddenly the no. 1 guy. 'Baggs' has been a big part of our success and may not be a name that everyone knows, but he is right at the top of the national statistics with the guys everyone talks about and has been everything we could ask for in goal for this team."
The goaltending and solid defensive play have certainly been needed for a team that has struggled with power-play production. Clicking at just 11 percent, the Pioneers have been far better playing a man down than with the advantage.
"I think lately we have been doing a lot of good things on the power play, but haven't been getting a lot of good bounces," noted Heenan. "I think sometimes we try to be too pretty instead of just mucking in front of the net and battling for loose pucks and rebounds. We went 2-for-5 on the power play in our last game against Wilkes, so hopefully that is a good sign entering this weekend's semifinals against Nazareth."
While the young guys have bought in and matured in the second half of the season, the other big advantage playing in the Pioneers' favor is playing at home for as far as they can go in the playoffs. Utica was 8-0-1 in conference play at home and will face a disciplined Nazareth team in the two-game (plus mini-game) format starting on Saturday.
"We have been very good on home ice, and it is an advantage for us with the crowd and support we get here," said Heenan. "It is especially great for our seniors like Gregg Burmaster, who is a local kid from the Utica area, and Shawn Lynch, who is just up the road in Syracuse. I think they both have about 50 people coming this weekend. While the games are scheduled for Saturday and Sunday, we will still have a great crowd and a lot of support in this new format. Get three points and move on to the finals. The first game is critical, so I am sure we will be ready to play on Saturday."
Their opponent, Nazareth, upset the No. 3 seed Wilkes on Tuesday night, but Heenan is not surprised by who he is facing this weekend.
"George [Roll] has been around a long time and is a great coach that has his team playing very disciplined hockey," stated Heenan. "I don't know a team that gets outshot every game and finds ways to win like they do. You can't make a mistake, or they will put it in the back of your net. We are expecting a great series and hopefully will move one step closer to our goal of winning the first UCHC conference title that includes a trip to the national tournament."