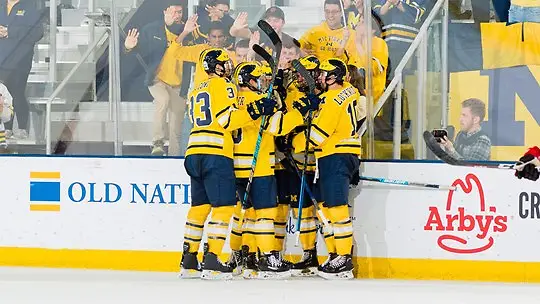 Michigan came from behind on two goals from freshman forward Nolan Moyle to defeat No. 6 Ohio State 4-2 on Friday night at Yost Ice Arena.
Moyle tallied at 9:30 and 16:49 of the third after Quinn Hughes had knotted the game 1-1 at 19:58 of the second.
Tanner Laczynski scored for OSU at 5:44 of the third to give the lead back to the Buckeyes before Moyle went to work.
Jimmy Lanbert added an insurance marker for the Wolverines at 18:50.
"We found a way to seal the deal," said Michigan coach Mel Pearson. "That's a big goal there by Jimmy Lambert. We continued to play to the end."
"For the most part, I thought we played a good road game," added Ohio State coach Steve Rohlik. "We had our opportunities. We just didn't get it done."
Mason Jobst also scored for Ohio State.
Michigan's Strauss Mann finished the night with 29 saves in goal, while Ohio State's Sean Romeo made 21 stops.
No. 1 St. Cloud State 4, Omaha 1
Ryan Poehling scored twice to lead the Huskies to a 4-1 win over Omaha.
Nick Poehling and Sam Hentges also scored to back David Hrenak's 22 saves.
On a roll! @SCSUHUSKIES_MH take a 4-0 lead with 2nd goal of the night by Ryan Poehling at 11:44 of the 2nd. Unassisted. pic.twitter.com/Ks6GBsmgPj

— SCSU Men's Hockey (@SCSUHUSKIES_MH) February 23, 2019
Mason Morelli busted Hrenak's shutout bid at 9:01 of the third period.
Evan Weninger made 27 saves for the Mavericks.
Boston University 1, Vermont 0 (OT)
Chad Krys scored the game's lone goal on an empty-netter in overtime to give the Terriers the win at Gutterson Fieldhouse.
Vermont needed two points to keep its slim Hockey East playoff hopes alive and pulled goaltender Stefanos Lekkas with 30 seconds left in overtime, but Krys found the middle of the net from the neutral zone with 16 seconds left to end the game.
Jake Oettinger stopped all 29 shots he faced for his second consecutive shutout, while Lekkas stopped all 43 shots he faced.
North Dakota 4, No. 3 Minnesota Duluth 1
Four different players – Mark Senden, Hayden Shaw, Casey Johnson and Cole Smith – scored for the Fighting Hawks and Peter Thome turned aside 21 shots in goal.
🚨 SHAW-TY! 🚨

🚨 Shaw (SHG, 3rd)
🍎 Gardner, Senden#UNDproud @UNDmhockey @TheNCHC pic.twitter.com/pUI68NCjGn

— UND Insider (@UNDinsider) February 23, 2019
Nick Swaney scored for UMD and Hunter Shepard stopped 18 shots between the pipes.
No. 19 Penn State 8, Wisconsin 2
Behind six unanswered goals and a four-point night from Denis Smirnov, No. 19 Penn State defeated Wisconsin 8-2 from Pegula Ice Arena.
Smirnov tallied two goals and two assists, while Cole Hults added a goal and two assists, Brandon Biro two goals and Peyton Jones 29 saves in goal.
"[Smirnov] is working hard and that is often what happens," said Penn State coach Guy Gadowsky. "It's funny how that works in every business in sports, the harder you work, the more good things happen, and I hope it continues."
Rensselaer 3, No. 9 Cornell 2 (OT)
Todd Burgess scored with 52 seconds left in overtime to send RPI past ninth-ranked Cornell at Lynah Rink.
GOAL! Todd Burgess wins it in overtime! pic.twitter.com/hJQG29OmqG

— RPI Men's Hockey (@RPI_Hockey) February 23, 2019
Brady Wiffen and Nick Bowman added goals for the Engineers and Owen Savory kicked out 35 shots in net.
For Cornell, Jeff Malott scored both goals, while goaltender Matthew Galajda made just 13 saves.
Miami 3, No. 7 Denver 1
Denver fired 47 shots, but fell to Miami 3-1 on Friday at Magness Arena.
The Pioneers outshot the RedHawks 47-21, but Ryan Larkin's 46-save performance guided Miami to victory.
"I think there was a lack of desperation and there was also a lack of execution," DU coach David Carle said. "We had some line rushes, some four-on-twos and three-on-twos, so lots of chances to make plays, but we did not execute offensively."
Shark gets the skate across!

Watch live: https://t.co/KQE1UTDzOt#RiseUpRedHawks pic.twitter.com/WO0pmSkuFb

— The Brotherhood® (@MiamiOH_Hockey) February 23, 2019
Ryan Siroky scored twice for the RedHawks and Karch Bachman added a single.
Ian Mitchell netted Denver's goal and Devin Cooley stopped 18 shots for the Pioneers.