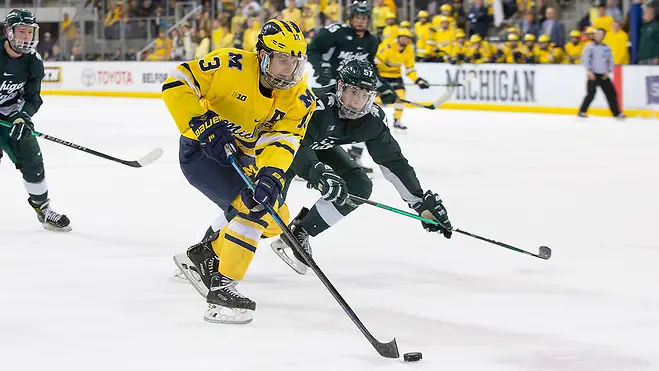 Sitting 23rd in the PairWise rankings, Michigan knows that its route to the NCAA tournament relies on its performance in the conference playoffs.
The Wolverines can do themselves a favor by locking up home ice for the first round of the Big Ten tournament this weekend when they wrap up the regular season at Wisconsin.
"We're in playoff mode already, and we have been for a while, I think most of the Big Ten teams can say that," Michigan coach Mel Pearson said. "The standings are so tight. Even Ohio State, they were still scraping try and get this championship out of the way."
The Buckeyes put a bow on their regular-season title last weekend at Yost Ice Arena, but the Wolverines took four of six conference points from the series.
"I liked how we played," Pearson said. "We won the season series versus them, we went 2-1-1, and they're arguably the best team in our league."
Pearson said that games had a great atmosphere.
"The arena was just crazy," he said. "I've been at Yost a lot of times and I don't know if I've seen it as crazy and energized as it was this weekend. I thought it was a solid weekend of hockey by our team and it should give them some confidence."
Not that he needed convincing, but it reminded the coach how much of a luxury it would be to host the best-of-three first round of the conference playoffs at Yost.
"People tell you the hardest place to play is Yost Ice Arena, just because of the crowd itself," Pearson said. "It's a huge advantage to us. That's one of the goals we have every year, to get home ice in the first round. To have to win two out of three, that's hard on the road. Anywhere, that's hard, one game shot anything can happen but two out of three is really an advantage for the home team."
The Wolverines rode a wave of second-half momentum all the way to the Frozen Four last season. They haven't found the same second-half success this year but are 4-2-1 in their last seven contests.
"All the teams that I coach seem to be second-half teams, for whatever reason," Pearson said. "Part of that is we play the young guys a lot early and you're going to take your bumps with them. We've played pretty well since Christmas against good teams on the road and at home.
"We're starting to see contributions from our freshmen that got a lot of minutes early, and maybe we struggled with some of them. Whether it's Nolan Moyle, Garrett VanWyhe, Nick Blankenburg, Jimmy Lambert or Jack Summers, guys have really started playing well and contributing offensively."
Michigan's goal-scoring duties are, more or less, evenly split. Will Lockwood leads the team with 14 goals and Jake Slaker, Nick Pastujov and Josh Norris each have 10. A smattering of players have between five and eight goals, also. Pearson said he is satisfied with the scoring depth the team currently has.
"It's come on, maybe if you asked me a month ago I would tell you no,vbut we've had some guys chip in," he said. "We don't have a superstar, or a Taro Hirose or one line like the team up North from us [Michigan State], but we do have a lot of guys who, given the opportunity, can score."
He added that the depth could be important in playoff games, where top lines and defensive units can sometimes cancel each other out.
"It's those other guys that really can be big contributors and make the difference in games," Pearson said. "I think that's one thing that we have, maybe more so than some other teams."
To secure home ice Michigan needs to beat the one Big Ten team that it hasn't been victorious against this season. The Wolverines and Wisconsin tied both games of their series at Yost earlier this season.
"They might be the most talented team from top to bottom in our league, individually," Pearson said of the Badgers, adding that, like the Wolverines, Wisconsin may have some of its young players coming of age. "They're still trying to put things together, but when they do, like they did last Saturday against Penn State, they're really good."
So, as Michigan wraps up the regular season and advances to the postseason, what's one thing that will help the Wolverines get to where they want to be?
"Consistency from how we play night-to-night and consistency through our lineup," Pearson said. "A lot of nights we have a number of players playing and then some don't. We're looking for the consistency where you go out and say, 'He played well, he played well, he played well,' and you pretty well can go throughout the whole team and guys played up to their potential.
"That's what we tell our team all the time, all we want from you guys is your best. Nothing more, we don't ask anything more, but nothing less. Just give us your best and when we do that, we can beat anybody."