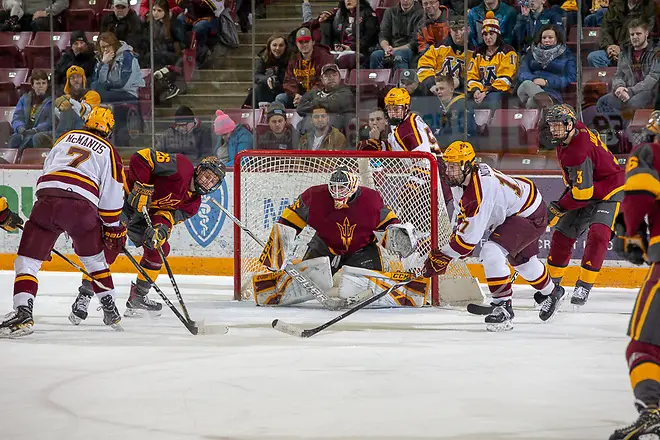 While many of the top teams were victorious on Friday, losses by Arizona State, Northeastern, UMass Lowell and Bowling Green provided a shakeup to the middle of the top 16 in the PairWise.
Arizona State and UMass Lowell didn't move, despite falling to Minnesota and New Hampshire, respectively. But Northeastern dropped to 12th and Bowling Green fell to the wrong side of the bubble after a loss to Alabama Huntsville, dropping to 17th.
Minnesota 5, No. 12 Arizona State 1
It simply was never close between Arizona State and Minnesota as the Gophers, after falling behind, 1-0, answered with five straight goals to upset the Sun Devils and leave some minuscule doubt whether or not Arizona State has clinched an NCAA bid.
While it is very close to secured, Arizona State, which did not fall in the PairWise on Friday, could be in peril if they lose again on Saturday, though the likelihood of missing the tournament at this point is still in the one percent range.
The snow isn't fun, but this win sure was! Don't miss out on the regular season finale tomorrow night.

Same time, same place: https://t.co/gkJjFQB6F8 pic.twitter.com/mmYwCsgcBp

— Minnesota Men's Hockey (@GopherHockey) March 2, 2019
Six different players recorded multiple points for the Gophers, which look to head to the Big Ten tournament with momentum from this weekend series.
Boston College 3, No. 9 Northeastern 1
Marc McLaughling's goal with 13:56 remaining set up Boston College's 3-1 upset of No. 9 Northeastern on Friday.
Austin Plevy gave Northeastern the lead in the second, but BC responded with the game's final three goals, including David Cotton's 19th of the season into the empty net to secure the victory.
🎥 The Highlights#WeAreBC 🦅 pic.twitter.com/BXv3KBAkqg

— BC Hockey (@BCHockey) March 2, 2019
Northeastern's Jeremy Davies, their top defenseman, was whistled for and elbowing major and game disqualification after Cotton's empty net goal. The reigning Hockey East Player of the Month will be suspended with the two teams play again on Saturday.
New Hampshire 1, No. 14 UMass Lowell 0
A plucky New Hampshire team, trying to fight for playoff position in Hockey East, used a Jacob Pierson goal late in the second period to edge the River Hawks, 1-0.
It was the second time in four games that Lowell lost by a 1-0 final.
🎥 Head Coach Mike Souza addresses the media after tonight's 1-0 win against #14 UMass Lowell! https://t.co/Ga6wVjofxi

— UNH Men's Hockey (@UNHMHOCKEY) March 2, 2019
Mike Robinson was the star for New Hampshire, making 29 saves to earn his fifth shutout of the season.
Alabama Huntsville 4, No. 15 Bowling Green 2
In possibly the night's biggest upset, Alabama Huntsville scored four third-period goals on the road to upset No. 15 Bowling Green, moving the Falcons to 17th in the PairWise Rankings.
Madison Dunn, Jesper Ohrvall and Hans Gorowsky all scored in less than four minutes to turn a 1-0 deficit into a 3-1 lead.
After Jacob Dalton's goal brought the Falcons within a goal, Connor Merkley sealed the game with an empty in the closing seconds.
No. 16 Notre Dame 5, No. 17 Penn State 4
In one of the night's most spirited games, Notre Dame overcame a three-goal deficit and score an overtime power play goal during a major penalty to defeat No. 17 Penn State, 5-4, and secure a home ice berth in next weekend's Big Ten quarterfinals.
Mike O'Leary scored twice for the Irish, including the game-winning goal in overtime. Penn State's Nikita Pavlychev was whistled for contact to the head with 53 seconds remaining in regulation, a major that carried over into the extra frame.
🎥 Full highlights from our wild 5-4 comeback win over Penn State!

Recap → https://t.co/HYUnwclFIs#GoIrish☘️ pic.twitter.com/GgY7NqwJRb

— Notre Dame Hockey (@NDHockey) March 2, 2019
The victory moved Notre Dame into the 15th spot in the PairWise, placing in position to potentially earn an at-large bid to the NCAA tournament.