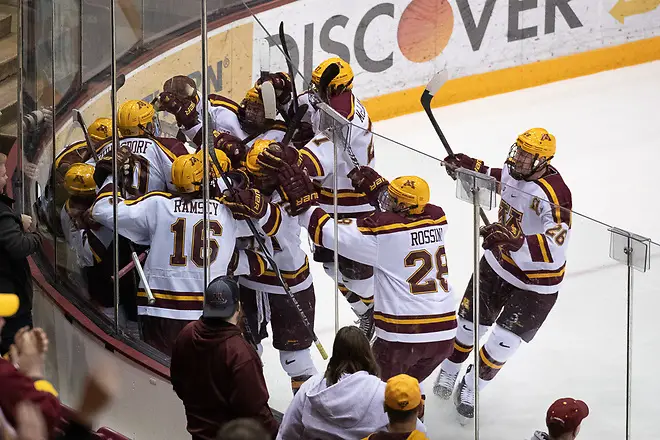 In a game Minnesota never led, a Brannon McManus power play goal at 10:10 of overtime gave the Golden Gophers a 3-2 victory and the lead in  the best-of-three Big Ten quarterfinal series against Michigan.
The Wolverines jumped to a 2-0 on goals by Michael Pastujov in the first period and Will Lockwood in the second.
Tyler Sheehy got Minnesota on the board at 4:42 of the second, pulling the Golden Gophers within one heading to the third. And Blake McLaughlin's tally at 9:06 forced the extra session.
Each team killed a penalty in the early going of the overtime period. But when Michigan's Jimmy Lambert was whistled for tripping at 9:23, it took less than a minute for the Minnesota power play to convert to earn the victory.
Other Big Ten playoff results
Notre Dame 1, Michigan State 0
Wisconsin 4, Penn State 3
Scoreboard | PairWise Rankings | Longest Games
Atlantic Hockey playoffs
Niagara 5, Canisius 4 (2OT)
Justin Kendall's goal at 9:53 of the second overtime period gave Niagara a 5-4 overtime victory over Canisius and a one-game-to-none lead in the best-of three opening round series.
Niagara forced overtime scoring with 12 seconds remaining in overtime on a Ben Sokay goal.
Other Atlantic Hockey playoff results
Robert Morris 1, Holy Cross 0
Army West Point 3, Mercyhurst 2 (OT)
ECAC Playoffs
Brown 3, Princeton 0
Hosting their first playoff game since 2013, Brown shutout visiting Princeton, 3-0, to take a one-game-to-none series lead in the ECAC opening round series.
Chris Berger, Max Gottlieb and Justin Jallen scored the goals for the  Bears while Gavin Nieto made 21 saves to earn the shutout.
Other ECAC playoff results
Union 4, Colgate 1
Yale 4, Rensselaer 1
Dartmouth 3, St. Lawrence 2
WCHA Playoffs
Northern Michigan 5, Alaska 4 (2OT)
Joseph Nardi's goal at 10:30 of the second overtime period gave Northern Michigan a dramatic-come-from-behind victory over Alaska to take one-game-on-none lead in the WCHA quarterfinal series.
The Wildcats trailed, 4-2, with less than 15 minutes remaining in regulation but Griffin Loughran's goal with 14:19 remaining and an extra attacker goal with 14 seconds left forced overtime.
Other WCHA playoff scores
Bowling Green 3, Michigan Tech 2
Minnesota State 3, Alabama Huntsville 1
Lake Superior 4, Bemidji State 2
Around the Nation
Connecticut 4, No. 2 Massachusetts 3
Connecticut, with nothing but pride to play for having been eliminated from playoff contention in Hockey East, upset No. 2 UMass, 4-3, to close to season on a high note.
The Huskies jumped to a 3-0 lead only to see UMass battle back to tie the game at 3 in the opening minute of the third period.
But 36 seconds after the Minutemen tied the game, Benjamin Freeman scored his second goal of the game, the eventual game-winner.