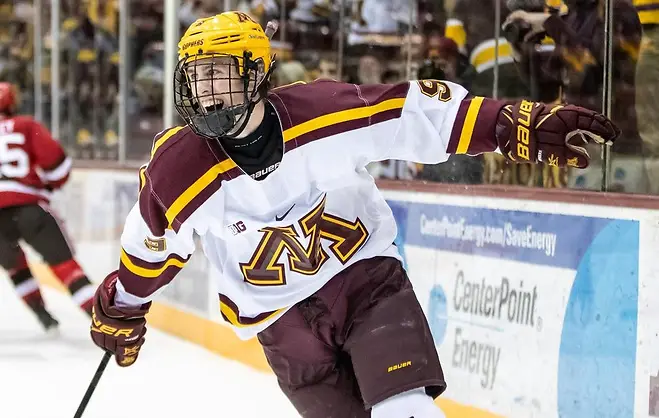 Sammy Walker was a sophomore at Edina (Minn.) High School three years ago when he committed to play hockey at Minnesota.
All 5-foot-9, 135 pounds of him.Sammy Walker was a sophomore at Edina (Minn.) High School three years ago when he committed to play hockey at Minnesota.
All 5-foot-9, 135 pounds of him.
He was the little forward who could fly, and tape measures and scales took a back seat to the trusted eye test when any and all college coaches came for a look.
Walker was certainly on Bob Motzko's radar at that time. Motzko was well on his way to building nearby St. Cloud State into a national program as its head coach, but when Walker opted for the Gophers it was a case of out of sight, out of mind for Motzko.
Fast forward to this past fall and the Gophers' first practice of the season. Walker — now 5-foot-11, 165 pounds — was beginning his college career after being named Minnesota's Mr. Hockey as a senior at Edina, a hockey powerhouse. Motzko took the ice for the first time after being named the Gophers' head coach.
Walker needed no introduction.
"When I saw him out there on the ice, I was darn glad he was here," Motzko said.
Walker's first regular season of college hockey is complete, and his breakaway speed and obvious elevated skill level often made him conspicuous when he was on the ice. Walker's 24 points (10 goals, 14 assists) are fourth-best on the team. He also is the leading goal scorer among freshmen in the Big Ten this season.
"He's an electrifying skater," Motzko said. "He can just step away from people. Two strides and he's gone. But the other thing is that he has a tremendous work ethic. He's been a catalyst for us on so many nights. [His teammates] are probably sick of watching him because he shows up every game on film."
The offer from the Gophers came after Walker was picked to play for the U.S. in the Five Nations Tournament and also played for the Select 16 team.
He reached 5-9 as a high school sophomore after a bit of a growth spurt; he was 5-6 as a freshman. Family history told him that he would do some catching up as he progressed through high school. Today his body is best described as long and lean. Walker knows he needs to get stronger, but he's not going to force things.
"You want to gain weight but you don't want to lose that speed," Walker said. "So I will keep doing the drills to work on my skating."
Motzko has no doubt that the added strength will come, both due to working out in the offseason and as Walker's body matures. The biggest impact it will have, Motzko believes, is that it will make him more dangerous as a goal scorer.
"That added strength will bring some heaviness to his shot," Motzko said. "He's had a lot of opportunities that didn't turn into goals because of his shot. His best hockey is still to come."
Asked if he has come across anyone who is faster than him, Walker said, "My brother (Jack)."
Jack Walker, 22, played major junior hockey rather than attend college and was drafted by the Toronto Maple Leafs in the sixth round in 2016. He currently plays for the ECHL's Utah Grizzlies.
Walker's oldest brother, Ben, 25, also played major junior hockey and played professionally in Europe before deciding to retire from the game.
Playing in the NHL has always been Walker's dream, and he was thrilled to be selected by Tampa Bay in the seventh round of the 2017 NHL draft. His speed and overall approach to the game could turn him into a steal for the Lightning.
He attended Tampa Bay's prospect camp last year and will do so again this summer. In the meantime, Walker isn't ready to put an end to his freshman season. Happy with his individual play this season, while acknowledging that the Gophers' season has had its highs and lows, believes the team is moving in the right direction with the Big Ten Tournament next up.
The Gophers (16-15-4 overall, 11-10-3 Big Ten) are the No. 3 seed and host No. 6 Michigan (13-14-7, 9-10-5) for the best-of-three series that begins on Friday.
"We know we have to win out," Walker said of the Gophers' hopes for making the NCAA tournament field of 16. "I think we're ready and will be up to the challenge."