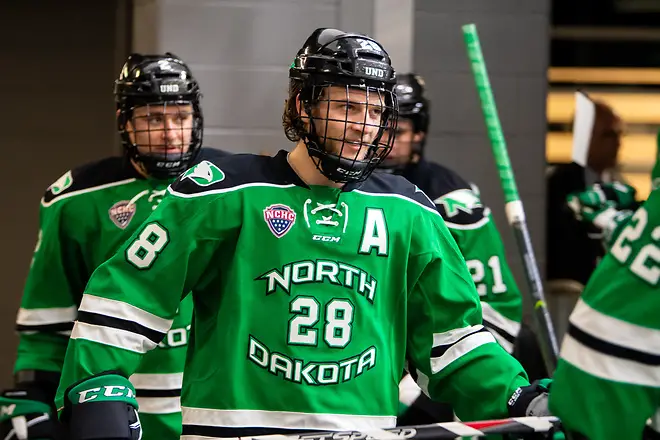 It's playoff season as four of the six leagues began their postseason this past weekend.
To me, it's the best time of the year.
And there is one thing about the postseason that makes these moments, special (hint: it's No. 1 on my list).
1. If you love overtime, you loved this weekend
There were 33 playoff games this weekend. Eight of them, nearly a full 25 percent, needed overtime. Three needed more than one overtime.
Nothing in hockey compares to sudden-death playoff overtime. In college, it can mean wearing your jersey and skating with your teammates for the final time and it's all decided when a puck goes into a net.
Other sports have their own things that make them special. For me, it's playoff overtime and the celebration of that victory.
2. Where were the fans?
Minnesota, I'm looking at you. Where were your fans?
Seriously, this team that supposedly averages almost 8,000 fans per game couldn't put 2,000 fans into Mariucci Arena on either night? What a disappointment.
We hear coaches complain all the time about NCAA regionals and the inability to create great environments in certain cities, particularly if there isn't a team local to the venue. Well, when you're playing conference tournament games at campus sites, it's embarrassing to fill less than 20 percent of the seats.
And yes, I know the Minnesota high school tournament was this weekend. But can't schools find a way to market these games?
3. Hockey East unpredictable down to the last game
Two teams in Hockey East had nothing to play for as Connecticut and Vermont each were eliminated from the league's tournament weeks ago. That didn't stop both from putting forth excellent efforts, UConn upsetting No. 2 UMass 4-3 and Vermont earning a 2-2 tie with UMass Lowell.
The tie opened the door for Boston University to win on Saturday night in the league's final game of the regular season against a Maine team that was locked into the sixth seed. Maine started senior goaltender Rob McGovern, who hadn't started a game all year.
Of course, in unpredictable form, BU got blown out of the barn, losing 6-0, and now will head to Lowell for the quarterfinals.
Expect the remaining eight teams to play some pretty unpredictable games in the quarterfinals next weekend.
4. North Dakota heads to postseason on a high note
It's been an up-and-down year for North Dakota, but the Fighting Hawks finished off their regular season on a high note sweeping a plucky Omaha team.
North Dakota will now travel to Denver for the NCHC quarterfinals pitting two of the last three national champions against one another in a best-of-three series.
Denver is very close to sewing up its NCAA bid while North Dakota needs to reach the NCHC title game just to have a possibility of earning an at-large bid. That may be the best playoff series throughout all of college hockey next weekend.
5. Brown wins a wild one to advance past Princeton in 18th-longest game
For Brown, Saturday night probably seemed like a cakewalk. After winning Friday's opening game of their best-of-three first-round series over Princeton, Brown had a 5-2 lead late in regulation and made an ECAC quarterfinal bid seem like a foregone conclusion.
But a never-say-die Princeton team pulled its goaltender in the final four minutes and scored not once, not twice, but three times, forcing overtime.
And there was nothing short about that overtime, as the teams needed three extra periods before Alex Brink scored at 3:30 of the third overtime period. The game, at 103:30, was the 18th-longest Division I men's hockey game of all time.
6. Gritty Army West Point team sweeps Mercyhurst
This has hardly been an ideal season for Army West Point, which finished 10th in Atlantic Hockey. But this past weekend righted a lot of wrongs as the Golden Knights swept seventh-seeded Mercyhurst on the road to advance and face top-seeded American International in the Atlantic Hockey quarterfinals.
Friday's opener of the series needed overtime before Dominic Franco ended things. On Saturday, a quick three-goal blast in the second game put things out of reach and provided the weekend's only major upset.
7. Hirose's season ends, but does his Hobey hopes as well?
Michigan State's Tiro Hirose, who ends this weekend as the nation's leading scorer, won't play another game after his team was shut out on back-to-back nights by Notre Dame in the Big Ten quarterfinals.
That begs the question where Hirose will fall in the Hobey Baker vote. The line that Hobey loves scoring is well known, but Hirose's 50 points likely won't impact the vote given that he'll be done with his season for three weeks by the time that the voters cast their ballots.
Also hurting him will be the fact that in the biggest games of the season this weekend, Hirose – and his team – were completely shut out.
8. Why were the top seeds so successful this weekend?
That's a question that easy to ponder but difficult to answer. But when the playoffs completed this weekend, Army was the only lower seed to win and advance. Thus, the favorites won 13 of the 14 playoff series this weekend, and 10 of those 13 came via a sweep.
If you're thinking that maybe not allowing every team in a conference to make the playoffs, the WCHA didn't do much to support that case. That conference eliminated their bottom-two clubs, sending just eight to the playoffs. Yet the top four seeds didn't just advance, they swept their quarterfinal series.
Sure, as I mentioned in my open to this piece there was plenty of competitive games and great overtime moments this weekend, but when very few resulted in upsets.
9. If the Gophers win the B1G, watch out
Minnesota's only road to the NCAA tournament is to win the Big Ten tournament. But if they do, they could be one of the more dangerous teams.
The Gophers have won seven of eight games, including sweeps of both Ohio State and Arizona State and a split against Notre Dame, all nationally-ranked teams.
The problem will be getting to the big dance. Minnesota must win on the road at Notre Dame this week in a single-elimination semifinal and then either travel to Ohio State or host Penn State for the B1G title game.
10. Hughes leads start of big-name departures
Not surprisingly, Michigan's loss to Minnesota on Saturday also signaled the end of career for Michigan's Quinn Hughes.
Hughes was the seventh overall pick in 2018 by Vancouver, which wasted no time inking the prospect, who announced Sunday he'll forego his final two years at Michigan.
Former Michigan coach Red Berenson used to say that if a player was ready for the NHL, he'd drive him to the airport. I don't know if Mel Pearson was providing a chauffeur service on Sunday, but he likely is in full belief that two years was sufficient to help this young talent develop.