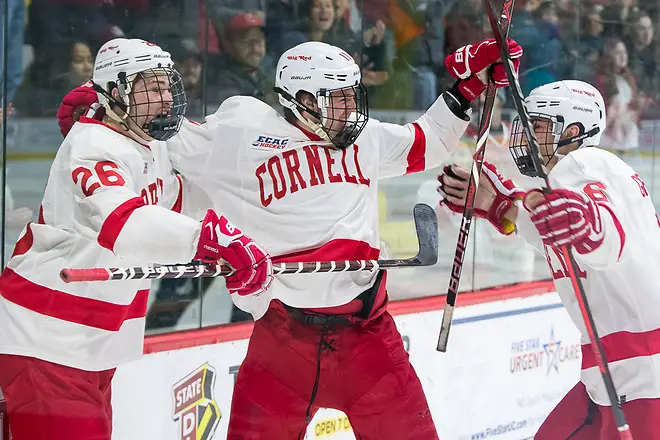 Each week during the season, USCHO.com will pick the top 10 moments from the past weekend in our Monday 10 feature.
1. Controversial call goes against Minnesota in season-ending loss
Minnesota's season came to an end Saturday in a 2-1 overtime loss at Notre Dame. Both teams needed to win the Big Ten playoffs to advance to the NCAA tournament, but the Golden Gophers were eliminated on a particularly sour note.
Minnesota senior captain Tyler Sheehy was whistled for a questionable hooking call 31 seconds into overtime. Sheehy looked to have lifted Notre Dame forward Colin Theisen's stick cleanly in the neutral zone, but 22 seconds of game time after Sheehy went to the penalty box, Notre Dame's Michael Graham scored to lift the Fighting Irish into this Saturday's conference playoff title game at home against Penn State.
It was tough way for nine Minnesota seniors to go out. The Gophers had won seven of their last eight games before Saturday and had swept Michigan in a first-round playoff series in Minneapolis.
Coach Bob Motzko saw his first season at Minnesota end at 18-16-4. Despite catching fire down the stretch, the Gophers will miss the NCAA tournament for the third time in the last four years.
2. Penn State upends Buckeyes
Big Ten regular-season champion Ohio State won't play for the conference's playoff title after the Buckeyes fell 5-1 Sunday at home against Penn State.
Having outlasted Wisconsin in a three-game first round series, Penn State is now on a three-game winning streak after rolling to victory in Columbus. Five different Nittany Lions scored, and goaltender Peyton Jones made 31 saves, including 13 in the third period.
Sunday's game was Ohio State's first in 15 days after the Buckeyes earned a first-round playoff bye. OSU's results of late have been iffy, though, with just one outright victory in the Buckeyes' last seven games.
Sunday's result was huge for Penn State, which currently sits 16th in the PairWise Rankings ahead of this Saturday's conference title game at Notre Dame. Ohio State is 8th in the PairWise and still holds by a comfortable margin the highest ranking of any Big Ten team.
3. Boston College puts Providence on thin ice
Boston College is eight games below .500, but the Eagles are moving on to the Hockey East semifinals after upsetting seventh-ranked Providence in a three-game quarterfinal series.
After losing its regular season finale March 7 at Providence, BC returned to the Rhode Island capital on Friday for Game 1 of the teams' playoff set.
Providence won the opener 5-4 on a Brandon Duhaime goal 91 seconds into overtime, but the tables were turned Saturday when BC won 4-3 in extras. A Marc McLaughlin power-play goal tied the game with 4:52 left in regulation, and Logan Hutsko extended the series by scoring 23 seconds into the extra period.
Sunday saw the teams play out another one-goal game, though this one ended in regulation as BC won 2-1. The teams traded power play goals prior to Hutsko becoming the hero again by scoring the eventual game-winner with 8:05 left.
BC will play Massachusetts in a semifinal game on Friday in Boston. Providence is now in an unenviable position, sitting 14th in the PairWise Rankings.
4. Boston University beats UMass Lowell on road
Boston University will make its 15th trip to the Hockey East semifinals from the last 18 years after winning a three-game playoff series last weekend at UMass Lowell.
Terrier goalie Jake Oettinger's 13th career shutout helped power BU to a 3-0 in Friday's opener at Tsongas Center, but UML tied the series with a 6-4 win on Saturday.
Sunday's deciding game saw BU fly out to a 3-0 first-period lead on goals from Chad Krys, Joel Farabee and Patrick Harper. Kenny Hausinger pulled a goal back for UML eight minutes into the third period, but Harper then put the series on ice by scoring his second goal of the day with 52 seconds left.
Currently 24th in the PairWise Rankings, BU will look to play a spoiler role later this week as the Hockey East tournament continues. To keep going, though, the Terriers will have to upset ninth-ranked Northeastern.
5. Brown upsets Quinnipiac, ends long Bobcat streak
History was made on Saturday in Hamden, Conn., when visiting Brown clinched a ECAC Hockey playoff series sweep over Quinnipiac.
Both games were one-goal affairs that could have easily gone the other way. Brown snatched a 2-1 overtime win in Friday's opener, with Brent Beaudoin scoring with 21 seconds left in regulation before Jack Gessert scored 17:02 into the extra period.
The Bears ground out another win on Saturday, 4-3. Two Alex Whelan goals in the game's first 14:12 put Quinnipiac ahead 2-0 before Brown scored four consecutive goals in the third period. Tommy Marchin scored twice in the third period, while Beaudoin and Max Gottlieb scored once each. Craig Martin gave Quinnipiac hope with 1:56 left, but Brown goalie Gavin Nieto shut the door the rest of the way to finish with 28 saves.
Brown (15-13-5) advances to Lake Placid, N.Y., while Quinnipiac (25-9-2) awaits its first-round pairing for the NCAA tournament. The Bobcats had won a playoff series 20 years in a row, including 14 as ECAC Hockey members, before falling to Brown.
6. Niagara knocks off two-time defending AHA champion Air Force
Atlantic Hockey will have a new playoff champion after Niagara swept Air Force on the road last weekend.
Two goals from Ludwig Stenlund, the second one coming 7:38 into overtime, helped lift Niagara to a 3-2 overtime victory on Friday. The Purple Eagles then won another tight game on Saturday, 5-4, to knock out Atlantic Hockey's two-time defending champions. Five different Niagara players scored on Saturday, and the Purple Eagles blocked 23 Air Force shots.
Niagara will make its first conference semifinal appearance since 2014. Air Force finishes at 16-15-5 and snaps a two-year streak of making the NCAA tournament. The Falcons caused a stir at last year's West Regional by upsetting St. Cloud State in an opening-round game.
7. American International outlasts Army West Point
The No. 1 seed from Atlantic Hockey is still alive after American International beat Army West Point in three games in the teams' playoff series last weekend in Springfield, Mass.
AIC won Friday's opener 4-0 on goals from four different Yellow Jackets as well as 20 saves from goalie Zackarias Skog, but Army West Point bounced back on Saturday by winning Game 2, 2-1.
Matus Spodniak put AIC on the board first eight minutes into the second period, but the game was tied at 1-1 after 40 minutes and Dalton MacAfee scored the winner early in the third period.
AIC never trailed in Sunday's deciding game and defeated the Black Knights, 4-1. Jan Stefka's goal 15:47 into the second period stood up as the winner before Blake Christensen scored twice in the game's final 14:55. MacAfee had Army West Point's lone goal in the game, scoring with 5:22 left in between Christensen's strikes. Skog was busy, making 33 saves.
This Friday, AIC will face Robert Morris in an Atlantic Hockey semifinal. Robert Morris also played a three-game quarterfinal set last weekend, and won Sunday's Game 3, 3-2, on a Justin Addamo overtime goal.
8. UND out after getting to Denver long way round
North Dakota had an interesting week, and not in a good way.
The Fighting Hawks made their way to Denver on Wednesday for the teams' weekend playoff series, but a severe snowstorm in Colorado forced a diversion to Albuquerque, New Mexico. UND bused the rest of the way before being swept by the Pioneers.
Coming off consecutive losses against Colorado College, DU won Friday's postseason opener 2-0 despite being outshot 32-17. Freshman goaltender Filip Larsson was up to the challenge in earning his second career shutout, and Tyson McLellan's goal off a one-timer late in the first period stood up as the game-winner.
Denver was heavily outshot again Saturday, 42-18, but Larsson came up big again and Ian Mitchell and Cole Guttman had a combined four points in the Pios' 4-2 win.
Denver will look to play its way into a regional No. 1 seed this week at the NCHC Frozen Faceoff. North Dakota will miss the NCAA Tournament for a second consecutive season and only the third time in this century.
9. St. Cloud State off to St. Paul
Top-ranked St. Cloud State found safe passage to the NCHC playoff semifinals last weekend after sweeping Miami in the teams' first-round series.
SCSU never trailed in a 5-2 win on Friday but came across tougher sledding Saturday in a 6-3 victory. Miami led 1-0 after the first period on a Karch Bachman goal before he scored again midway through the second period to tie the game at 2-2.
The game was deadlocked again at 3-3 after SCSU's Robby Jackson and Miami's Brian Hawkinson scored once apiece in the third period's first 4:38. The Huskies finally pulled away after that, with Sam Hentges scoring the game-winner at 6:42 before assisting on a goal five minutes later from Easton Brodzinski, who had set up Hentges' goal. Blake Lizotte put the game to bed with an empty-netter with 2:33 left.
Miami finished a difficult season at 11-23-4. The RedHawks dropped their last seven games and only won two games after the holiday break.
10. One series still going on
Western Michigan and Colorado College will play the third game of their NCHC quarterfinal series tonight in Kalamazoo, Mich.
Game 1, which was set for Friday, was pushed back a day due to travel issues brought about by a winter storm bearing down on much of the midwest. CC took the opener on Saturday, 2-1, with Erik Middendorf scoring the eventual game-winner on a power play 6:42 into the third period.
Two Dawson DiPietro goals helped Western to a 5-2 victory in Sunday's rematch. The Broncos never trailed, but Corey Schueneman's goal 19:33 into the second period was the eventual winner.
Tonight's deciding game is scheduled for 7:05 p.m. local time.