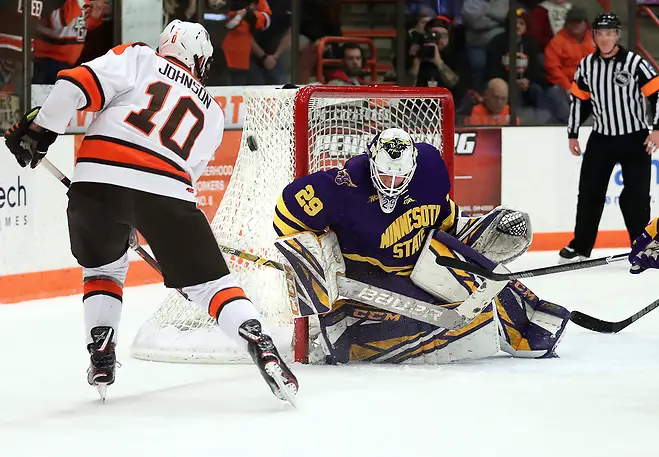 Even as No. 13 Bowling Green started the season hot, it's final two months of the regular season were anything but that, coach Chris Bergeron says.
The Falcons (25-9-5) had a seven-week stretch of inconsistent play, which led to them splitting in almost each WCHA series to wrap up the regular season.
"I don't know what was going on," Bergeron said Monday afternoon. "You look back at it, and it was everything – scoring, defending, the power play. We've been one of the better defending teams, our goals against per game has been top five and our penalty kill has ranked high, but even those things were inconsistent.
"I wish I could have put my finger on it, looking back at it right now. Our last 18 games, we were 12-6-2. The first half of the season we were 13-3, and that's pretty good, which is why it made it all too frustrating during the second half of the season.
"But our last few weeks have been pretty good. I would like to see some more consistency, but looking at our body of work, I'm pretty proud of this group."
Yet Bergeron never worried about his guys, and here we are. The Falcons visit No. 2 Minnesota State this weekend for the WCHA title.
Bowling Green has ripped off five-straight wins, including sweeping both Michigan Tech and Northern Michigan in the conference playoffs. Its 25 wins are the most its had in a single season in 23 years. Bergeron has been on the Falcons' bench the last nine seasons.
Most importantly, though, for the seniors, this is their second trip to the WCHA championship. They lost 3-2 to Michigan Tech in double overtime in 2016-17.
Bergeron insists that has been a motivating factor, however.
"I think the motivating factor is this year's group just wants to be as good as they possibly can be," he said. "We've seen our A-game, and our A-game is pretty good. We've got a strong record against good teams. At the end of the season, we weren't happy about not bringing it enough of the time. So now we want to focus on getting to our A-game more often and finding a way to bring it at the most important time of the year.
"Now our full attention is on Minnesota State, who has been the best team in the conference the last five years."
Because NMU edged Bowling Green by just one point in the final WCHA regular season standings, the Wildcats actually hosted last weekend's semifinal game. That's about 16 hours, round trip, on the bus for the Falcons, so Bergeron has stressed rest and relaxation this week. It's also spring break on campus.
"We've played MSU a few times, and we know how good they are," Bergeron said. "There are no surprises. No one is sneaking up on you this time of the year. We just need to play fast and competitive, then we'll start to talk about execution and discipline in practice. First of all, we're getting rest. But those are the two areas we have been somewhat inconsistent with. We won't be doing a lot much different this week vs. other weeks, but the stakes are higher this week."
The Mavericks swept Lake Superior State in the semifinal round to earn its trip to the championship. Their 2-0 win over the No. 20 Lakers pushed them to 31-7-2 overall, which is a school record for wins in a single season. The last time it won 30 games in a season, in 1979-1980, it won the D-II national title.
They'll host the championship at 7:07 p.m. CDT Saturday at the Verizon Center. They're 20-1-0 while playing at home. They'll look back at their achievements after the season ends.
"Those are all things you'll reflect on at a later time," MSU coach Mike Hastings said. "Right now, we really just need to focus on what we have in front of us.
"We're going to be playing for the Jeff Sauer Trophy in front of our home crowd. The guys need to be on point. They all have a great attitude because this is an exciting time of the year. You play your whole season to have the opportunity to host not only a first and second round series but to be home for the championship game, so there's a lot of excitement."
Aside from what's at stake, the Mavs have had no problem gearing up for the matchup. Bowling Green swept MSU in December.
"Once the playoffs started, it's like there is a whole new page turned," Hastings added. "When you talk about the regular season and then the playoffs, you hope your whole body of work is good enough to get you in the NCAA tournament. So it's been really businesslike this week. It also feels completely different. Two or three weeks ago, it was 20 below, and now it's going to be 60 degrees. It's just a different feeling right now.
"And it's that time of the year where there's an excitement about hockey. Not only at the collegiate level but we just had the state tournament done here in the state of hockey (Minnesota high school hockey), and you've got the junior leagues in the playoffs now, too.
"The guys have put in a lot of work since September to get here, and it's starting to culminate now. This is the time of the year when you start playing for trophies, and we're excited to be playing for one this weekend. There's a lot of mutual respect between both programs, so we're happy to have the opportunity to play them."
But, BG, too, is coming off a great weekend. Max Johnson and Alec Rauhauser were named the WCHA's forward and defenseman of the week. Johnson has notched 12 points in the last five games, while Rauhauser got the assist on Sam Cragg's OT game-winner Saturday in Marquette.
Best case scenario: the WCHA really needs the Falcons to win this weekend to guarantee two teams make the NCAA tournament. Only 16 teams get in. Both MSU and Michigan Tech got in last year.
"Our guys know exactly what's going on," Bergeron said. "These seniors were in this same game two years ago – on the road – so they know what's going on. Obviously, there are more implications than just this game that we can't control.
"All we can control is how we play Saturday night. We aren't pretending like things aren't happening around us. But we've earned our way here, so we want to enjoy this. We want to wrap this (championship) up."