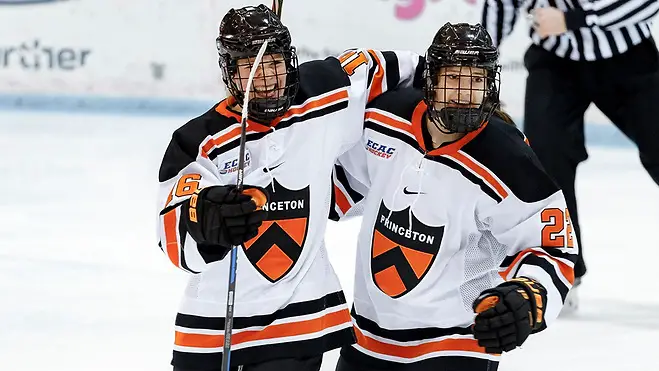 In a vote of assistant coaches at the nation's NCAA Division I programs, Princeton freshman forward Sarah Fillier has been named the 2018-19 National Rookie of the Year.
A native of Georgetown, Ont., Fillier led Princeton in scoring with a line of 22 goals and 35 assists for 57 points in 29 games. Her assists per game and points per game led the entire NCAA, as did her 21 power-play points.
Overall, she was fourth in the nation in total points and total assists.
"Sarah is one of the best 200-foot centers in our game," said Princeton coach Cara Morey in a statement. "She is threatening offensively and is also responsible on the defensive side of play. She is one of the smoothest skaters I have ever seen, and it often appears as though she's hovering above the ice. She has breakaway speed which allows her to pull away from opponents. Her instincts are like no other player in the NCAA; Sarah always seems to be around the puck. Sarah is a prolific goal scorer, netting 22 goals in just 29 games this season, but she is an even better play maker which is evident by her 1.21 assists per game this year.
"Sarah is the best player on the ice, but above all, she is also an amazing teammate off the ice."
The runner-up for this year's award is Northeastern freshman forward Alina Mueller.