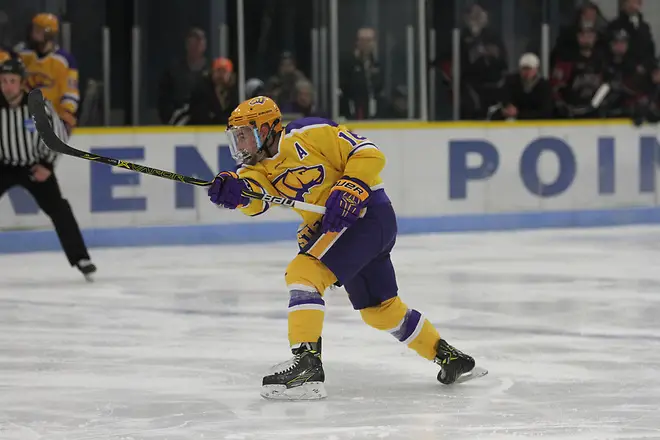 STEVENS POINT, Wis. — Not only will Wisconsin-Stevens Point have a chance for the program's sixth men's hockey national championship, but the top-ranked team in the country will look to make some history.
Never has a Division III program finished a season unbeaten. UWSP is the second team in the history of the tournament to reach the title game without a loss on its record.
The top-ranked Pointers will get their chance to cap off an unbeaten run to the title after knocking off Hobart 5-3 in a national semifinal at K.B. Willett Arena on Friday night.
UWSP (28-0-2) meets Norwich (23-4-3) in the championship contest at 7 p.m. CDT Saturday.
RIT was the first and last team to reach the championship game in 2001 without a loss on its Frozen Four resume. Plattsburgh denied the Tigers perfection.
"This has been our goal since Day 1," said Pointers defenseman Danny Kiraly of playing for a national championship. "For us it's an amazing opportunity to be able to do it here in Stevens Point and in front of our home crowd."
Nothing came easy for the Pointers in their bid to play for the school's first national title since 2016.
Hobart put up a gallant challenge, especially after being shocked just 46 seconds into the game when the Pointers lit the goal light.
"That (first goal) I thought kind of engaged us," UWSP forward Tanner Karty said. "We get that one and it's kind of like 'OK, let's keep going.' We kind of let up after that, kind of like, 'this is going to be easier than we thought.' Maybe we took them a little lightly."
Even when the Statesmen found themselves in a 3-1 hole midway through the second period there was never any panic.
Back-to-back power-play goals in a span of 38 seconds brought Hobart back to even and made the semifinal a whole new game.
The only problem is the Statesmen (21-8-2) could never get a taste of the lead at any point.
"I think they had a cause behind their back and I think that pretty powerful," Statesmen coach Mark Taylor of the quick start by the Pointers and how they're flirting with history.I think they are good in every area, deep in every area and talented."
The momentum was sitting on the Hobart bench after Travis Schneider and Zach Tyson found the back of the net with the man-advantage.
Karty, who chipped in with a pair of assists, had the answer for the Pointers just 39 seconds after Hobart knotted the game to give them the lead for good at 4-3.
The Pointers proceeded to return to their defensive roots over the final period. No team had scored more than three goals against them all season.
So it came as no surprise the Pointers clamped down over the final 20 minutes. Quality scoring chances came at a minimum for the Statesmen.
When they did create some opportunities, WIAC Player of the Year Connor Ryckman made sure nothing got past him. The sophomore goalie finished with 23 saves, including all seven shots he faced in the third period.
"We knew they were going to capitalize on the little mistakes we made," Schneider said. "We tied it up and regardless that they came back and scored to make it 4-3, it gave us momentum and let us know we could win this game."
Those chances vanished when UWSP's Austin Kelly scored into an empty net with one minute left in regulation to account for the final margin of victory.
He'll take the win, but UWSP coach Tyler Krueger was less than pleased with the overall performance. He made it clear his team will need to be a lot better if its wants to cap off perfection.
"We were poor at times and not ready for pressure (from Hobart)," Krueger said. "We didn't have our 'A' game from the get-go and had to find a Plan B. We stuck with each other through it all and didn't get frazzled. We found a way to win at the end and did what we've done all year."