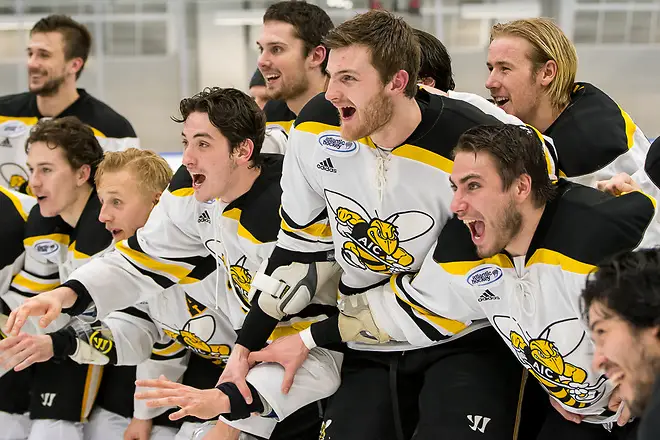 BUFFALO — Hugo Reinhardt's goal 1:16 into overtime led American International to its first Atlantic Hockey championship in school history, a 3-2 victory over Niagara.
The Yellow Jackets became the first regular-season winner to also win the tournament title since 2012.
"It was a hard fought hockey game as it should be this time of year," said AIC coach Eric Lang. "Our penalty kill was outstanding, we get a big power play goal and obviously Hugo in overtime."
"It was an incredible felling," said Reinhardt of his power-play game-winner, which came off a scramble in front of Niagara goalie Brian Wilson, who finished with 31 saves. "It came out from behind the net, and I just hit it a couple of times, and I got it in the air over his pad."
The teams traded goals though the first half of the contest and were tied 1-1 late in the second period, when AIC took it first on a shot from Martin Mellberg with a second to play in the period. His blast from the blue line beat both the clock and Wilson, blowing a hole in the back of the net and slamming off the rear boards.
A video review quickly affirmed that it was a good goal.
"What an incredible shot by Marty," said Reinhardt. "I had a perfect angle from the bench and saw it go in right away. I just kept screaming 'it's a goal, it's a goal" like 20 times.
"We saw Marty coming down with three seconds left and we're all screaming 'shoot it, shoot it.' It was a rocket."
Niagara recovered and tied it at 6:16 of the third when Kris Spriggs put a wrist shot past AIC goalie Zackarias Skog (22 saves).
"(My players) were resilient all year," said Niagara coach Jason Lammers, whose team was picked to finish last in the preseason coaches and media polls. "To get to the places they've gotten, it's been impressive."
"We used (the poll) the whole season," added Niagara captain Nick Farmer. "We kept believing and kept believing each game. We just came up short."
Skog, who was named the Most Outstanding Player of the tournament, was thrust in the starting role in November when sophomore Stefano Durante went down with a season-ending injury.
"It's a great honor," said Skog of winning the award. "I knew I had the skills (to be the starter) and my team believed in me. The guys in front of me have been incredible all season."
A year ago, in the quarterfinal round of the AHA tournament at HarborCenter, AIC fell to Canisius 3-0 in the third and deciding game. It was an emotional moment for Lang and his captain Bryant Christian, who skated the final shift of his final game on a broken leg.
"His fingerprints are all over this program," said Lang. "His pride for the logo on the front of the jersey is something (special). We reference that a lot. That's a big moment in our program's history."
Both teams got to the title game thanks to overtime wins. It's the first time in conference history that both semifinals and the championship game needed overtime to settle.
AIC now looks ahead to a projected matchup with top-ranked St. Cloud State in the first round of the NCAA tournament.
"We can't be happy to be there," said Lang. "We're going to hit the reset button quickly but I do want our guys to enjoy this."