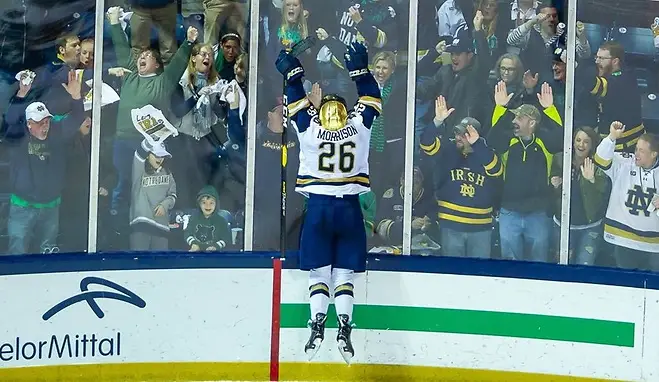 SOUTH BEND, Ind. — Cam Morrison appears to have a knack for delivering championships.
Morrison scored the game-winning goal Saturday for Notre Dame as it captured a 3-2 victory over Penn State to win its second straight Big Ten tournament title.
It just so happens Morrison also scored the game-winning goal last season, a 3-2 win over Ohio State in overtime.
"I saw that I had a couple feet between me and the defender," Morrison said. "I just walked in and got a shot off. I went low glove. That was pretty much it."
Morrison's goal at 18:24 of the second period clinched a fair amount of history.
Notre Dame coach Jeff Jackson now has 500 victories in a career that dates back to six seasons at Lake Superior State from 1990 to 1996, during which he won two national championships and finished runner-up another time.
Jackson, now in his 14th season at Notre Dame and the winningest coach in program history, is the 13th college head coach to reach 500 career wins.
"To me, it's all about these moments," Jackson said. "These special moments, that's why you do it. For me, the greatest part of the whole thing is watching the kids, watching them celebrate. I hate watching them lose in these situations. It's heartbreaking, but on the other side of it, these moments are what it's all (about). Out of those 500 wins, I've been supported by a lot of great coaches and great players. It's kind of an insignificant number for me."
Celebrate they did.
Notre Dame (22-13-3) is the first team to win multiple Big Ten tournament championships, doing so in its first two seasons in the league. It won again on the strength of a fast start Saturday followed by a stout defense of its one-goal lead.
Freshman defenseman Spencer Stastney staked Notre Dame to a 1-0 lead at 3:43 of the first period with the first goal of his collegiate career. A back-and-forth exchange followed.
Penn State (22-15-2) answered with a Sam Sternschein goal at 8:04 of the first. Cal Burke gave the Irish a 2-1 lead at 16:19 before Penn State tied it again when Alec Marsh scored at 16:53, making it a 2-2 tie heading into the first intermission.
Notre Dame goaltender Cale Morris started closing the door during the second period. Morris made 16 saves in the first and followed up with 18 more in the second, en route to a 46-save performance.
"We did have him once (at home) where it seemed to go in pretty well for us," Nittany Lions coach Guy Gadowsky said. "I think it's possible, but hockey is a team game. It's not just Cale. You really have to give credit to their whole team and more than just the physical team. The culture that they have, I think, is a big part of it. It's not just him. He's fantastic. We all know that. But I thin kit's more than just him."
Led by Morris, Notre Dame hunkered down during the final period to stave off a Penn State comeback. Morris turned away 12 more shots in the third period and benefitted from a lunging effort by Mike O'Leary about midway through to save a sure Nittany Lions goal.
Gadowsky pulled goaltender Peyton Jones, who made 26 saves, with just over two minutes left in the game to no avail.
Notre Dame is headed to the NCAA tournament for the fourth straight season, a program record. It has reached the Frozen Four in each of the last two seasons, including a runner-up finish last year.
"Obviously, the past two years were great," Morrison said. "But we didn't end up with what we wanted. We're going into this tournament with the mindset that we want everything."