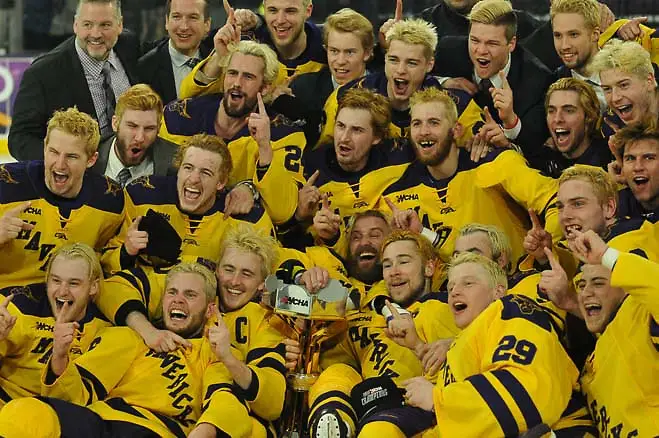 MANKATO, Minn. — Luckily for Minnesota State, regulation time for a hockey game is still 60 minutes.
For 58 minutes of Saturday's WCHA championship, Bowling Green was the better team on the ice, but it was the Mavericks that walked away with a 3-2 overtime victory and the Jeff Sauer Trophy.
Nick Rivera scored the game-winning goal at the 1:37 mark of overtime. The junior was sitting back door and had a deflected puck land in a perfect location.
"When you see a puck and you see an opportunity, grade-A, in front of the net in the slot area, you just want to get it off as much as you can," Rivera said after the game.
What a difference 201 seconds can make.
With less than two minutes remaining in the third, goaltender Dryden McKay on the bench in favor of an extra attacker and the Falcons trying to coax a 2-0 lead across the finish line, sophomore forward Jake Jaremko cut the lead in half. Late in the third period, it was the first time the sold-out crowd of more than 5,300 at Verizon Center had a goal to cheer about.
"When Jake ends up staying with that puck and getting it to 2-1, the crowd gets into it," Minnesota State head coach Mike Hastings said. "Our guys have done a good job playing with poise this year when we've gone six-on-five and we then we found a way to get the puck back in the zone and find a way to get it tied. From that point on, I felt good, momentum is a tough thing to get and you want to hold onto it."
Merely 48 seconds later Connor Mackey made anyone that decided to try and beat the traffic gravely regret their decision, tying the game and sending it to overtime.
A big reason the Mavericks were able to tie the game late in the third was because of a penalty kill early in the period. Edwin Hookenson took a major for checking from behind at the 1:20 mark of the third. Alec Rauhauser proceeded to give Bowling Green a 2-0 lead roughly eight seconds into the power play, but Minnesota State held strong the rest of the way.
"Our leadership group just did a good job of saying, 'Hey, there's a lot of meat still left on that bone,' as far as trying to kill the rest of that penalty kill," Hastings said. "I think that's the turning point in the game, they don't get to three, which allows us to get to a one-goal game and then to tie it."
There were 201 seconds of game time from trailing late with the goaltender pulled to celebrating with a trophy at center ice, but the 3-2 score line doesn't give Bowling Green enough credit.
The Falcons had the Mavericks on the ropes.
"We were taking away time and space," Bowling Green coach Chris Bergeron said. "We were playing hard, which is who we are when we're at our best. When we're playing good hockey, we're defending and taking away time and space for our opponent. I thought we did that through 58 minutes."
The Falcons went into the game knowing that a win would give them the automatic bid into the NCAA tournament. However, thanks to Northeastern taking down Boston College in the Hockey East championship game, Bowling Green punched its ticket to its first tournament since 1990 as the teams were stepping onto the ice for the third period in Mankato.
Even so, nobody was too keen to talk about the berth on Saturday.
"It's tough, because we've got to turn the page," BGSU junior Frederic LeTourneau said. "We just lost an opportunity to win something, and it's always really sad and we'll for sure be thinking about that for the next couple days, but there's another championship at stake and I think we've just got to move on. That's our next goal, winning the next game, and then if we keep winning, there's a championship we can go get."
Hastings was complimentary of the way Bowling Green and said they'd be a tough out in the tournament.
"They were playing hard, and physical and defending inside dots," he said. "I thought both teams did, tonight was a very difficult game. I want to give them credit, they're a very difficult team to play against. Whoever gets them in the tournament, as Chris [Bergeron] has said, they're a handful and tonight, they were a handful."