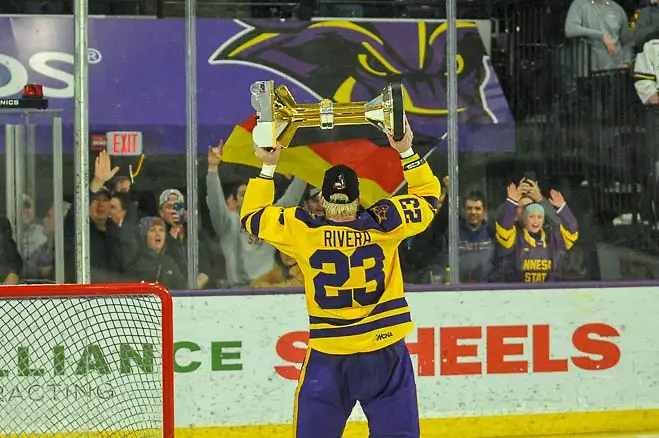 Each week during the season, we look at the big events and big games around Division I men's college hockey in Tuesday Morning Quarterback.
Dan: Hey everyone, I have had the honor of riding side saddle through the NCAA selection and bracketing process this week, and it's been a great journey so far.
I was with Ed Trefzger on the USCHO Weekly Recap last night as the bracket came in, and it was thrilling, invigorating, and everything I wanted to be – and it came without any controversy whatsoever.
There's so much that happened, so I'll start where we started last night with the conference championships. Every game finished 3-2, and a good chunk of them went to overtime, including Atlantic Hockey. For the first time since 2012, the regular season champion won the conference championship, but where everyone normally would've just said "Air Force," this year it's American International. I tried to conceptualize what that meant a few weeks ago, and I tried again last night.
I'll summarize it cleanly in some short sentences. First, next to Bentley, this is probably the most excited I could be for a team to win an Atlantic Hockey championship. Second, this is a program that was playing in arguably the coldest, worst arena in college hockey two years ago, and now it's in the national tournament (sorry, Olympia Ice Center). Third, I don't know how anyone can feel bad about the Yellow Jackets making it to the dance floor for the first time in program history.
Yes, I'm letting myself gush and totally lose professionalism over it, and no, I'm not entirely too sorry.
Paula, I know you saw a great one in your own right, with Notre Dame winning its second straight conference championship over Penn State in the process.
Paula: Dan, I don't think there's anything unprofessional about any of that! You said it yourself: How can anyone feel bad about AIC's first NCAA tournament appearance?
Of course, Army, Robert Morris and Niagara may be three teams that may be less than enthusiastic about this at this point, given that Yellow Jackets went through all three in the playoffs to take their conference championship.
In both games this past weekend, the Yellow Jackets watched an opponent tie the score in the third period, and in each of those contests – once very late, as when Robert Morris's Daniel Mantenuto tied Friday's semifinal game with just over a minute of regulation remaining – and in each of those contests, the Yellow Jackets scored in less than 1:20.
And in each of those contests, junior Blake Christensen was instrumental, scoring the game-winning goal against Robert Morris Friday and picking up an assist on the winner on the power play against Niagara Saturday. Christensen had three goals and an assist in the AHA playoffs, all in clutch games; after an eight-game goal-scoring drought, he picked up two in AIC's deciding third game against Army the week before. All of this gives him career highs for goals (16) and assists (30).
Everything about American International's story is what we love about sports, and this year they also illustrate something that Jimmy and I have discussed frequently here. Good teams are often defined by their ability to find ways to win when they need to, and those teams often rely on big players who rise to the occasion in such situations. In this way, the Yellow Jackets have added something to their narrative that other, more established programs take for granted. Going into the NCAA tournament, I can't think of anything more promising for AIC.
Dan: Speaking of "more established programs," the king of the Big Ten is once again Notre Dame, which retained its perfect record in the Big Ten championship by beating Penn State.
You saw a good one, and it sent the Fighting Irish through to the Northeast Regional. There was some conjecture as to what could happen, win or lose, but the fact remains that ND took control of its own destiny and now goes into a regional with a great chance. I watched part of that game, especially the third period, and I felt like it was just a great college hockey game out in South Bend. Was this something you saw early in the season as a possibility, and heading into a regional with Massachusetts, which slipped from a No. 1 overall tie with St. Cloud to No. 4 overall in the Pairwise leading into the tournament? The Irish will need to go through Clarkson, and Harvard will factor in as the fourth team there.
I love this regional as the hardest, most difficult one, and Notre Dame is probably the biggest part of why.
What did you see from the Irish in the Big Ten tournament, and can you size them up against that regional with another great college hockey story in it with UMass?
Paula: That was an amazing championship game on several levels. The Nittany Lions outshot the Fighting Irish 48-29 and Penn State dictated the pace of the game – fast, open, up-and-down the whole ice. That is exactly what Notre Dame wanted to prevent, and yet the Irish stayed with the Nittany Lions and prevailed, with timely goals all scored even-strength in a game that saw only eight minutes of penalties.
Notre Dame's ability to play on the fly like that is something that should give the Irish a lot of confidence heading into the NCAA tournament. Jeff Jackson has been open about his team playing to its strengths, and that style of play this season was not among its collective strengths. It's impressive that the Fighting Irish captured back-to-back playoff championships – the first in program history – while returning a younger team that was less skilled offensively. I can see Notre Dame in the NCAA tournament annually, but I didn't expect it to happen this way.
The Northeastern Regional is a great bracket and one that is difficult to size up specifically because of the differences among the teams. I have no idea how teams will match. Clarkson and Notre Dame are the two teams in the bracket that went to the NCAA tournament last year, and that kind of experience is always helpful, but in a single-elimination format, it's difficult to figure.
There are so many interesting stories in this year's tournament. Some are obvious, like American International, Arizona State and Massachusetts. Others are less so. In the WCHA, Minnesota State makes a second straight NCAA appearance, and Bowling Green is returning to the tourney for the first time in 29 years. Quinnipiac returns for the first time since losing the national championship in 2016, but it's the Bobcats' fifth appearance in seven seasons. Providence is heading to the NCAA tournament for its program-record sixth consecutive time.
Aside from AIC, what stories are catching your eye as we enter the tournament?
Dan: From a Massachusetts standpoint, I honestly think it's the Minutemen.
We've all known for a while that UMass was going to the tournament and would likely be a No. 1 seed, and it's been arguably the story in college hockey this year. It's well-documented with the 29 losses two years ago, and that team didn't win a home game after Dec. 2 of that year. But the Minutemen enter the tournament this year with 28 wins after going 17-1 at the Mullins Center. That positioned them for a run at a No. 1 seed, and I think their fan base has been enjoying the ride of the lifetime after that 12-1 start to the season.
I do have some concerns about UMass in the Northeast Regional, largely because that bracket is littered with teams who I don't see losing easily. Harvard got incredibly hot at the end of the season and only lost three times after the Beanpot first round – two of which were to Clarkson and one in the semifinals. Lo and behold, Clarkson is the fourth team there, fresh off of an overtime ECAC Championship win over Cornell. So even though UMass is the one of the stories of the year, I hardly pencil them in for Buffalo.
I think the other story centers on the "new teams" in the tournament. Michigan (37), Minnesota (37), Boston University (36), Boston College (35) and North Dakota (32) have a combined 177 NCAA tournament berths, and that leaves out a lesser degree of Michigan State (27) and Wisconsin (25). All of those schools will be watching someone play for a national championship.
From a parity standpoint and to those of us that have been around college hockey, that's wonderful. We're seeing new programs rise, and new brands come forward. People who tune in to the tournament will see some teams they won't necessarily recognize, and casual observers might not know anything about St. Cloud State, Minnesota State, or anyone else. They might actually recognize Arizona State better because it's simply a "bigger brand" in the national college sports landscape – and that's the youngest and probably most shocking program in the tournament for hockey folks.
There's good reason backing it up. The majority of college hockey players were born in the mid or late 1990s, a time when the NHL drastically changed its landscape. People born during that era know hockey from birth, which removes the unknown biases that are created when people grow up and then have a sport thrust into their backyards in their 20s and 30s.
I took a sample of the 10 top scorers (based on points per game average) on teams currently in the NCAA tournament. There were two players from Minnesota but also two players from Florida. one from Arizona and one from California – and two players from Germany. It's a quick survey that I did, without necessarily studying the systems and styles of play, but I think there's tons of truth in there.
The hockey talent pool is getting deeper and deeper because the sport changed 25 years ago. It's more readily available than ever before. There's a trickle-down effect that's now happening, and more college hockey teams are taking advantage. That's why we're seeing the game become deeper with more parity than ever before.
There's tons of pure talent that draws attention in the draft, but there's some really good hockey players who are finally now learning how to play with one another within the teams that are emerging. It's fascinating to me because, quite frankly, it's my generation that's leading that charge. I don't remember the original Winnipeg Jets as much as I know the Phoenix/Arizona Coyotes, and I don't remember life before the San Jose Sharks or Anaheim Ducks. People slightly younger than me comprise the college hockey talent pool, so I know it's more intense for them.
Now on the flip side of that, the lack of national brands in the tournament also creates a potential pitfall. It's a proven fact that the Stanley Cup Final does better ratings and draws more overall interest when Original Six teams are involved. Are you worried at all that the lack of those nationally-recognized college hockey brands – the North Dakotas and the Boston Colleges and the Minnesotas – means the interest is skating on some potentially thin ice?
Paula: No and yes. Buffalo is a great hockey town, and so I see the potential for a lot of people from Western New York wanting to attend the Frozen Four regardless of who's playing. Also, there are many people who plan vacations around the Frozen Four annually, people who return every single year regardless of the field.
I think the NCAA has improved in recent years in making the Frozen Four more of an event, a destination, beyond just the hockey being played. It's attractive to college hockey fans who can afford to go, no matter who's playing. The city in which it's held matters, and Buffalo should be an easy place to get to for most fans, especially from fans out east.
Ticket sales suffer, though, when teams who bring big fan bases with them aren't playing in the tournament – but we've seen at some recent Frozen Fours fans banking on their teams getting to the final game and opting out of traveling for the semifinals, and that has hurt.
In terms of overall recognition, who outside of college hockey follows North Dakota in any sport? As you said, it's far more likely that the average sports fan is more familiar with a name like Arizona State, and such bigger sports brands draw in casual TV viewers.
Three things will continue to heighten the profile of the sport we love. The first is quality of the game, which is ever increasing. Even sports fans who happen onto NCAA tournament hockey and the Frozen Four can be hooked by the level of play.
The second is increasing the college game's footprint. Arizona State is such an asset to college hockey, and if there are any other fairy godmothers or godfathers out there who want to fund programs in the Southwest, the South and the Pacific Northwest, please step up and do so soon. If Illinois begins a program, that will be a bonus.
The third thing, Dan, is something you allude to: the changing landscape of hockey overall in the past two decades, both in terms of the current makeup of the NHL and the number of kids who are growing up in the U.S. playing the sport.
Who plays in the Frozen Four – the name recognition among college hockey fans – doesn't really do anything to expand the sport itself. I'm eager for a Frozen Four someday in which we have three or ever four programs that have never reached that point in their history. That will be exciting.
And I guarantee it won't be too long before we see teams like Boston College, Michigan, North Dakota and other favorites from the past return to the Frozen Four with a familiar regularity.