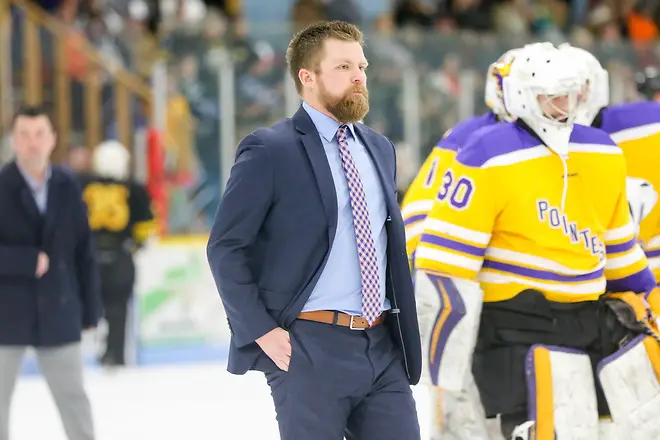 Tyler Krueger was asked what he thought of being named USCHO.com Coach of the Year. Not to mention the fact that he was also named the CCM/AHCA Coach of the Year.
To Krueger, who is in just his second season as the head coach at Wisconsin-Stevens Point and already has a national championship to his credit, it's not that huge of a deal.
Sure, he's honored, and it's one more accolade for one of the best young coaches in the game, but what matters most to him is that he guided his team to a title, the Pointers capping an unbeaten season with a 3-2 win over Norwich in overtime Saturday night at K.B. Willett Arena.
"Individual awards are fun, but they are individual. It's just a product of the season we had," Krueger said. "Coaches don't win games necessarily. It's the players that go out and do it. I've been fortunate to be given a group of players that have bought in from day one."
Krueger is a former player at Wis.-Stevens Point, graduating in 2014. After three seasons as an assistant, he was the interim coach a season ago, taking over for his mentor, Chris Brooks, and guided his alma mater to the Frozen Four.
He knew going into this season that the Pointers had a chance to finish what they started a year ago and win their first national championship since 2016.
"We felt good going in. We brought back 21 players and brought in eight newcomers that made us a better team right out of the gate," Krueger said. "This was a team that gelled and kind of figured out its identity early on in the season."
The Pointers expected a lot.
"We had high expectations and wanted to put ourselves back in a spot to win a national championship," Krueger said. "I don't think anyone saw this coming (going unbeaten)."
Krueger spent his first three years at Wis.-Stevens Point as an assistant under Brooks and the experience he gained in that time was priceless.
"Those three years with Brooks were invaluable," Krueger said. "Being mentored by him, getting my feet wet and learning the process, it was big for me. I took what I learned and put my own touches on the program."
That last part meant a lot to him. He had his mind made up from the get-go that he was going to be his own person as a coach.
"I said when I took the job that I wasn't Brooks. He did a great job here. We saw eye to eye on a lot of things, and what I've done is a continuation of what he started here," Krueger said.
Krueger knew for quite some time that he wanted to be a head coach one day.
"I had coaches who had an impact on me as a player and a person," Krueger said. "There were things I learned from them through the sport that shaped me as a person. I knew I wanted to stay in the game, and coaching was a way to stay involved. One thing led to another."
Krueger was fortunate enough to get the job at Wis.-Stevens Point. The rest is history.
"A position opened up here at the right time, and I was a the right place at the right time," Krueger said.
With Krueger being a younger coach, he relates well to his players. It's part of the reason he has been so successful in such a short period of time.
"I've tried to be relatable to the guys," Krueger said. "As a coaching staff, we are all under the age of 28. The guys aren't much younger than us. I know what they are going through, in school and in athletics. I know when to push buttons, though, and what buttons to push."
Krueger is quick to credit his assistant coaches as well, particularly Evan Dixon and Zach Badalamenti.
"It's a testament to my assistant coaches. It takes a lot of guys to make this work," Krueger said. "Zach and Evan have been phenomenal and have grown this year as coaches. They've taken that next step in a leadership role and have made us a better coaching staff in general."
Topping this season won't be easy. In fact, it's probably next to impossible. That doesn't mean the Pointers won't be contenders under Krueger.
"Every year is different, but we always want to enjoy the journey along the way," Krueger said. "Our goal will be to get back to the national tournament and make a run. There are going to be ups and downs. Next year will be its own journey, and we will have a bigger target on our back, but it's a new challenge for the guys to embrace. We are looking forward to it."