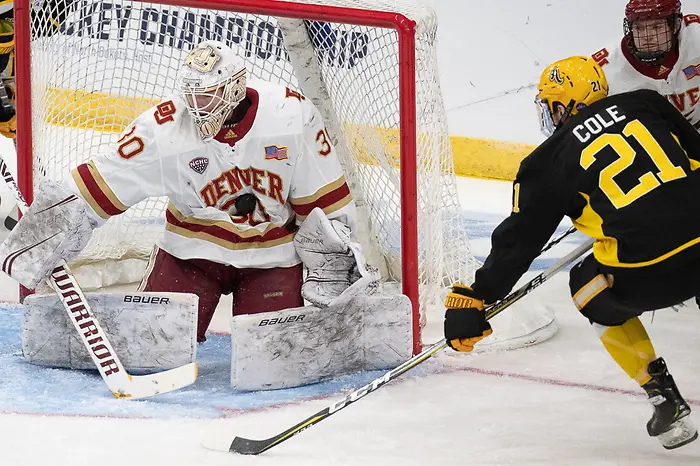 FARGO, N.D. — Turns out the Denver Pioneers had an interesting addition to their already length to-do list when the season started.
Along with the goal of adding another championship, which they did on Saturday night by beating American International 3-0 at Scheels Arena to capture the NCAA West Regional Championship and earn a trip to the Frozen Four, they were determined to silence the critics who decided that this would prove to be a down season for the Pioneers.
First-year coach David Carle took offense. So did the players — especially the seniors. So they set out to prove people wrong the best way they know how: by winning hockey games. Big hockey games.
"At Denver, we try to not be cyclical," Carle said. "Our standards are really high. Players come here not to play in national tournaments but to win championships and hang banners."
Senior forward Jarid Lukosevicius, who had one of Denver's goals on Saturday, was all smiles after delivering what amounted to an in-your-face rebuke.
"There were a lot of people who doubted us," said Lukosevicius, who proceeded to name names. "Even some of our fans didn't believe in us. But as a core group we believed in each other, and this is what happened. But we're not done yet."
The Pioneers return to the Frozen Four after winning the national championship in 2017. They've been to the Frozen Four three times in the past four seasons.
The 2018-19 version of the Pioneers is built on strong goaltending and defense. The Pioneers (24-11-5) came into the game having held opponents to 2.03 goals per game, ninth best in the country, while averaging 2.9.
Things were no different in Fargo, as Denver won two games by scoring a total of five goals (two into an empty net) and not allowing any.
"We weren't a very good defensive team in October and November," Carle said, "but the guys committed to each other to be a good defensive team. We were able to continue to get our goals against down.
"Playing defense isn't easy. If it was, everyone would be able to do it."
Denver freshman goaltender Filip Larsson picked up both shutouts. While he was the star of the game on Friday night against Ohio State, he faced a much lighter workload on Saturday. Still, he did have to make some big saves among the 26 shots he faced.
Larsson was voted the regional's most outstanding player.
Denver broke the scoreless tie at 15:45 of the second period when senior left winger Colin Staub took a pass out of the right corner from Ryan Barrow and beat AIC goaltender Zackarias Skog with a wrist shot from low in the right-wing circle.
"I didn't even look at the net," said Staub, who also scored in the semifinal game. "I was lucky enough that it went in."
When Denver left winger Liam Finlay stole the puck in the AIC zone and scored to make it 2-0 at 16:30 of the third period, the writing was on the wall for the Yellow Jackets. Lukosevicius added an empty-net goal for the Pioneers.
The loss put an end to what turned out to be a historical season for AIC. The Yellow Jackets made the NCAA tournament for the first time in program history and pulled off a huge upset on Friday by beating the top-ranked team in the country, St. Cloud State.
"I'm proud of this group, I think they've changed the landscape of AIC hockey," said Yellow Jackets coach Eric Lang. "The tough part about this group is that I don't get to be with them for another couple of weeks. I have been with them since Aug. 30. I haven't had a bad day since Aug. 30. So I love these guys and just very proud of them."
West Regional all-tournament team
Forward Joel Kocur, American International
Forward Liam Finlay, Denver
Forward Colin Staub, Denver
Defenseman Lester Lancaster, Denver
Defenseman Brennan Kapcheck, American International
Goaltender Filip Larsson, Denver
Most outstanding player: Goaltender Filip Larsson, Denver