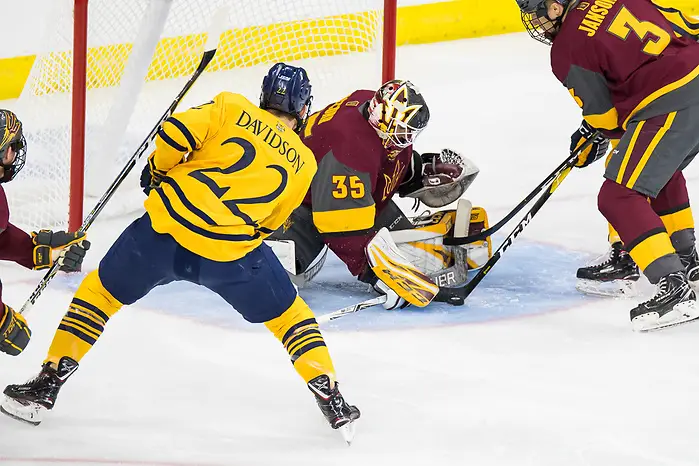 ALLENTOWN, Pa. — This year, Arizona State became the first independent school to qualify for the NCAA Tournament since Alaska Anchorage in 1992.
On Saturday night at the PPL Center, it was Anchorage native Andrew Shortridge and Quinnipiac University who doused the most successful Sun Devils season to date with a 2-1 victory in the second semifinal contest of the NCAA Midwest Regional at the PPL Center. Shortridge finished with 20 saves, half of them in a frantic third period, in backstopping the Bobcats to their first NCAA Tournament victory in three years.
"I think we were just ready," said Quinnipiac forward Joe O'Connor, who scored the Bobcats' first goal. "We were hungry tonight, and it showed early on."
Both teams were coming off substantial layoffs. Quinnipiac (26-9-2 overall) had been sidelined since a second-round ECAC Hockey playoff loss to Brown in the middle of March, while Arizona State (21-13-1) was idle since being swept at Minnesota at the start of the month.
"We learned from our last game," said Quinnipiac forward William Fallstrom, whose second-period goal stood up as the game-winner. "We were ready, and we were more calm on the bench."
"We had some good energy in the second," said Quinnipiac head coach Rand Pecknold. "We had two empty nets in the third and didn't score, and Shorty had to make some saves at the end."
"It's a tough loss," said Arizona State head coach Greg Powers. "It's never easy, losing your final game in the national tournament, but there's so much to be proud of. We'll learn from this and build on this."
O'Connor gave the Bobcats a 1-0 lead just under four minutes into the first period, when his shot from deep in the right circle beat Arizona State netminder Joey Daccord (36 saves) between the pads. Fallstrom then cleaned up the rebound of a turnaround shot by Alex Whelan seven minutes into the second stanza to give Quinnipiac a two-goal advantage.
Through two periods of play, the Bobcats were outshooting the Sun Devils by a 29-10 margin, including 18-2 over the middle 20 minutes alone, with Daccord stopping all but O'Connor and Fallstrom's shots.
"In the second, they took it to us really good," said Powers. "We started off on a penalty kill on clean ice, and it gave them momentum."
The Bobcats continued to blank the Sun Devils until 8:18 remained in regulation, when Brinson Pasichnuk's wrist shot from the center of the blueline found the top of Quinnipiac's net for the first Arizona State goal in NCAA Tournament history.
"It was cool, and it would have meant a lot more if we won that game," said Pasichnuk. "It's another big step, and we proved Sun Devil Hockey is no joke."
Pasichnuk's score seemed to energize the Sun Devils, as leading scorer Johnny Walker let go with a shot from the right circle soon after, but struck the post. A little over two minutes later, Josh Maniscalco and Austin Lemieux got several whacks each at a loose puck in front of Shortridge's crease, but couldn't knock it home. An official review also determined that the puck never crossed the goal line.
With just under four minutes left, Arizona State defenseman Jarrod Gourley received a major penalty and a game misconduct after he crushed a Quinnipiac player against the boards in front of the penalty boxes. The Sun Devils still worked to generate chances in the waning moments, and pulled Daccord for an extra attacker with just over a minute left, but couldn't score again,
"The major was unfortunate, but we still had some push," said Powers. "We did all we could to tie it up."
He also felt tonight's experience was just the start for the Sun Devils.
"There were people who thought we didn't deserve to be here. They were wrong, and we proved it tonight," said Powers. "We know we'll be back, and it'll be sooner than later."
"It's been a hell of a ride," added outgoing Arizona State senior forward Anthony Croston.
Quinnipiac improved to 4-1-1 lifetime against Arizona State, which elevated its program to NCAA Division I in 2015-16. The Bobcats will now meet defending NCAA champion Minnesota Duluth in the Midwest Regional final on Sunday at 6:30 p.m. ET.
"They're very good," said Pecknold of Minnesota Duluth. "They have good defensemen, and they come at you with four lines of forwards. Sandy (head coach Scott Sandelin) does such a good job, and we're going to have to play better tomorrow."