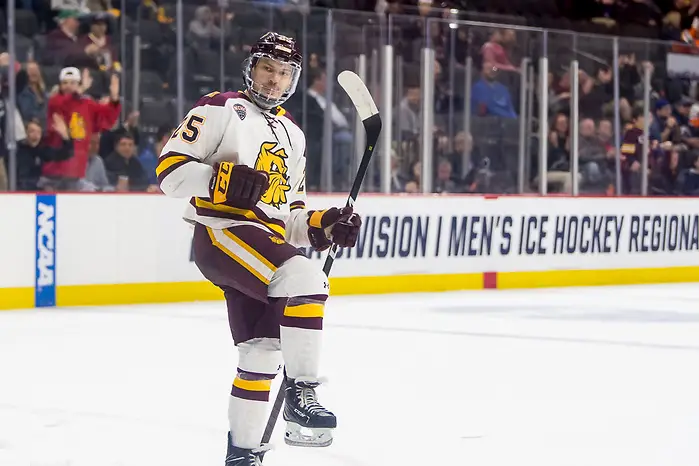 ALLENTOWN, Pa. — It was methodical. It was deliberate. And, once again, it was effective.
Oh, the defending national champion Minnesota Duluth Bulldogs' streak of 12 straight one-goal wins in the NCAA tournament may be over, but they're still headed back to the Frozen Four, this time for a third straight season.
The second-ranked Bulldogs did so by grinding down and outlasting eighth-ranked Quinnipiac 3-1 on Sunday evening in a physical NCAA Midwest Regional final at the PPL Center.
"I'm really excited for this group to have the opportunity to get back to the Frozen Four," said Minnesota Duluth coach Scott Sandelin. "It's hard to get there, and we beat two very good teams this weekend. It's never easy this time of year, and I'm excited to get back and have a chance to keep playing."
Peter Krieger, Kobe Roth and Parker Mackay each scored goals, and Hunter Shepard made 21 saves for the Bulldogs, who took the lead late in the second period and never relinquished it.
Mackay, who also scored both goals in a 2-1 overtime semifinal win over Bowling Green on Saturday, was named Regional MVP. Joining him on the All-Regional Team were Shepard, Bulldogs forward Cole Koepke, Quinnipiac forward William Fallstrom, Bulldogs defenseman Scott Perunovich and Arizona State defenseman Brinson Pasichnuk.
"It's disappointing for us," said Quinnipiac coach Rand Pecknold. "I'm proud of the effort this year, and I think we got the program back on track. It's a disappointing result, but we'll be back."
Minnesota Duluth held almost a three-to-one edge in shots on goal through the opening 20 minutes, thanks partially to the game's inaugural power play. Its defense also limited time and space for Quinnipiac's attack.
"They were impressive tonight," said Pecknold. "There's no Adam Fox or Cale Makar, but they have a lot of really good players."
Shepard made perhaps the biggest stop in the first half of the contest when he denied Fallstrom with a left pad save, after Fallstrom picked up a loose puck down low, cut across the crease from left to right, and tried to stuff it inside the far post. The play happened just as a Quinnipiac power play expired.
The Bulldogs continued to dominate the shot totals during the second stanza and finally broke through just after their second power play ended. Nick Swaney passed cross-ice to Perunovich in the left circle, and Perunovich held the puck for several seconds before sending it back the other way to Peter Krieger. Krieger's shot from the right circle then went off Andrew Shortridge's glove hand and in to open the scoring 15:12 into the second period.
"Scotty did a good job having patience, and he got it to me," said Krieger. "He sees things no one else does, and you've got to be ready at all times."
"I thought Shorty was great tonight," Pecknold said of his goaltender. "He almost got that first one."
Roth later put matters to rest, at least temporarily, with just over five minutes remaining in regulation. The Bulldogs broke into Quinnipiac's zone on a 3-on-1 rush, with Swaney on the right side and Roth coming down the slot. Roth took Swaney's backhand feed and went upstairs on Shortridge's stick side for a two-goal cushion.
Quinnipiac, however, refused to go away, and got off 12 shots on goal in the final period alone, while also winning 12 of the last 18 faceoffs. The Bobcats were rewarded for their efforts with a power-play goal at 17:57, with Shortridge (23 saves) also pulled for an extra attacker.
Minnesota Duluth's Mikey Anderson was in the box for delay of game following a scramble in front of the Bulldogs' net, when Brogan Rafferty knocked down a clearing attempt at the right point. Rafferty then fed Craig Martin in the right circle, and Martin beat Shepard with a high wrist shot on the near side to put the Bobcats on the board.
"Raf gave me a nice pass," said Martin. "They had one guy back, and I just threw it on net."
The experienced Bulldogs weren't fazed.
"That goal didn't shake our confidence at all," Shepard said. "It didn't change our mindset."
The Bobcats pulled Shortridge again after the ensuing faceoff, but this time the goal went to the Bulldogs, as Mackay picked off Chase Priskie's pass attempt just inside Quinnipiac's blue line and scored into the empty net to seal it.
Minnesota Duluth heads to the 2019 NCAA Frozen Four in Buffalo, N.Y., in two weeks, where it will take on East Regional champion Providence in the semifinals.
"It's really, really special," Sandelin said of making three straight Frozen Fours. "We found out how hard it is to get there, and hopefully we get to play two more games."