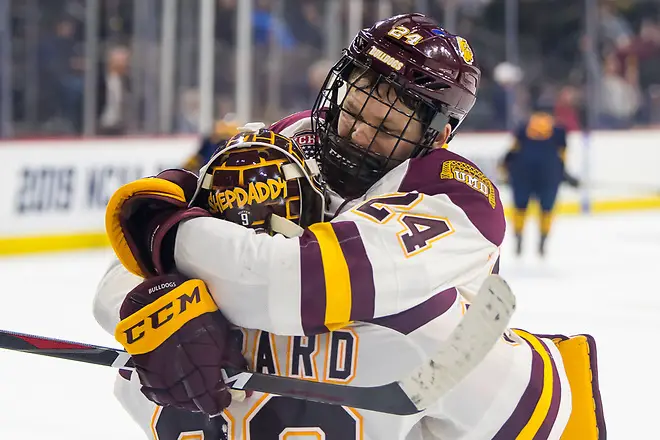 The Minnesota Duluth train just keeps on rolling, especially at NCAA tournament time.
The second-ranked Bulldogs (27-11-2 overall) secured their third consecutive berth in the Frozen Four by winning the 2019 Midwest Regional in Allentown, Pa. In doing so, they became the first defending NCAA champion to make it back to the national semifinals since Denver did so in 2005, and like the Pioneers that year, the Bulldogs are now seeking back-to-back NCAA titles.
It would be quite a 75th anniversary present for a program that has played continuously since 1946-47, after its abbreviated beginning in the 1930s. It would also mark the fourth straight national championship for the NCHC.
Not that the Bulldogs have exactly made it easy on themselves during their current run of five straight NCAA tournament appearances. In fact, until this year's Midwest regional final, they had played 12 straight NCAA tournament games that were each decided by a single goal, with Minnesota Duluth winning nine of those.
"They are what they are," said Bulldogs coach Scott Sandelin, now in his 19th year at the helm in Duluth. "I mean, you go into all these games and you get to this stage of the year, you know they are going to be hard games, they're going to be probably close games."
Two years ago in Chicago, Minnesota Duluth ousted Harvard on a goal in the final minute, before falling to Denver 3-2 in the national title contest. Last year in St. Paul, the Bulldogs raced out to early leads against Ohio State in the semifinals, and Notre Dame in the championship game, and held on for a pair of 2-1 victories and their first NCAA crown since 2011, when they beat Michigan in overtime in St. Paul.
"They're all hard, every one of them," admitted Sandelin. "You're playing great teams at this time of the year. This is just how we do it. We don't ever make anything easy. We kind of grind it out and find ways to win and so far, it's worked."
Last weekend, in the first games they ever played in Pennsylvania in their long history, the Bulldogs rebounded for a 2-1 overtime win against Bowling Green in the regional semifinals. They then outlasted Quinnipiac 3-1 in the regional final to punch their tickets to Buffalo in two weeks time.
Their season – and their reign – however, was just three minutes away from expiring on Saturday at the PPL Center, only one week after they won the NCHC championship, until captain Parker Mackay came to the rescue.
He tallied the tying goal at 16:59 of the third period against Bowling Green, which had held a 1-0 lead since late in the second period, and then won it 11:45 into sudden death, with freshman winger Cole Koepke setting up both scores to keep the Bulldogs alive.
"I think every game prepares you for the next game," said Sandelin. "You go through different things, and games take different momentum swings and turns. Sometimes you are ahead, sometimes you are behind, sometimes teams catch up, and sometimes you do. The whole year prepares you for certain games."
If anything, the Bulldogs don't panic when things don't go their way, as they have exactly as many seniors and juniors (nine combined) on their roster as freshmen.
"It's obviously exciting when you can get into these types of big games," said Mackay after the nail-biter against Bowling Green. "We kind of calm ourselves down when we get into these situations. It doesn't matter who steps up, as long as somebody is doing it. We're fortunate enough to be on the right side of those games for quite a bit of them in the last four years here."
Mackay and Nick Swaney lead the team with 15 goals apiece, while the only other Bulldog with double-digit goals this year is Justin Richards (10). Mackay's team-leading 30 points ties him for 78th place among Division I's top point-producers – and yet the Bulldogs keep winning, as their sophomore class alone has generated over 50 goals and 150 points.
The majority of Minnesota Duluth's lineup hails from Minnesota. It also features seven NHL draft choices, led by prescient sophomore defenseman Scott Perunovich, who was selected 45th overall by the St. Louis Blues in 2018. He set up the Bulldogs' first goal in the win over Quinnipiac, holding the puck for seemingly forever in the left circle before hitting Peter Krieger cross-ice for a wide-open shot and a one-goal lead.
"He can understand the play-before-it-happens kind of thing," said Krieger. "I kind of had an idea, if I found the softer area and there was a lane, he was going to make it happen."
Kobe Roth scored what turned out to be the game-winner to offset a late power-play tally by Quinnipiac, which edged Arizona State in the regional semifinals, before Mackay hit an empty Bobcat net to send the Bulldogs to another post-game celebration.
Making it all possible in net was Hunter Shepard, who's played all but 16 minutes for the Bulldogs so far this season, and who stopped 51 of 53 shots against Bowling Green and Quinnipiac to be named to the All-Regional Team, along with Koepke, Perunovich and Mackay, named regional MVP.
"I think we kind of picked up at the beginning of the year where we left off (last year)," said Shepard. "Our team is about the playoffs, and I think we've proved that."
Now the Bulldogs have a chance to add another chapter to their ongoing championship saga.
"I'm really excited for the players, I'm really excited for the seniors," said Sandelin. "The group's been very successful, and for the freshmen to have an opportunity to go through that, you have to go through those things. It helps create the environment, the culture, and the program and things like that, and the expectations that you want to have in the program.
"We're going to enjoy this right now and get prepared and go to work."