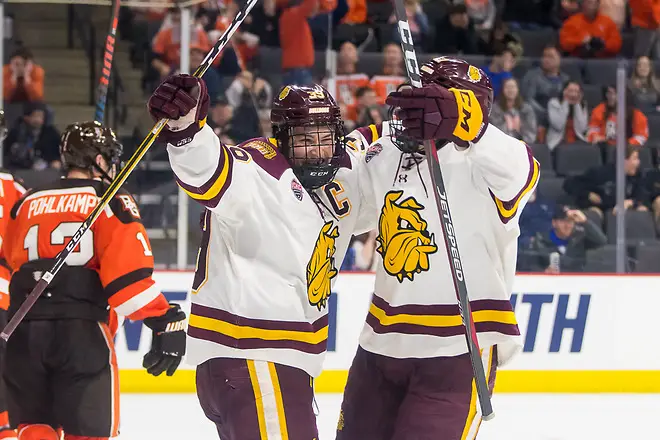 Our fourth and final Frozen Four preview spotlights defending champion Minnesota Duluth. Can the champs retain the national title?
MINNESOTA DULUTH
Season record: 27-11-2
How they got to Buffalo: Beat Bowling Green 2-1 (OT); beat Quinnipiac 3-1 to win Midwest Regional
Top players: Forwards Parker Mackay (15-15-30), Justin Richards (10-19-29); defensemen Scott Perunovich (3-26-29), Mikey Anderson (5-19-24)
Top goalie: Hunter Shepard (27-11-2, 1.82 GAA, .920 save percentage)
Why they will win the national championship: At 1.95 goals allowed per game, Minnesota Duluth has one of the best defensive corps in the country, and the Bulldogs are fresh off beating the Nos. 2 (Bowling Green) and 3 (Quinnipiac) teams in that category.
Why they will not win the national championship: Famous last words, but no team repeats as Frozen Four champion these days. The last back-to-back champ was Denver (2004, 2005), and that was nearly a decade before the NCHC came into being.
Not much changes at this point in the season for Minnesota Duluth, which is making its third consecutive Frozen Four appearance. That continuity especially goes for UMD's three seniors.
Playing in April has become old hat for UMD, and captain Parker Mackay and classmate Billy Exell had already done that twice before this year. Last Sunday marked one year since they held the national championship trophy aloft in St. Paul, Minn., and they no doubt looked forward to that win over Notre Dame after UMD's loss to Denver in the 2017 title game.
Another UMD forward, Peter Krieger, also knows how to navigate the rarefied air that the Bulldogs will find themselves in on Thursday when they face Providence in a national semifinal game. Having transferred to Duluth after his sophomore season at Alaska, Krieger quickly became a key cog in the UMD machine, netting 30 points (11 goals, 19 assists) in 44 games as a junior, and he's nearly on pace to match that this season (9 G, 15 A).
Mackay kept UMD's season alive late last month at the Midwest Regional, scoring both of the Bulldogs' goals in a 2-1 overtime win over Bowling Green and bagging an insurance goal late in UMD's 3-1 regional final win over Quinnipiac. Krieger scored the opening goal against QU, marking his second of the postseason and his first since the night UMD eliminated Omaha from the first round of the NCHC playoffs.
Exell didn't find the back of the net at the Midwest Regional and he only has five points on the season, but don't sleep on him. His second goal of the campaign was huge, as he netted a shorthanded game-tying marker in the third period of the NCHC championship game. UMD beat top-ranked St. Cloud State 3-2 that night when Nick Swaney scored 7:29 into overtime.
UMD faces a tricky field in Buffalo, and there is no assurance that the Bulldogs will become this level's first repeat national champion in 14 years. Regardless, UMD coach Scott Sandelin told reporters at his weekly press conference on Wednesday that his seniors deserve to enjoy their final Frozen Four playing experience.
"To have an opportunity to get back to a Frozen Four and try and defend a title, those are very difficult," Sandelin said. "Just look at the history of college hockey — it hasn't happened for a long time. It's hard to get back there in consecutive years, let alone three, so it's a credit to them.
"They've given good leadership, and Parker obviously stepped up for us big-time in the regional and that was obviously really a shining moment and he scored big goals for us, and Billy, look at the NCHC championship game, he gets a big goal for us.
"Those guys, when you see that, that's what you get excited for when those guys step up and play a big role in getting us to where we are, and they have," Sandelin continued. "It's fun to watch them have an opportunity to go through that again."
UMD is the first team to reach three consecutive Frozen Fours since North Dakota did so in 2014-16. If the Bulldogs beat Providence on Thursday, UMD would become the first team since Boston College (2006-08) to play in back-to-back-to-back national title games.
Not that Providence will roll over for the Bulldogs. Fans will remember the teams' last meeting in 2016, when UMD beat the defending national champion Friars 2-1 in double-overtime in a Northeast Regional semifinal.
"I'm very impressed with their team," Sandelin said. "(Providence coach) Nate (Leaman has) obviously done a great job with their program. The last time we played them, I thought it was a war, the double-overtime game, so I'm not expecting anything different."
Regardless of how UMD fares this week in Buffalo, the Bulldogs' seventh Frozen Four appearance will be a testament to the strength and health of Sandelin's program. Part of that is down to UMD's seniors, and also to the company UMD keeps in the meat-grinder that is the NCHC, home of the last three national champions in North Dakota, Denver and Sandelin's Bulldogs.
"Guys have to understand how hard it is to play through a regular season in our league," Sandelin said. "Just in college, when they're coming out of junior hockey, it's different.
"There's less games, the games have way more importance. In junior hockey, they play more games. Not that those games don't have importance, but that's one part of it, and then the opportunities to get to your league playoff championship, to the NCAA tournament, those are all critical, critical things as far as trying to build what the expectations are, and guys have to go through that.
"That's why it's exciting for, like, last year, those freshmen and for any freshmen to get an opportunity, those are the things that keep facilitating and building, and your older guys are guys that can help that process too from being there and going through that, and I think that's where experience can help," Sandelin continued. "It's not going to win you games for sure, but it's certainly going to help, and that's what facilitates the expectations, but you have to go through those things."