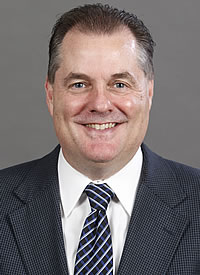 The WCHA announced Tuesday that it has reached an agreement on a new multi-year contract for president and men's commissioner Bill Robertson.
"The WCHA has seen continued growth and success under Bill Robertson's leadership and we are thrilled to announce he will continue as our men's league commissioner," Northern Michigan University president and WCHA men's Board of Directors chairman Dr. Fritz Erickson said in a statement. "Bill joined the association at a pivotal point in our history in 2014 and has steered us through an era of change to position the league well for the future."
Robertson, who completed his fifth season with the WCHA in 2018-19, was the driving force behind the WCHA's move to an on-campus playoff model in 2017 that has seen postseason hockey and championship games played in front of standing-room only crowds over its first three seasons.
In 2018, Robertson led the rollout of the Jeff Sauer Championship Trophy to honor the longtime WCHA coaching icon. The Sauer Trophy is now presented annually to the league's postseason champion. Robertson's tenure has also seen the introduction of the popular three-on-three overtime and shootout format to WCHA regular-season contests, which was implemented prior to the 2016-17 campaign.
"I want to thank Dr. Fritz Erickson and our WCHA men's league Board of Directors for their confidence in my leadership abilities," Robertson added. "The league has experienced tremendous business and competitive growth over the last five years and I'm excited to have the opportunity to continue to build our brand and broaden our reach in the great sport of hockey and the wider collegiate athletics world."
Off the ice, Robertson has improved and revamped the business model for the league since joining the league in May 2014. He led the overhaul of the WCHA's digital platforms – including a new partnership with FloSports that provides extensive live streaming coverage of WCHA contests via FloHockey.tv. He skillfully introduced a number of new media relations concepts and social media platforms to enhance the league's promotional efforts.
Robertson has also been successful in bringing new corporate partners into the WCHA fold, including Anderson's Pure Maple Syrup, UNRL, SPIRE Credit Union and Eckerline Wealth Management.