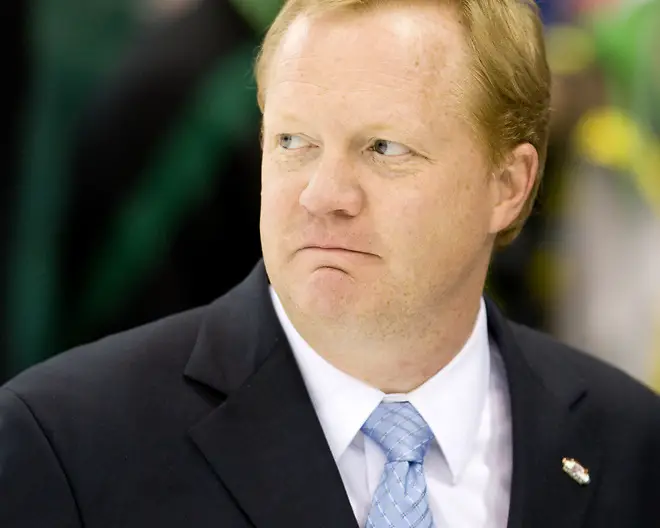 The USA Hockey College Player of the Year award has been renamed the Jim Johannson College Player of the Year award.
Johannson, affectionately known as "J.J." to many, passed away unexpectedly at age 53 on Jan. 21, 2018. His entire career was spent in hockey, including the last 19 years at USA Hockey where he finished his time as assistant executive director of hockey operations.
Under his watch, U.S. teams captured 64 medals on the international stage, including 34 gold medals.
As part of the award, the recipient will have the opportunity to select a USA Hockey local association to receive a $5,000 grant from the Jim Johannson Legacy Fund of The USA Hockey Foundation to help enhance youth hockey within that association.
"Jimmy was such a beloved person in the hockey community and naming the College Player of the Year after him is a great way to carry on his memory," said USA Hockey executive director Pat Kelleher in a statement. "He was passionate about college hockey and appreciated the opportunity it provided for so many American players."
Johannson played college hockey at Wisconsin from 1982 to 1986 and helped the Badgers capture the NCAA title as a freshman. He twice played for the U.S. in the Olympic Winter Games (1988, 1992) and was also a member of the U.S. Men's National Team that participated in the 1992 IIHF Men's World Championship.
"Ellie (daughter of Jim/Abby) and I are so proud that this award will be named after J.J. and so appreciative of this recognition from USA Hockey," added Jim's wife Abby Johannson. "J.J. had a passion for player development and growing the game of hockey at all levels. It is wonderful that this award will include a component to support youth development."
The award will be presented on June 5 at USA Hockey's Night of Tribute Awards Dinner that is part of the organization's Annual Congress.