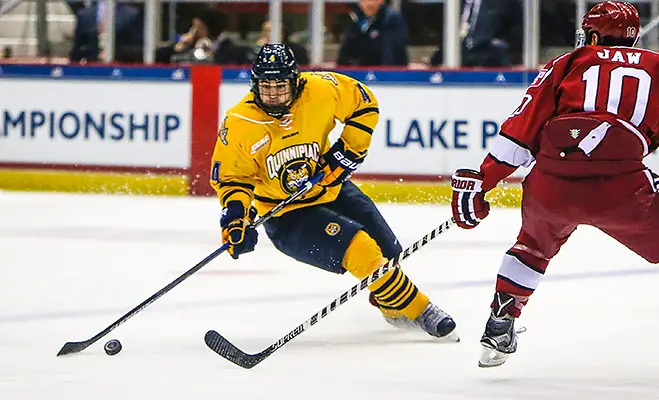 BOSTON — In early March, former Quinnipiac standout defenseman Connor Clifton didn't exactly know what his second season in professional hockey would amount to.
On Monday, less than eight weeks later, Clifton was leading a comeback for the Boston Bruins from two goals down in Game 1 of the Stanley Cup Final against the St. Louis Blues.
Once a fixture in Boston's American Hockey League lineup in Providence, Clifton jumped into the rush and scored at 2:16 of the second period of the Stanley Cup opener, just 76 seconds after Vladmir Tarasenko gave St. Louis a 2-0 lead. The goal proved the be a game changer as the Bruins rallied to tie the game before the middle frame was over and former Miami RedHawk forward Sean Kuraly notched the game-winning goal at 5:21 of third period.
Brad Marchand's empty-net goal with 1:49 left gave the Bruins a 4-2 victory and a 1-0 lead in the Stanley Cup Final.
The goal by Clifton might have seemed like a fluke. Kuraly feathered a puck back door on the left side that hit his skate an bounced past St. Louis netminder Jordan Binnington.
Fortunate? Maybe. But his coach Bruce Cassidy says that is a product of his play.
"He's certainly not afraid to jump into the play; we've seen that since we first saw him," said Cassidy. "Maybe he got a little fortunate, but his stick was on the ice and he was ready for the puck. He got a good bounce.
"But he's a guy who can add some offense from the back end. He's sneaky. He's not a guy you notice a lot. He's not flashy."
Clifton left Hamden, Conn., as one of the best defensemen ever to skate for the Bobcats, having helped lead his team to two ECAC Hockey regular-season titles, a postseason tournament title, three NCAA tournament appearances and a national runner-up his junior season.
Originally drafted by the Phoenix Coyotes in 2013, he went unsigned after his senior season and was given a chance to play in Providence. Getting the call up to the NHL with the Bruins this season in November while the D-corps battled injuries, Clifton maintained the right attitude and became more of a regular fixture in March.
That, says Clifton, was what the dream of playing in the league was all about.
"You dream about it your whole life and obviously, there's a process," said Clifton. "You're a kid watching the NHL games and obviously, you want to do that. That's your dream. It's been a long journey, but here we are today."
After scoring his first NHL goal in the Eastern Conference final against Carolina, Clifton looks more and more comfortable each game he plays. That's something that Cassidy and the Bruins appreciate as they continue their run at Lord Stanley.
"It's one of the reason he's here. He's got good hockey IQ. He knows when to go," Cassidy said. "He kind of slides in there and all of a sudden, he's there. That's smarts but it's also foot speed. He's stronger on his feet than [the opposition] realizes.
"We call it 'Cliffy hockey.' He plays on instincts and right now, his instincts are good to him and it's working."