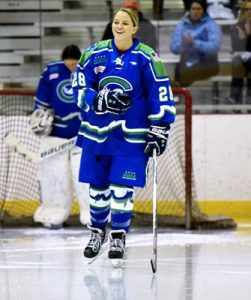 Long Island announced Monday that Sam Faber has been named a full-time assistant coach for the women's team that will start play in 2019-20 in the NEWHA.
Faber comes to Long Island with an outstanding hockey pedigree, playing at the highest level of women's hockey while also coaching at the youth and prep school levels.
During her most recent stint as a player, Faber served as a team captain for the Connecticut Whale, one of the four founding teams in the NWHL. Her professional career also includes time with the CWHL's Boston Blades.
Her most impressive achievement on the ice came during the 2008 IIHF Women's World Championship where she helped lead the United States to a gold-medal finish in Harbin, China. In addition to the national team, Faber also spent time playing for the United States Under-22 select team.
Faber graduated with a degree in women's studies from New Hampshire in 2009 where she was a four-year member of the Wildcats hockey program. During her career, she was named the Hockey East Rookie of the Year, Hockey East First Team All-Star three times, and was a top-10 finalist for the Patty Kazmaier Award.
She finished her career ranked fifth all-time in points at New Hampshire, collecting 189 points on 77 goals and 112 assists. During her junior season, she led Division I with 13 game-winning goals, leading the Wildcats to a 33-4-1 record and a Frozen Four appearance.
While playing for the Boston Blades, Faber served as an assistant coach for the Boston Shamrocks, a junior hockey program for the top players in the country. During her time, she assisted with recruiting and college placement for athletes, while also demonstrating on-ice technical and tactical skills and creating practice plans and fitness programs.