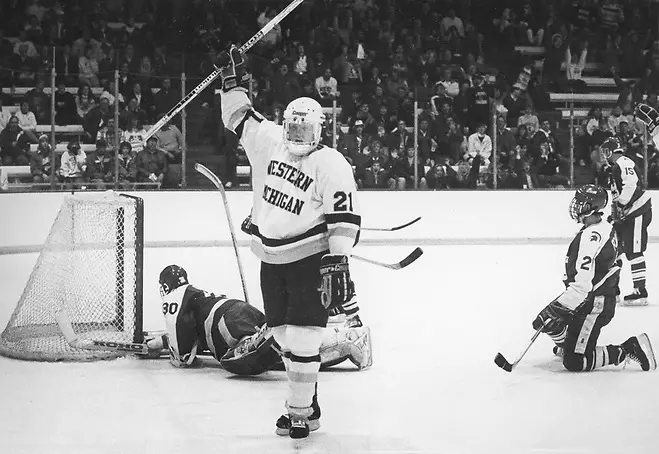 Western Michigan will induct former forward Colin Ward and longtime hockey program supporter Ken Dickie into the WMU Hockey Ring of Honor during the annual Friends & Alumni Weekend, beginning July 26.
The ceremony will take place prior to the golf outing at The Moors at 12:30 p.m.
Ward played four season with the Broncos from 1990 to 1994. He appeared in 155 career games, collecting 145 points on 88 goals and 57 assists. Ward's 88 goals are tied for seventh-most all-time at Western Michigan. He led the Broncos in three of his four seasons, including 31 during his senior season when he helped lead WMU to the program's second NCAA tournament berth.
Off the ice, Ward was a First Team Academic All-CCHA selection during the 1993-94 season. That season, he was also named the WMU Senior Scholar Athlete of the Year and a CoSIDA Third Team Academic All-American.
After graduating, Ward played pro hockey in the British Ice Hockey Superleague for the Bracknell Bees and the Belfast Giants. Since retiring, he has continued to contribute to the game as a coach and leader for the Mindapore Minor Hockey Association in Calgary.
Dickie enters the Ring of Honor in the "builders" category. His association with WMU hockey goes all the way back to the 1960s when, as a referee, he came to know coaches Harry Lawson and Ed Edwards during the program's club years. Dickie was the voice of the Bronco hockey team on WMUK from 1979 to 1982. After that, he was a season ticket holder and a Bronco Blue Line Club member until his retirement from WMU in 1992.
Dickie returned to Kalamazoo in 2005 and helped as a CCHA off-ice official until 2012, when he became the program's volunteer alumni and events coordinator.