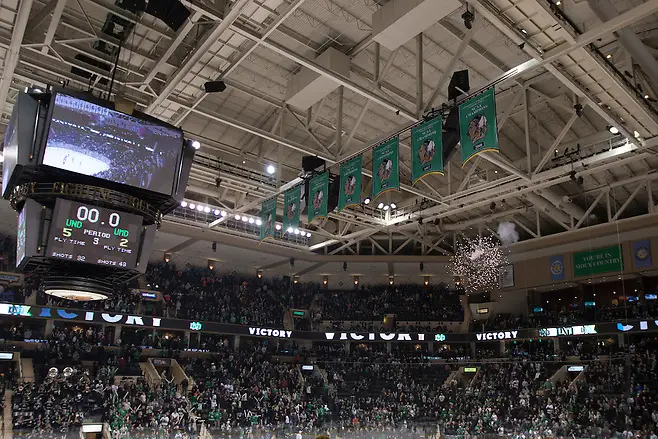 North Dakota and Ralph Engelstad Arena announced Tuesday that they have agreed to terms on a new long-term 10-year usage agreement extension.
The usage agreement extension will run from July 1, 2020 through Sept. 30, 2030.
The usage agreement is the operating agreement that outlines the operating relationship between UND and Ralph Engelstad Arena relative to UND's use of the Ralph Engelstad Arena Sports Complex for UND athletics events and activities.
The new agreement extends the terms and conditions in the current usage agreement and mirrors the current usage agreement, which is set to expire on June 30, 2020.
"UND is very grateful for the generosity and support that the Engelstad family and the Engelstad Foundation have shown the university in the past and we look forward to even more productive collaborations in the future," said UND president Joshua Wynne in a statement.
"I would like to sincerely thank President Wynne for his leadership and willingness to extend the terms of the current usage agreement," added arena general manager Jody Hodgson. "This extension will allow all of us at UND and the Ralph to continue maximizing the benefit of Mr. and Mrs. Engelstad's gift for the benefit of UND's student-athletes, coaches and fans. The usage agreement provides the platform for a mutually beneficial relationship and we're focused on making the most of the opportunity for all involved."
Jed Shivers, UND vice president for finance and operations-chief operating officer, noted "the usage agreement extension is a great example of President Wynne's vision to push the University forward and advance our mutual interests with the Engelstad family and the staff at the arena."
"We are committed to a positive and productive relationship with UND and we appreciate the productive manner in which they dealt with the usage agreement extension," said Kris McGarry of the Engelstad Foundation. "The staff at Ralph Engelstad Arena will continue the good work that they do every day to maximize the opportunity provided by my parents for UND and its students, student-athletes and coaches as well as the community of Grand Forks and the citizens of the region. Confirmation of our long-term operating relationship via the usage agreement extension was very important to me and I want to thank President Wynne for his leadership on this issue."