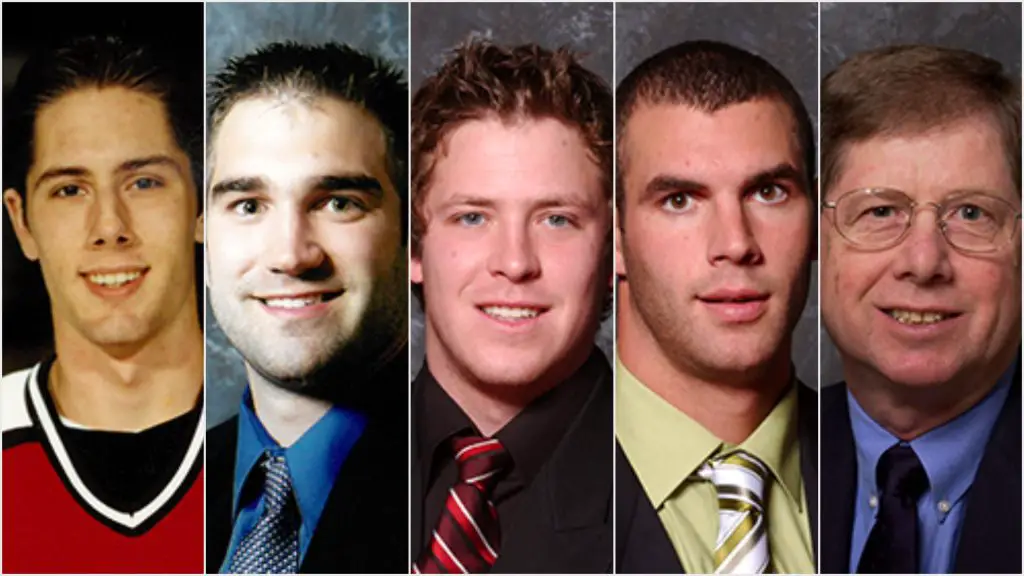 Five former St. Lawrence hockey players will be inducted into the school's Robert J. Sheldon Hall of Fame on Friday, Oct. 4, 2019.
Eric Heffler, Erik Anderson, T.J. Trevelyan, Drew Bagnall and Ron Waske have been selected for the honors.
Heffler, a goaltender who graduated in 1999, had an outstanding season as a senior. He was named the ECAC Hockey Player of the Year, the league's Ken Dryden Goaltender of the Year, was an AHCA First-Team All-American, First-Team All-ECAC Hockey selection, and made the ECAC Hockey All-Tournament Team.
He posted a .931 save percentage and a 2.39 GAA as a senior. Heffler ranks third on the Saints' career save percentage list (.920) and fourth on the all-time saves list (2,253).
After graduating from St. Lawrence, he spent four years playing professional hockey, including 68 games in the AHL. After a one-year stint as a volunteer coach at Princeton, Heffler earned an MBA at the University of Buffalo.
A two-time All-ECAC Hockey selection, Anderson was the league's Player of the Year and a Hobey Baker finalist as a senior in 2000-01. He helped lead the Saints to three straight ECAC Hockey championship games, including back-to-back titles in 2000 and 2001. St. Lawrence also went to three straight NCAA tournaments, advancing to the NCAA Frozen Four in 2000.
In 140 career games, Anderson scored 46 goals and added 102 assists for 148 career points. He is tied for fifth on the Saints' all-time assist list and is 13th in points.
After graduating, Anderson played professional hockey for six seasons. He played in 83 games with the AHL's Milwaukee Admirals, and also played in Europe for three years. Anderson still spends time on the ice, coaching youth hockey in Stratford, Ont.
Another Hobey Baker Award finalist, AHCA First-Team All-American and First-Team All-ECAC Hockey selection in 2006, Trevelyan, a 2006 grad, ranks sixth on the Saints' all-time scoring list with 78 goals and is 10th in all-time points with 154.
Since graduating, Trevelyan has played for three different AHL clubs over the course of five seasons, and will enter his ninth season with the Augsburg Panthers in the Champions Hockey League in Augsburg, Germany, this year. He has scored 221 goals and has 424 points in 668 professional games in his 13-year career.
One of the best defensive defensemen in St. Lawrence history, Bagnall was a Hobey Baker finalist, First-Team AHCA All-American, the ECAC Hockey Defensive Defenseman of the Year and the ECAC Hockey Player of the Year in his senior season of 2006-07.
Bagnall finished his career with 19 goals and 53 assists for 72 points. He excelled on and off the ice, winning St. Lawrence's Outstanding Male Senior Scholar-Athlete Award and the Leadership in Economics Award.
After graduating from St. Lawrence, Bagnall had an eight-year professional hockey career. He played in 474 AHL games and was the team captain for three different organizations. He also played in two NHL games for the Minnesota Wild and retired from professional hockey in 2016.
Waske, class of 1969, was a backup goaltender and third-line forward for the team in the late 1960s. He is believed to be the only player in ECAC Hockey history to play both in the goal and as a skater and a goaltender in the same playoff game, a feat he accomplished when he had to replace an injured goaltender in the semifinals against Boston University in 1967.
He spent 10 years as the athletic trainer for the New York Islanders, and he was a part of four straight Stanley Cup championships from 1980 to 1983. He returned to his hometown and alma mater in 1984 to serve as the head athletic trainer at St. Lawrence.
Over the course of 26 years at St. Lawrence, Waske helped thousands of student-athletes get stronger and recover from injuries. He worked with hundreds of student athletic trainers, many of whom have gone on to have long careers in athletic training themselves. He proved his versatility once again in the late 1990s, serving as the head coach of the women's hockey team for two seasons as the program moved up to NCAA Division I status before returning to his role as head athletic trainer.
He was the recipient of the 2010 John P. "Jack" Taylor Distinguished Career Service Award, and was the inaugural recipient of the Doc Littlejohn/Ron Waske Athletic Service Award, given to a member of the athletic department who has made significant contributions to the department's success.
In 2006, Waske was recognized by the Professional Hockey Athletic Trainers Society with a spot on the PHATS/SPHEM Wall of Honour in the Hockey Hall of Fame in Toronto.