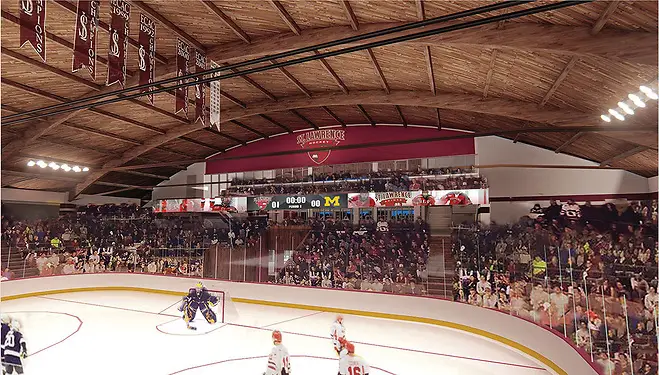 St. Lawrence announced Monday that Appleton Arena will not be ready for home games this season until Nov. 29 due to issues with the rink's renovations and construction.
With the exception of a men's game with Clarkson on Nov. 1, which will be played at Clarkson's Cheel Arena, all games will be played take place at Canton's rink, the Roos House.
The home game St. Lawrence lost with Clarkson this year will be made up next year as Clarkson will play an extra nonconference game at Appleton Arena.
"Significant progress on the Appleton Arena project continues, but unforeseen construction delays have caused the renovation to fall behind an already tight schedule," SLU athletic director Bob Durocher said in a statement. "Because of this, and because we want to ensure an optimum and safe game-day experience for our players, staff, and north country fans, we have decided to change the location of several home games to the rink at SUNY Canton.
"Team schedules (both men's and women's) and game locations as well as ticket information have been updated online and the coaches have been involved with developing an alternative plan for the start of the season. Their support has allowed us to maximize our ability to complete the project as soon as possible. We are extremely happy about the ongoing partnership with SUNY Canton and will continue to use their facility through the early part of the season."
The revamped Appleton Arena will be dedicated the weekend of Feb. 7-8.