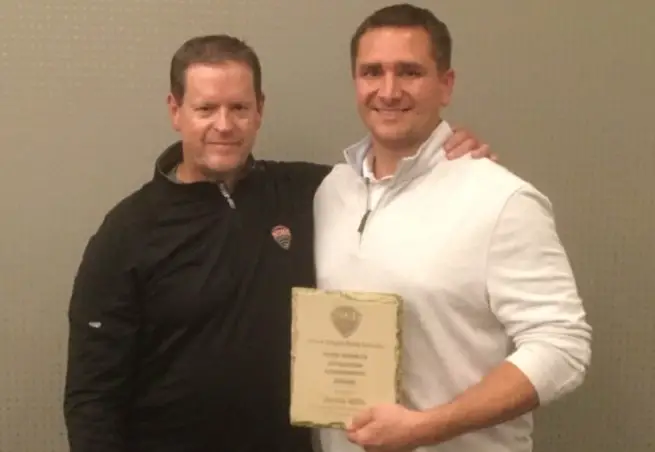 Justin Hills has been named the sixth recipient of the NCHC's annual Mark Rudolph Officiating Achievement Award for the 2018-2019 season.
Hills completed his sixth season as an NCHC linesman in 2018-19. He was presented with the Rudolph Award on Saturday, Sept. 21 at a ceremony attended by all NCHC referees, regional NCHC linesmen and NCHC staff, as well as Hills' family, in Saint Paul, Minn.
"Justin has been a pleasure to have on our staff from day one," said NCHC director of officiating Don Adam in a statement. "His work ethic, professionalism and consistency, both on and off the ice, have been a staple for our staff," Adam said. "Hillsie is always harder on himself than I ever could be and he does not prioritize games — every college hockey game is equally important to him. It's always a pleasure working with officials who give more than they take."
"It has been a pleasure having Justin on the NCHC's officiating Staff and we've enjoyed watching him grow every year," added NCHC commissioner Josh Fenton. "Justin's success speaks for itself and he's consistently one of our top linesmen. More importantly, we're proud of Justin's initiative in starting the Movember silent auction held at North Dakota, which contributed to the staff surpassing its goal of $20,000 during the 2018-19 season."
Hills and his wife of seven years, Megan, were married in 2012 in Moorhead, where they still reside. The Hills have a three-and-a-half-year-old daughter, Avery, and a one-year-old son, Jaden.
"I'm so happy for him. He loves college hockey!," said Megan, a former oncology nurse of five years.
The award is named in honor of Mark Rudolph, a longtime official and distinguished administrator who established USA Hockey's National Officiating Program, among many other accomplishments. The award was officially established prior to the 2014-15 season and is presented to a member of the NCHC officiating staff following each season at officiating camp.
PREVIOUS MARK RUDOLPH OFFICIATING ACHIEVEMENT AWARD WINNERS
• 2013-14 – John Philo
• 2014-15 – Paul Carnathan
• 2015-16 – Joe Sullivan
• 2016-17 – Timm Walsh
• 2017-18 – Ron Foyt