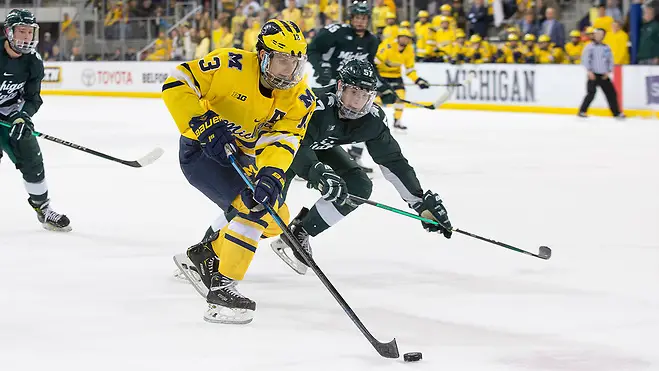 As the Big Ten begins its seventh season of play, the league's overall identity is still difficult to define – ironic, given its very big branding.
It's a conference with a high profile and higher hopes, a national presence and no national championship to date and a lack of consistency that has plagued it from its inception.
But Brad Traviolia, the league's deputy commissioner, is confident that that's about to change.
"We all have high expectations of competitive success and there's a lot of optimism in the room that we're on the cusp of doing something really special," said Traviolia. "I'm very excited for the season to start and see how our teams perform."
Two seasons ago, the Big Ten may have over-performed, placing three teams in the Frozen Four but coming away empty. That same year, the league led all of NCAA Division I with a record of 53-22-5 in nonconference play (.694) and looked poised to emerge as a dominant force.
A year later, the Big Ten was 40-27-5 against non-league opponents (.590) and two teams advanced to the 2019 NCAA tournament, both bowing out before the Frozen Four.
With only six seasons of history from which to draw, the Big Ten is as tricky to predict as it is to define, but there are several things that will factor into how everything plays out – both in conference play and on the national scene.
Parity
Penn State is the odds-on favorite of the Big Ten coaches in preseason because of the impressive offense and number of upperclassmen that the Nittany Lions return.
"They've got some huge numbers coming back," said Ohio State coach Steve Rohlik. "They've got some veterans coming back. As a coach, that's what you hope for."
It was Ohio State last year that distinguished itself from the rest of the league to capture the regular-season championship, finishing nine points ahead of second-place Notre Dame. After that, though, seven points separated the Fighting Irish from last-place Michigan State. There is nothing to suggest that this year will be much different.
"That's great for competition, great for intensity of games, but it's pretty hard to get into the tournament," said Penn State coach Guy Gadowsky. "It's a positive and a negative that everybody's getting better. There's no bottom end right now for our league. I'm not sure who you're supposed to beat, where you're supposed to get the points."
While each team in the conference is well coached and plays to its strengths – and those strengths vary from team to team – someone has to come out on top. Bob Motzko, in his second year at Minnesota, said that the difference between individual teams may come down to some minute and specific aspects of the game.
"There are so many teams that are going to be so close," said Motzko. "And you're going to see goaltending or injuries or lack of injuries or maybe a power play – the little things are going to dictate spots in the standings."
Nonconference play
The subtleties that separate Big Ten teams within conference play will determine who takes the regular-season championship, but make no mistake about it: this is a conference that wants to earn national recognition, and to do that, B1G hockey needs to improve against opponents from other leagues.
"We need to all be playing very competitive nonconference schedules and we need to be doing a good job at it," said Motzko.
Minnesota has a series against defending champion Minnesota-Duluth. Michigan takes on Clarkson and Western Michigan. Ohio State plays Western Michigan and Cornell. Michigan State plays Cornell and Arizona State. The sheer number of nonconference games necessary to build a D-I schedule for a seven-team league makes inter-league success imperative for the Big Ten.
Parity isn't reserved for the Big Ten, said Rohlik, and that makes it tougher every season to profit from nonconference play.
"I think the league keeps getting tougher, but so does all of college hockey," Rohlik said. "I think college hockey in general has that parity."
All the intangibles
Play in the league needs to improve from top to bottom if the Big Ten is to realize its goal of national prominence. Penn State had a phenomenal offense last year, but the Nittany Lions were the only team among the country's top offensive performers, with Minnesota the next-best at 15th.
Defensively, Notre Dame was tops among B1G teams and only 12th nationally, followed closely by Ohio State at 14th – and they were the only two teams from the conference among the top 20 defensive teams nationally. Only two of the league's goaltenders were among the top 20 in goals-against average and three in save percentage.
Given that four Big Ten teams have seen a turnover at head coach since the conference's inaugural season (2013-14), maybe those kinds of growing pains are to be expected. Traviolia, at least, thinks that the league is on the verge of something as big as its national identity.
"We feel good attendance-wise," said Traviolia. "We feel our television packages are very good and we have a lot of nationally televised games, which is unique in the sport. I think that if you look at the number of players in the NHL from our member schools, we're doing very well in that realm. For the first six years of Big Ten hockey, we haven't had one of our teams break through to being that national champion, but it's a matter of when, not if."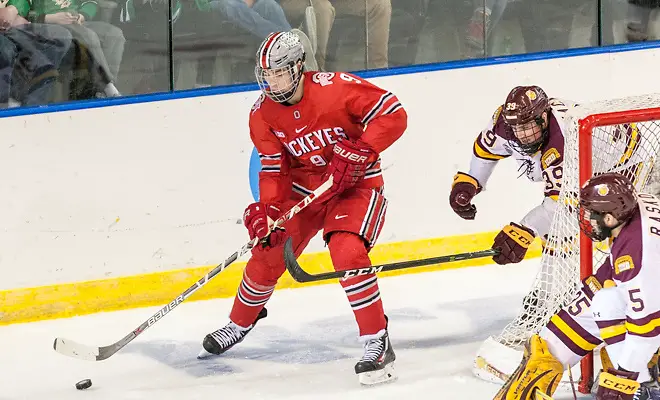 MICHIGAN
HEAD COACH: Mel Pearson, entering his third season at Michigan
2018-19 OVERALL RECORD: 13-16-7 (9-10-5-2 Big Ten, fifth)
KEY RETURNING PLAYERS: Senior forward Will Lockwood (16-15-31), senior forward Jake Slaker (11-14-25), senior forward Nick Pastujov (11-13-24), senior defenseman Luke Martin (0-6-6)
KEY LOSSES: Defenseman Quinn Hughes (5-28-33), forward Josh Norris (10-9-19), defenseman Joseph Cecconi (3-17-20)
KEY ADDITIONS: Forward Johnny Beecher (USNTDP), forward Jacob Hayhurst (Rensselaer), defenseman Cam York (USNTDP), defenseman Eric Ciccolini (Toronto, OJHL), defenseman Shane Switzer (Boston University)
2019-20 PREDICTION: The 2018-19 season was a strange won for the Wolverines. After returning a veteran team with a Frozen Four appearance to its credit, Michigan was utterly inconsistent defensively, with Hayden Lavigne and Strauss Mann combining for an .889 overall save percentage behind a team defense that ended the season tied for 45th in the nation. The Wolverines need to do more than shore up their own end, though, if they are to fare better than the sixth-place finish that has been predicted for them in preseason by B1G coaches. Once again, Michigan returns an experienced team with nine seniors, including transfers Jacob Hayhurst on offense and Shane Switzer on defense, two players that will add to the team's already solid leadership. In spite of some key losses in the offseason, the Wolverines have enough talent to surprise the Big Ten – if they can find the necessary consistency and chemistry.
MICHIGAN STATE
HEAD COACH: Danton Cole, entering his third season at Michigan State
2018-19 OVERALL RECORD: 12-19-5 (8-12-4-2 Big Ten, seventh)
KEY RETURNING PLAYERS: Senior forward Patrick Khodorenko (18-19-37), junior forward Mitchell Lewandowski (16-18-34), senior forward Sam Saliba (4-6-10), sophomore goaltender Drew DeRidder (3-8-5, 3.23 GAA, .906 SV%), senior goaltender John Lethemon (9-11-0, 3.24 GAA, .905 SV%)
KEY LOSSES: Forward Taro Hirose (15-35-50), forward Cody Milan (7-13-20), defenseman Zach Osburn (3-11-14)
KEY ADDITIONS: Forward Josh Nodler (USNTDP), Jagger Joshua (Muskegon, USHL)
2019-20 PREDICTION: The only place for the Spartans to go is up, and Michigan State is in the enviable position of being perceived of doing just that. In September, the program broke ground on a much-needed expansion of and improvement to Munn Ice Arena, a move that will help continue to attract quality recruits. In the meantime, Michigan State brings in just three new players, returning a disciplined, veteran team minus one key component, Taro Hirose, whose seamless transition to the Detroit Red Wings the moment his season ended with the Spartans tells you the level at which he was playing – and every coach will tell you that replacing such a player is nearly impossible. Still, Michigan State returns two high-scoring forwards and two capable (if inconsistent) netminders. There is one thing that is certain with Michigan State: the Spartans will always play to the best of their ability on any given night. Add the solid veteran roster to that and the Spartans have more than a chance to finish above the basement for the first time since 2015-16.
MINNESOTA
HEAD COACH: Bob Motzko, entering his second season at Minnesota
2018-19 OVERALL RECORD: 18-16-4 (11-10-3 Big Ten, third)
KEY RETURNING PLAYERS: Junior forward Brannon McManus (14-12-26), sophomore forward Sammy Walker, forward (10-16-26), sophomore forward Blake McLaughlin (5-15-20), sophomore forward Sampo Ranta (6-10-16), senior defenseman Tyler Nanne (5-8-13)
KEY LOSSES: Forwards Rem Pitlick (21-24-45), Tyler Sheehy (12-29-41) and Brent Gates Jr. (13-18-31), defenseman Jack Sadek (4-14-18) and goaltenders Mat Robson (14-12-4, .921 SV%, 2.78 GAA) and Eric Schierhorn (4-4-0, .901 SV%, 2.50 GAA)
KEY ADDITIONS: Forward Jack Perbix (Des Moines, USHL), defenseman Jackson LaCombe (Chicago, USHL), goaltender Jared Moe (Waterloo, USHL)
2019-20 PREDICTION: In the second season under head coach Bob Motzko, the Gophers are going to have to mature in a hurry. The loss of Minnesota's top-three scorers and both goaltenders that saw time in net last season means there will be a lot of new or less-experienced players playing in key situations. Freshman Jared Moe and former Michigan goaltender Jack LaFontaine look primed to battle for time in between the pipes. If newcomers Jackson LaCombe and Ryan Johnson can gel with upperclassmen Ryan Zuhlsdorf and Tyler Nanny on the blue line, that would go a long way to help the Gophers ease both goaltenders into action. Minnesota looks to be in another rebuilding year, but with a few breaks the Gophers couple provide a fight in the Big Ten.
NOTRE DAME
HEAD COACH: Jeff Jackson, entering his 15th season at Notre Dame
2018-19 OVERALL RECORD: 14-8-3 (11-11-2-2 Big Ten, second)
KEY RETURNING PLAYERS: Senior forward Cal Burke (12-17-29), sophomore forward Michael Graham (12-10-22), senior forward Cam Morrison (11-10-21), senior forward Mike O'Leary (6-15-21), junior forward Colin Theisen (11-9-20), junior defenseman Matt Hellickson (4-12-16), senior goaltender Cale Morris (19-13-3/.930/2.19)
KEY LOSSES: Forward Dylan Malmquist (10-20-30), forward Joe Wegwerth (7-4-11), defenseman Bobby Nardella (8-26-34), defenseman Andrew Peeke (3-21-24)
KEY ADDITIONS: Forward Trevor Janicke (Central Illinois, USHL)
2019-20 PREDICTION: With three of the top four scorers from last year moving on, is this the season ultra-consistent Notre Dame fades to the middle of the pack in the Big Ten? Probably not, simply because Cale Morris returns for his senior season. The netminder may not have matched his stellar sophomore season last year, but a stat line that features a 19-13-3 record and .930 save percentage certainly isn't anything to shake a stick at. The Irish also have a solid corps of scoring left in the cupboard, including senior Cal Burke and Michael Graham, who was the conference's top-scoring freshman last season. Notre Dame isn't as flashy as other teams in the conference, but it's hard to argue with the results. There's no reason to not predict that the Irish don't nab another top-three spot in the conference and find themselves in the NCAA tournament at season's end.
OHIO STATE
HEAD COACH: Steve Rohlik, entering his seventh season at Ohio State
2018-19 OVERALL RECORD: 20-11-5 (13-7-4-3 Big Ten, first)
KEY RETURNING PLAYERS: Senior forward Tanner Laczynski (10-20-30), senior forward Carson Meyer (9-13-22), senior forward Ronnie Hein (11-10-21), senior defenseman Matt Miller (5-17-22), junior goaltender Tommie Nappier (12-4-3, .934 SV%, 1.86 GAA)
KEY LOSSES: Forwards Mason Jobst (17-19-36) and Dakota Joshua (9-13-22), goaltender Sean Romeo (8-7-2, .902 SV%, 2.58 GAA)
KEY ADDITIONS: Forward Michael Gildon (USNTDP), defenseman Layton Ahac (Prince George, BCHL)
2019-20 PREDICTION: Coming off of the second Frozen Four appearance in program history, the Buckeyes started out strong last season. Ohio State held a 11-4-3 record at the holiday break and won eight of its first 10 games in 2019. That gave the Buckeyes enough cushion to capture the Big Ten regular-season crown, but the Buckeyes sputtered down the stretch and were shutout by Denver in their opening NCAA tournament game. A Frozen Four, a conference title and a head coach that has had his contract extended twice in the previous couple years highlights where this program is at, but there's work to do this season. Gone is Mason Jobst, who had the most career points at Ohio State since 1989. Gustaf Westlund, who showed promise during his freshman season, seems primed to take on a bigger role this year. An experienced defensive corps and goaltender should help keep the Buckeyes fighting near the top of the conference standings this season.
PENN STATE
HEAD COACH: Guy Gadowsky, entering his eighth season at Penn State
2018-19 OVERALL RECORD: 22-15-2 (11-12-1-1 Big Ten, fourth)
KEY RETURNING PLAYERS: Junior forward Alex Limoges (23-27-50), junior forward Evan Barratt (16-27-43), senior forward Liam Folkes (18-24-42), senior forward Brandon Biro (16-24-40), senior forward Nate Sucese (19-18-37), senior forward Nikita Pavlychev (14-15-29), senior goaltender Peyton Jones (18-12-2, 3.32 GAA, .901 SV%)
KEY LOSSES: Forward Chase Berger (14-15-29), forward Alec Marsh (7-7-14)
KEY ADDITIONS: Forward Kevin Wall (Chilliwack, BCHL), forward Connor MacEachern (Youngstown, USHL)
2019-20 PREDICTION: The Nittany Lions return half a dozen players 10-plus goal players from a year ago, and those six skaters accounted for 101 of 177 overall tallies or roughly 60 percent of Penn State's offense. The team was an offensive juggernaut in 2018-19, averaging an astonishing 4.54 goals per game to lead the nation in offense. This is a team that likes to take many risks with the puck, which leads to that high-octane game in one end and a heart-stopping contest in its own zone. The Nittany Lions paired the country's best offense with the 56th-best defense nationally, allowing 3.56 goals per game. Not surprisingly, Penn State had a great power play last year and a so-so penalty kill. If Penn State's defense improves even a little in front of senior goaltender Peyton Jones – who should be sainted for his time in PSU's net – this team will do more than just contend for a Big Ten title.
WISCONSIN
HEAD COACH: Tony Granato, entering his fourth season at Wisconsin
2018-19 OVERALL RECORD: 14-18-5 (9-10-5-2 Big Ten, fifth)
KEY RETURNING PLAYERS: Junior forward Sean Dhooghe (15-11-26), junior forward Linus Weissbach (8-17-25), junior forward Tarek Baker (7-13-20), junior defenseman Wyatt Kalynuk (9-16-25), sophomore defenseman K'Andre Miller (5-17-22)
KEY LOSSES: Forwards Seamus Malone (8-18-26) and Will Johnson (8-7-15), defenseman Peter Tischke (3-7-10)
KEY ADDITIONS: Forward Cole Caufield (USNTDP), forward Alex Turcotte (USNTDP), forward Dylan Holloway (Okotoks, AJHL)
2019-20 PREDICTION: Wisconsin enters this season as arguably the most intriguing team in the conference. With three highly-touted freshmen forwards joining five 20-point scorers from last season, the Badgers look to have an offense that could vault the team to the top of the Big Ten standings. Wisconsin hasn't made the NCAA Tournament the past five seasons, and to get back in it will need more than offense. The team has to deal with the loss of Peter Tischke, who didn't provide a lot of points from the blue line but was an anchor at the back end for the Badgers. Sophomore K'Andre Miller will have to build on his impressive freshman season. In goal, the team will need more from both Daniel Lebedeff and Jack Berry. Both net minders ended last season with a losing record. If everything clicks, we could see the Badgers playing hockey in late March again.