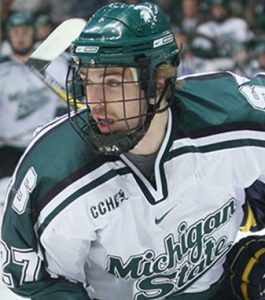 Michigan State has announced that former Spartan hockey player Dan Sturges has joined the program as director of hockey operations.
"It's always great when you can welcome another Spartan back to the program," Michigan State coach Danton Cole said in a statement. "Dan gained some excellent experience over the last few years and did a great job coaching at Colorado. We wish Brad Fast the best of luck in his new career and we're excited about Dan and what he brings to Spartan hockey."
"The opportunity to return to East Lansing and the Michigan State hockey program is a dream come true," Sturges added. "Coach Cole and the entire staff have a great plan in place, and I look forward to getting to work, helping the hockey program and community any way I can. My family and I have a lot of great memories here, and we are extremely excited for what lies ahead."
Sturges returns to Michigan State from the University of Colorado where he coached two of the school's ACHA programs. Sturges was head coach of Colorado's ACHA Division II team for three seasons from 2016 to 2019 before being elevated to the top job of the ACHA D-I program in spring 2019.
He was named the Big Mountain Hockey Conference Coach of the Year in 2018 while leading his team to the league's playoff title.
Simultaneously with his head coaching duties at Colorado, Sturges also served as an assistant coach since 2017 at Valor Christian High School, where he worked under former Spartan assistant George Gwozdecky.
Additionally, Sturges worked last season as a western region scout for the NAHL's Janesville Jets.
Sturges, who earned his degree from MSU in psychology, played for the Spartans for four seasons from 2005 to 2009 and was a member of the 2007 national championship team.