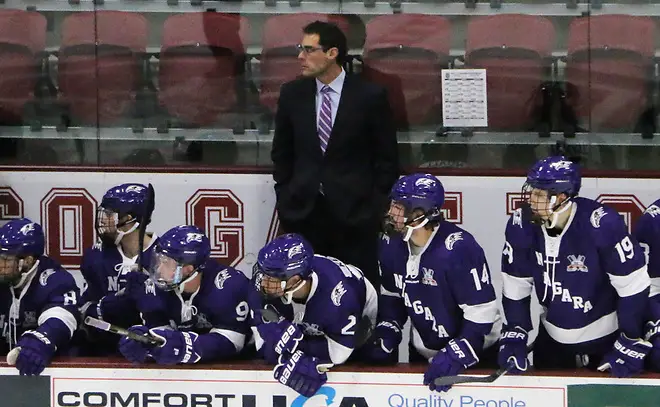 Niagara announced Friday that head coach Jason Lammers has received a contract extension through the 2023-24 season.
"In just two years, Jason's integrity, passion, and skill has established him as a leader on our campus, in our conference, and throughout the Niagara community," Niagara director of athletics Simon Gray said in a statement. "His dedication to recruiting and developing the highest-caliber student-athletes has raised our hockey program's on-ice competitiveness and academic outcomes. From day one, Jason has inspired with his vision for what Purple Eagles hockey can provide Niagara University and I am elated at this mutual commitment to his leadership."
Lammers guided the Purple Eagles to their first-ever Atlantic Hockey championship game in March 2019. Niagara eliminated archrival Canisius, defending champion Air Force, and RIT during the team's postseason run.
Niagara has improved its record in each of his two seasons at the helm and finished the 2018-19 campaign with 17 wins, which are the most by the program since the 2012-13 season.
"As a staff, we are grateful for this contract extension and continued opportunity," Lammers added. "Thank you to Niagara University leadership, specifically Father Maher and Simon Gray, the campus community, and the communities of Niagara Falls and Lewiston, for their support. We are committed to making Niagara University regionally dominant and national prominent. We are excited to ignite, educate, empower, and serve our student-athletes this year and for years to come."