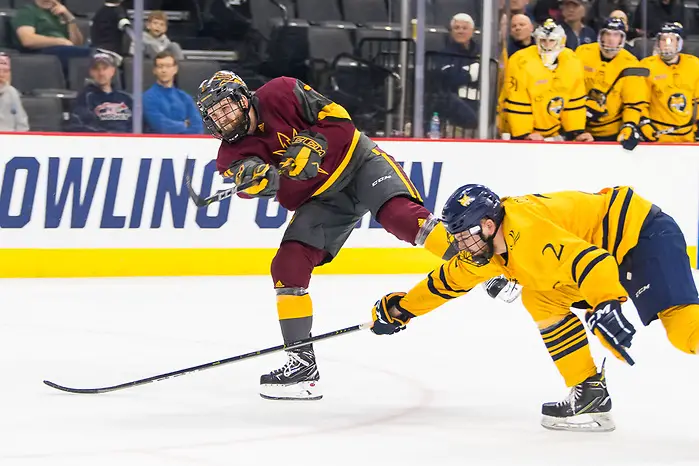 A year ago on the calendar, if you weren't inside the locker room of the Arizona State Sun Devils, you may not have had a clue that there was about to be a new national contender in college hockey.
The Sun Devils, in just their third full season as an NCAA Division I varsity program, had shown some signs of success. But few understood that this team was about to become one that would compete for – and earn – a spot in the NCAA tournament.
"For a year or two there, we were the layup as we were building our program," admitted head coach Greg Powers.
But a 21-win season, an NCAA berth and series sweeps against teams like Boston College, Princeton and Omaha opened plenty of eyes. More importantly, it set the stage for what Powers hopes it a benchmark on which the team can build.
For Powers, he understands that this season ahead is about backing up what the team did last season. They were led by arguably the best goaltender in the nation, first-team all-America Joey Daccord, who left after three seasons at Arizona State to sign a professional contract.
The image that Daccord was the entire team a year ago is one that Powers and his club will battle this year.
"We need to prove to everybody that last year we didn't just take a big step because we had a good goalie," said Powers. "We took a big step because we're doing the right thing. It's everybody chipping in. It's not just one guy. We just need to keep pushing the rock forward."
That rock won't be light as this season, unlike the past, the Sun Devils have absolutely zero shot of sneaking up on opponents. Ranked 20th in the preseason USCHO.com poll, Arizona State will more likely have the target on its back rather than enter each game as the upstart underdog.
Powers believes this year's team is actually better than last year's NCAA squad, but that remains an untested theory as the Sun Devils enter the USCHO Game of the Week on Saturday and Sunday against an always-dangerous Mercyhurst squad from Atlantic Hockey.
"We think we have a better team, a deeper team, a more balanced team," Powers said. "There's more skill and talent, more goal scoring. Way more depth on our back end. We didn't lose any of the young D and we added two highly-skilled freshmen."
One focus for the season is discipline. Last year, Arizona State averaged 15.1 penalty minutes per game, second in the nation behind Alaska. While their penalty kill was solid, ranking seventh in the nation at 86.6 percent efficiency, Powers would rather that unit remain as untested a possible.
"The big focus for us is to be a more disciplined team and go on the power play more than we put the other team on the power play," said Powers. "The maturity of the team and everything we've gone through that's something we should be able to do. That's within our control.
"We've worked really hard on special teams. That's the goal: to be on the power play more than we're on the kill."
Arizona State's near instant success since joining the NCAA ranks is something that should be lauded. The Sun Devils continue to look for a permanent home in a league, something that should be aided if the school's on-campus rink opens on schedule in the fall of 2021.
For Powers, he takes pride in last season not just for the results but for the buzz his team created in, by far, the most western destination in college hockey.
Later this season, Arizona State  will head further west to Irvine, Calif., and host a "home" series against Harvard. An event like that could help put this program – and the possibility of growing this game on the west coast – on full display.
Powers takes a lot of pride in such an event and what it could potentially do for college hockey.
"We have a big alumni base out there [in the greater Los Angeles area]," said Powers. "But it's great to expose the brand. And when I say the brand we're not just talking ASU, we're talking college hockey.
"Playing in Southern California with such a great program and a great institution like Harvard, which is going to be really good again. It's just a great opportunity.
"We want to be a pioneer and grow the game out here. We're going to call up schools and invite them and say, 'Hey come look at this, come see this.' This is a neutral site game in a 3,000-seat arena that I think we're going to pack. We want teams to know you can have this on your campus.
"The approach, if I'm those schools, should be, 'If they can do it, why can't we?'"