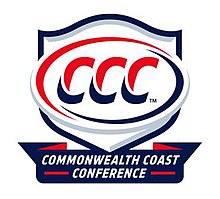 The Commonwealth Coast Conference announced Friday that the CCC will begin to oversee women's hockey as a championship sport beginning in 2020-21.
The CCC will assume operation of a renamed Colonial Hockey Conference.
"I am so pleased that the CCC will be adding women's ice hockey to the championship sport offerings under the conference umbrella," said CCC commissioner Gregg Kaye in a statement. "The presidents at each of the CCC member institutions greatly value the role that intercollegiate athletics plays in enhancing the undergraduate experience of our student-athletes. Our presidents and athletic directors have worked diligently to expand the quality competition synonymous with the CCC brand. Adding women's ice hockey to our inventory of sport offerings is a natural step in continuing our recent pattern of growth."
The addition of women's hockey was perpetuated by two big announcements within the conference – the addition of Suffolk to the league membership and current CCC member Western New England announcing it would be starting a varsity program in 2020-21.
"The addition of Suffolk University as our tenth full member and the establishment of the new varsity program at Western New England have been key additions for the CCC," added Kaye. "As a result of these additions, our conference is able to provide our women's hockey student-athletes with the same CCC championship opportunity as their peers in 18 other sports."
Prior to those news items, there were four CCC full members with women's hockey programs, all competing in the CHC — Endicott, Nichols, Salve Regina, and University of New England.
Suffolk and WNE will become the league's fifth and sixth members. Becker, the only remaining non-CCC member of the league, will remain in the rebranded conference as an associate. The Hawks are already CCC associate members in men's hockey.
As a seven-team league, the conference will retain the automatic qualifier into the NCAA Division III women's tournament.
"I am so grateful that the CCC will be able to build upon the strong foundation and traditions that the Colonial Hockey Conference provided student-athletes from four CCC institutions since 2015," said Kaye. "CHC commissioner Katie Boldvich has been totally supportive during the conversations that have led to the CCC's historic announcement. Katie's priority has always been promoting and growing the great sport of women's ice hockey and increasing opportunities for female student-athletes in the sport. The CCC women's ice hockey programs and student-athletes are forever grateful for Katie's support, hard work and passion."
For the past two seasons, the CHC was granted an automatic qualifier into the NCAA Division III t. Last season, Endicott won the CHC title and made the only national tournament appearance of the teams set to play in the rebranded league.