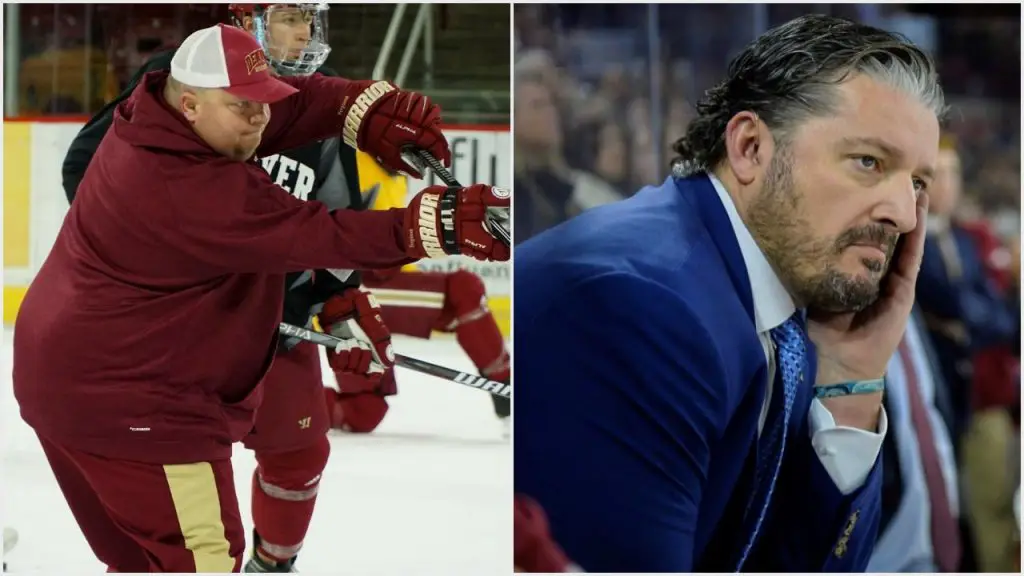 Denver's first two weeks of the new season have involved getting creative with travel logistics.
That stuff is old hat for Pioneers assistant coaches Dallas Ferguson and Tavis MacMillan.
Both are University of Alaska-Fairbanks alums, and both eventually became head coaches of the Nanook hockey program. Ferguson served under MacMillan from 2004 to 2007, and Ferguson then took the reins for nine years starting in 2008.
Ferguson then coached the WHL's Calgary Hitmen for one season prior to arriving in Denver last year, where he helped the Pioneers to a Frozen Four berth. MacMillan is in his fifth season at DU and has made three Frozen Four trips with the Pios.
MacMillan was on the recruiting trail early this week while Denver, fresh off a weekend sweep in Fairbanks, traveled to Detroit ahead of another road series at Lake Superior State. DU got into Detroit on Monday afternoon and headed up to Sault Ste. Marie, Mich., after practicing Tuesday and Wednesday in the Motor City.
Ferguson spoke Tuesday about what was a special trip, both professionally and personally, last week. He and his wife still own and rent out a house in Fairbanks, and he and MacMillan had around 40 friends and family on hand in the Carlson Center stands.
A Cole Guttman goal with 1:03 left gave second-ranked Denver a 4-3 win Saturday, and freshman goaltender Magnus Chrona made 28 saves in Sunday's 3-0 victory.
"Both games were physical, hard games and we were fortunate to get a couple of wins there," Ferguson said. "From Saturday to Sunday, we thought our game got a little more organized and definitely went in the right direction.
"As far as personally, you're coming home to a place where you've spent a majority of your adult life, and it was nice to come back there and see lots of old friends and alumni, and with my wife's family being there, just seeing them as well, and Tavis has a history there and his family came up just like mine for the trip, so everyone got to experience all the stuff away from the rink."
Ferguson spoke shortly after the University of Alaska Board of Regents voted 9-2 in an emergency meeting to cease consideration of a single accreditation until UAF's accreditation is reaffirmed in 2021.
Public higher education in Alaska has experienced tough times recently, and having originally faced a $135 million state funding cut this year, regents this summer looked into drafting plans to shift to one accredited university spread over multiple campuses.
Furthermore, seven WCHA schools announced in June that they had begun the process of withdrawing from the league with a view toward creating a new conference that would launch in the 2021-22 season. Current WCHA members Alaska, Alaska Anchorage and Alabama Huntsville were left out.
As for this season, it was confirmed in August that the Anchorage and Fairbanks schools would remain in the league for 2019-20.
"I've tried to stay in touch with guys (in Fairbanks) to see if there's anything I can be doing to help the program," Ferguson said. "I didn't hear about (the regents' vote), but I think it's good because both athletic departments have a chance of sticking around because they'll (remain) their own institutions.
"It was my understanding that, if they went to one institution, the scenario could have been one university, one athletic department, which obviously changes the look of athletics in Alaska, but this gives an opportunity for each campus to do what they can to keep athletics a part of their campus.
"In my experience up there, athletics plays a big role not only in the campus community but also in the communities of each university, so what's on the table, and it's out there that athletics could be affected, I think you've seen how the community feels toward both athletic programs, so I think it's important to the universities and the people who live up there that athletics continues on at both institutions."
As for Denver's trip this week to Michigan's Upper Peninsula, Ferguson aims to help keep things running smoothly despite the Pioneers' unusual-to-them travel plans.
"Just managing our week will be really important going into the weekend, just because I don't think anyone in our locker room has been on a two-week trip where you're out on the road," Ferguson said. "You're keeping up with your academics and you do have some down time, so you're making sure you're keeping yourself ready for practices that we're going to have going into the weekend.
"That's a big part of our process, just practicing every day the right way and then building those four days of the week into Friday and Saturday, but we'll continue to focus on ourselves and the details that we need to execute to be successful."
First games bring a mixed bag
Like Denver, most NCHC schools had positive results in the first few days of the season. Not everything went to plan, though.
Six NCHC teams went a combined 4-1-1 in exhibition play. North Dakota made quick work of Manitoba in a 5-1 win Saturday night. The Bisons then visited Omaha on Monday night and skated to a 3-3 tie with the Mavericks. Having led 3-1 at one point in regulation, UNO went on to take the shootout following two five-minute overtime periods.
Colorado College and Western Michigan both had straightforward exhibition wins Saturday, with CC beating Trinity Western 4-1 and WMU handling the Northern Alberta Institute of Technology, 6-1. That same day, however, top-ranked and defending national champion Minnesota Duluth fell 5-3 to the University of Alberta.
Alberta was back in action Sunday at St. Cloud State, where the host Huskies prevailed 4-2. In a counter game Sunday, Miami fell 7-4 at No. 17 Bowling Green, an old stomping ground for first-year Miami coach Chris Bergeron.
Interesting series abound this weekend
On top of this week's Denver-Lake Superior games, there will be plenty more action involving NCHC teams.
Perhaps most notable is No. 18 North Dakota's home series against Canisius. For any of the area's college hockey fans that may have been living under rocks last season, UND was swept last January at Canisius, and those losses to the Golden Griffins contributed to UND missing out on the NCAA tournament for a second consecutive season.
No. 14 Western Michigan will play this weekend in the annual traveling IceBreaker Tournament, which takes place this year in Toledo, Ohio. WMU on Friday will face No. 11 Ohio State and then play Saturday against either Bowling Green or RIT.
Elsewhere, seventh-ranked St. Cloud State visits nearby non-conference foe Bemidji State, Miami hosts New Hampshire, Minnesota Duluth hosts UMass Lowell, Colorado College welcomes Minnesota and Omaha plays at home against Alabama Huntsville.