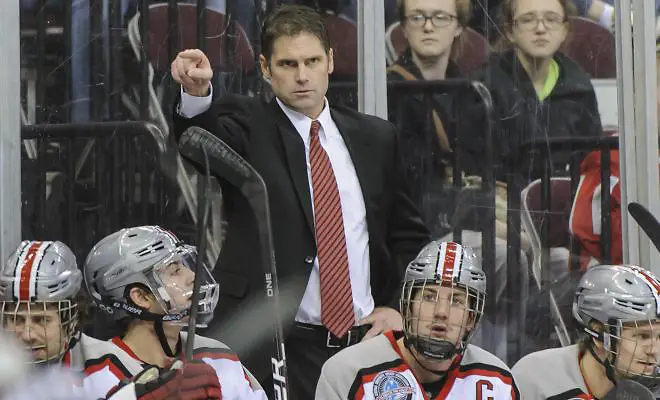 Ohio State may not have either of its in-state rivals on the schedule this season, but there's an opportunity for people in the Buckeye State to see two of its teams in the same building this weekend.
The Buckeyes will play Western Michigan in the first game of the IceBreaker Tournament on Friday. Bowling Green, who is hosting the tournament at Toledo's Huntington Center, will play RIT afterwards.
That leaves the possibility of the Buckeyes and Falcons playing on Saturday, depending on Friday's results.
Regardless if the two teams meet, head coach Steve Rohlik is excited about having the tournament, that has been held yearly since 1997, back in Ohio. Miami hosted at its home rink in 2006.
"I think it's awesome," Rohlik said. "When you look at hockey right now, the Blue Jackets had a heck of a run, and I think it's continued to grow in this area. You see Bowling Green in the national tournament last year and they've been very good. It certainly talks about college hockey and hockey in general in this area. The exciting part for all of us is that the game continues to grow."
Host Bowling Green gets the benefit of being closest to Toledo, being only a 22-mile drive from campus, but fans from Ohio State and Western Michigan only have a jaunt of about two and a half hours to get there. With that in mind, Rohlik is hoping for a good atmosphere at all four games.
"I'd love to see it," he said. "When you look at the four teams in the tournament, all four teams are capable, and all four teams were right there last year. If people want to come out and watch some great college hockey it certainly is a weekend where you can go out and get that. We're hoping to have good crowds and have a great environment there."
The Buckeyes got off the mark with an exhibition victory against Western on Sunday. Despite the game and stats not counting, Rohlik said the team was simply excited to get on the ice and play against a team in different colors.
"How many captains' practices can you skate, and then the limited time we get with them, it was nice to play somebody else," he said. "We dressed everybody so there certainly was a lot of bodies on the bench and everybody got some time, which was good."
Tanner Laczynski had two goals and an assist in the game. Laczynski had 30 points in 27 games last season and, with last year's scoring leader Mason Jobst moving onto the New York Islanders organization, he'll be even more important to the team's offense this season.
"You look at Tanner, he's been an All-American at this level," Rohlik said, commending Laczynski's stats last season despite having to deal with injuries. "I think he's just coming back to be him, he's coming back to be a better hockey player. He's certainly going to be involved in a lot of what we do, but this is going to have to be a team thing.
"You've lost some weapons and, kind of like we always play, we're going to have to win with four lines and you can't just depend on Tanner Laczynski, and he'd be the first to say that. We need everybody to chip in."
Wisconsin opens at Boston College
After an offseason of hype surrounding three talented freshmen, Wisconsin will open the season with a tough test at Boston College on Friday.
The game will be the first college contest for Cole Caufield, Alex Turcotte and Dylan Holloway. Caufield and Turcotte were first-round picks in the 2019 NHL Draft and Holloway is a top prospect for 2020.
"I think everyone's been looking forward to this since the (National Letters of Intent) were signed," Wisconsin associate head coach Mark Osiecki said. "Now, it's just about getting them focused for game week. It's been a long time since they've played and actual meaningful game."
The Badgers will also be facing some high-profile freshmen on Friday. Boston College features freshmen forwards Matt Boldy and Alex Newhook, and goaltender Spencer Knight. All three were also first-round picks this past June.
"It certainly should be fun for the fans — they should get their tickets and go watch.," Osiecki said. "There will probably be a ton of mistakes early, especially early on in the year guys are going to be really excited, but the puck's going to be in the back of the net."
Notre Dame to start the season without Morris
Goaltender Cale Morris coming back for his senior season was a big deal for Notre Dame this offseason, but, at least for the short term, the Irish will get a look at what life without him would have looked like.
Irish coach Jeff Jackson said during his press conference this week that Morris was nursing an upper-body injury and would likely miss the opening series against Air Force.
"It's not a major injury, it's just a minor thing," Jackson said. "This time of year, it's better to be precautionary, especially with the bye week coming up next I'd like to make sure he's fully healthy before we throw him in there."
Freshman Ryan Bischel started for the Irish against the U.S. National Under-18 Team on Sunday. He gave up two goals and made 17 saves.
"I think he's got a chance to be an exceptional college goalie and that bodes well for the future," Jackson said of Bischel. "We've got four guys that could probably all play right now. I'm not a fan of (having) four goalies, but it is what it is, and the goalie coach is going to have extra responsibilities this year."
Jackson said he planned on rotating the goaltenders for the first series, even without the injury to Morris. The Irish have four goaltenders on the roster due to preparing for the possibility that Morris might have turned pro after his junior season.
"You're gambling every year trying to figure out which juniors might leave," Jackson said. "If you guess the right way, you're in great shape. If you guess the wrong way, you got four goalies."