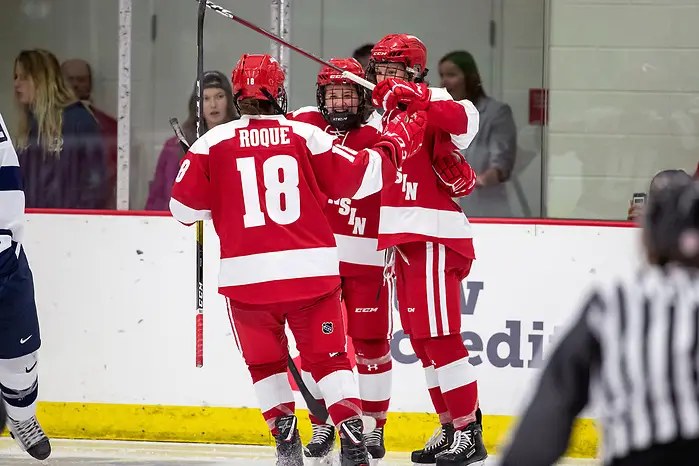 No Patty Kazmaier Award winner has ever transferred after having won the award. You'd be hard pressed to find any national most valuable player that's changed teams after receiving their sport's highest honor. 
Transfers have become more frequent and commonplace in women's Division I hockey in recent years, but no change of team has been quite as high profile as when 2018 Patty Kazmaier Award winner Daryl Watts entered the transfer portal in May, signalling her desire to leave Boston College, where she'd played her first two seasons.
Any move was going to raise eyebrows, but that Watts transferred to reigning National Champion Wisconsin ensured that she's going to be under a microscope and obsessively scrutinized. 
So far, she's handling the extra attention just fine. Watts leads the country with 11 points after four games played. Her five goals are also tops in the country and her six assists are good for third in the nation. 
Watts joined a rarefied group of Badger players on Saturday, becoming the sixth player in program history to score in each of the first four games of the season. The first five include a who's who of Badger (and USA) hockey – Meghan Hunter (2000), Jinelle Zaugg (2006), Brianna Decker (2011), Hilary Knight (2011) and Annie Pankowski (2015). Hunter, Decker, Knight and Pankowski were Patty Kazmaier top-ten finalists at the end of the season where they accomplished the feat. 
Though there's more attention on her, Watts isn't particularly fazed by it. It's no different than the attention she received by becoming the only freshman to ever win the Kazmaier or when she played with Hockey Canada in two-straight U-18 World Championships in 2016 and 2017. 
"Pressure comes in a bunch of different ways. You're kind of used to it," she said. 
There are dozens of things that Watts has to think about as she adjusts to Wisconsin's style of play, tries to gel with her line mates and gets used to playing in the loud and raucous confines of LaBahn Arena. There's simply not time or head space to spend worrying about what people think. 
"My teammates and the coaches make it really easy to forget about the pressure, forget about the noise and just play hockey. My line mates make it pretty easy out there to just play the game and not worry about what other people think," she said. "The only thing I care about is what my teammates and coaches think."
At the moment, those line mates are sophomore Sophie Shirley on the right wing and senior Abby Roque at center. Watts plays on the left wing. It's early in the season, so nothing is set, but it's difficult to imagine coach Mark Johnson messing with what seems to be building between these players through the first few games. 
"We just naturally have really great chemistry. We're progressing every game, learning each other's habits and where to pass in what situation. Every period we're getting more comfortable," said Watts. "We all are pretty similar, but at the same time we each bring a little different bit of skill set to our line. We all move the puck really well. Sophie and Abby have such great vision and they can also both finish so well. I'm so lucky to be playing with both of them. And we're having a lot of fun together." 
Johnson likes the speed he's seen from that top line, but said everything at this point of the season is a work in progress. Their earlier success has built confidence, which is something no coach or player can artificially manufacture.
"We all have different aspects that make our line really work," said Roque. "Sophie's speed and skill is incredible. She has that scoring touch. Daryl has a great brain and a scoring touch. I'm more of the battler. Playing with them makes it really easy."
Watts agrees that it's easy. And more importantly, it's fun. 
"Having fun, that's why you play hockey. When you're happy and you're having fun playing the game, I think you play better. It's really fun to play with those two," she said.
Watts isn't interested in looking back or making comparisons, though she knows they are probably inevitable. She made the choice she felt was right for her and she's looking forward to the season ahead.

"I just want to develop as a hockey player. That was a huge reason in me coming here was to learn from Coach Johnson and (associate head coach) Dan (Koch) and (assistant coach) Jackie (Crum). I want to just grow as a hockey player and just get better," said Watts."I'm just so grateful to be here and happy to be a Badger."