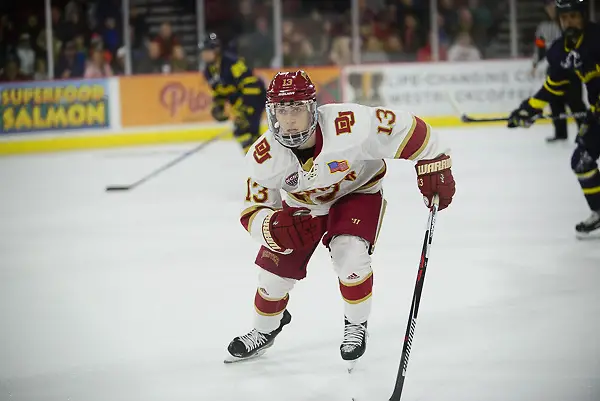 With 38 first-place votes this week, Denver is the new No. 1 team in the USCHO.com Division I Men's Poll.
Former No. 1 Minnesota Duluth (three first-place votes) falls two spots to No. 3, while Minnesota State is up one to No. 2 with eight first-place votes.
Massachusetts holds steady at No. 4, as does Cornell at No. 5.
Boston College moves up four slots to No. 6, Notre Dame is up one notch to No. 7, Quinnipiac up one to sit eighth, Penn State, which also received a first-place vote, jumps four to No. 9 and Clarkson is up one to No. 10 to round out the top half.
USCHO.com Division I Men's Poll – Oct. 14, 2019
At No. 11, St. Cloud State is down four, Ohio State remains 12th, Providence falls seven spots to No. 13, Western Michigan holds steady at No. 14 and Northeastern does the same at No. 15.
North Dakota rises two to No. 16 this week, while Wisconsin is down one to No. 17, UMass Lowell enters the poll at No. 18, Harvard stays No. 19 and Boston University is again No. 20.
In addition, 16 other teams received votes in this week's poll.