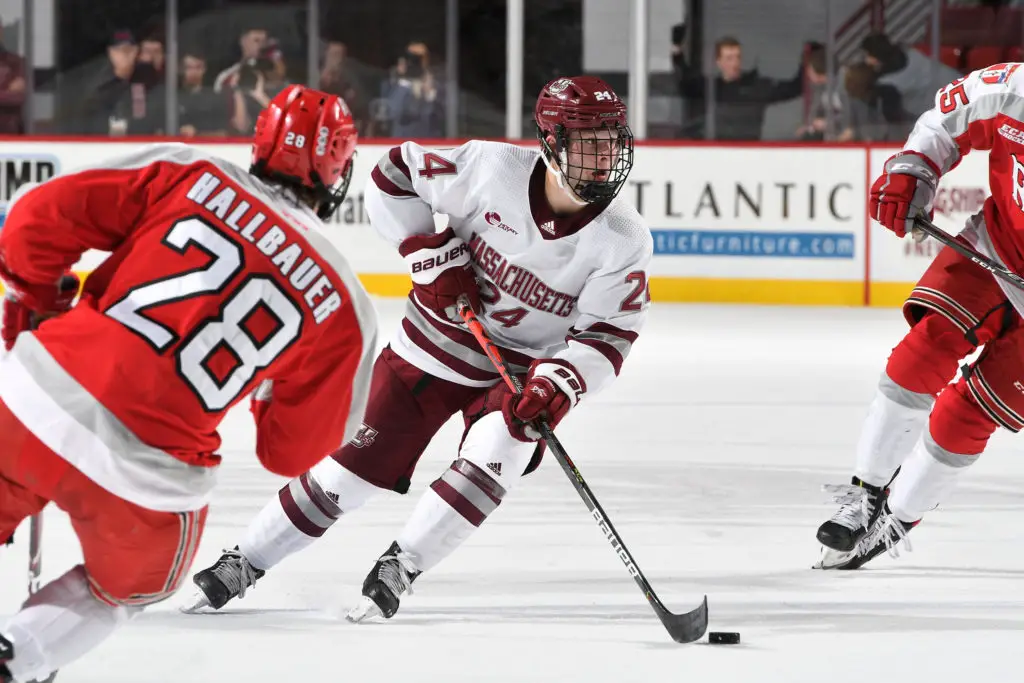 Replacing Cale Makar and Mario Ferraro – just the thought of doing as such sounds relatively impossible for a coach.
Now think of the program itself.
Those two left after playing two seasons at Massachusetts, a program that was just a few years away from being the doormat of Hockey East. Typically, when these players have landed on a campus as such, it was a fluke and after they leave, it's unfortunately too easy for that team to return to the bottom.
In fact, talk to a number of pundits around Hockey East, and there are a lot of folks who think that UMass is still destined to return to the league's bottom half.
Just don't tell that to their coach Greg Carvel.
Simply put, Carvel doesn't look at last year's appearance in the national title game as a flash in the pan. Being able to recruit and nurture a Hobey Baker winner isn't just a one-off for the Minutemen.
Carvel firmly believes that his club can and will compete each and every year, and by the start of this season, that philosophy seems to be holding true.
The freshman recruiting class has been impressive and, according to Carvel, gives UMass more depth than he has had in past year. That depth allowed him to sit two veterans last weekend as Jake Gaudet and Philip Lagunov, both juniors that typically are expected to be part of the lineup, have not been dressed at times.
"It's a luxury we've never had, [but] now we feel like we have the depth where it's a privilege to be in the lineup," said Carvel. "You don't get to stay there because we don't have the depth. You now have to earn that right to be in there.
"Some guys got comfortable, maybe too comfortable over the summer. Some guys worked their tails off this summer, and that's not surprising because we know those guys went home this summer angry and really put in the effort.
"We live by the motto that you get what you deserve and it's our job as coaches to make sure that the guys who deserve it get in [the lineup]."
Carvel notes that forwards like Reed Lebster and Cal Kiefiuk have been able to fill any holes at the forward position, while one of the Minutemen's top recruits, Zac Jones, has done a great job on the back end, acting like putty for some of the biggest holes on the UMass back end.
No one can replace Makar. Add the loss of stalwart defender Ferraro and the fact that one of the nation's best rookies a year ago, Marc Del Gaizo has been absent from the blue line this year due to injury, there are a lot of holes to fill.
Jones has exceeded some expectations that Carvel had when he arrived on the UMass campus.
"I'm not surprised by the numbers [that he's put up] but I am more impressed than I thought he would be with the puck on his stick," Carvel said of Jones. "He's elite. I wouldn't say that if I didn't mean it. He's really poised with his vision with the puck and the ability to execute passes."
Right now, Jones leads the Minutemen in scoring through four games potting two goals and adding five assists. Carvel is quick to point out, there are hardly junk points that Jones has registered.
"These are primary assists he's getting. They're all quality points," said Carvel. "Through four games, that's impressive for anybody."
The road to recruiting Jones was an interesting one. As a freshman, he stands 5'10" and weighs around 180 lbs. But when Carvel's staff first saw him, he was hardly that size. "He was really undersized, so that kept a lot of people off of him," Carvel said.
But he also gave him a look, seeing him at a summer showcase after his assistants had ID'd him as a prospect.
"I watched half a period and I call [assistant coach] Ben [Barr] and said, 'You're right,'" Carvel quipped. "We had him on campus a couple of days later and he committed right there."
Like this UMass team, there's plenty of room for growth and improvement for Jones. Carvel hopes his fills out a bit and also gets better in the defensive zone. But four games into his first season on the UMass campus, the future for Jones, like the UMass program, seems bright.
Out-of-conference check in
It's something that we consistently monitor about Hockey East: the non-conference record.
And through the opening three weekends of the season, things appear to be in good order.
Yes, I put appear in italics for a reason. With a 25-15-5 record through 40 non-conference games, that's a decent mark. A .562 winning percentage is better than the final percentage from last season (.534) and the season before (.514).
But further dissection may turn smiles upside down.
Less than two weeks ago, Hockey East held a .672 winning percentage after a successful Friday night where Hockey East teams went 6-2-0 in non-league play. Since then, let's just say, it hasn't been as pretty.
And looking at where the wins come from might raise a further eyebrow of concern. Of 20 wins, 12 have come against ECAC teams. The ECAC currently sports a .370 winning percentage. The league is hovering around .500 against the other conferences (1-1-0 vs. B1G, 2-3-1 vs. NCHC and 4-3-1 vs. WCHA).
And then there is the record vs. Atlantic Hockey. Currently, Hockey East teams are 1-4-2 against AHA teams.
Yes, Atlantic Hockey is significantly better as a conference today than it was, say, five years ago.
But Atlantic Hockey also is 9-19-2, or .333 against other conferences. Translation: Atlantic Hockey will likely have a low conference RPI.
Which bring us back to why we worry so much about out-of-conference records.
It is a conference's out-of-conference record that helps boost each team's individual RPI. High RPIs equals more spots for a conference in the NCAA tournament.
I can banter on and on and show you mathematical equations that would make no sense. But I think most readers of this column are savvy enough to understand that Hockey East needs to as good, if not better, in non-conference games if there is a hope for three, four or five Hockey East teams to reach the NCAA tournament come march.
Blazing a Tral(maks)
It's been very easy to pay a lot of attention to some of the blue chip players, particularly some of the rookies, across Hockey East. Even Providence's Greg Printz put the league on notice on the opening day when he potted four goals.
Thus, it's been easy, possibly, if you're not in Orono other the surrounding towns to have overlooked the play of Maine junior Eduards Tralmaks. In five games, Tralmaks has scored six goals (and truly did it in five games after the Black Bears were shut out in the opener).
In total, Tralmaks has registered nine point, pretty good considering last season he scored a total of eight goals and 17 points in 36 games.
Certainly, one player does not make an offense. But for a team that may have had some concerns on where goals would come from prior to this season, Tralmaks fast start is a bright light and gives this Black Bears team increased hope.