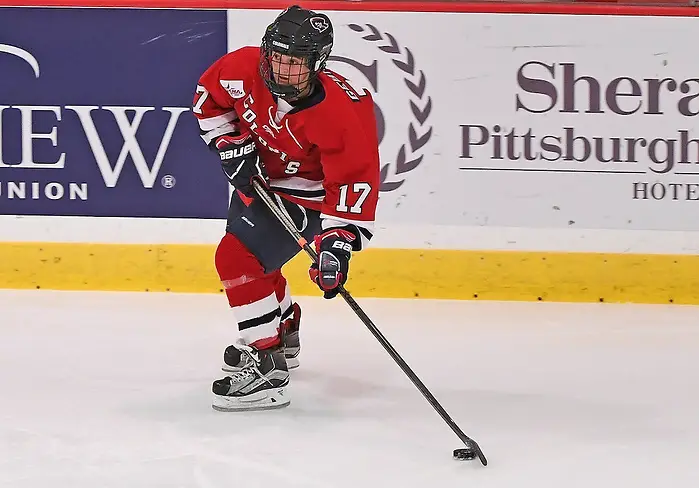 Robert Morris is running a gauntlet of ranked teams early in the season, playing (2) Minnesota and (4) Clarkson the past two weeks and heading to Ithaca to take on (5) Cornell this coming weekend. It's one of the toughest stretches any team will face, and so far, the results haven't been what they'd hoped. In those four games they are 0-3-1, with two overtime losses. Against Minnesota, the extra frame defeat came from a power play goal. Against Clarkson, it came with just 17 seconds left in the overtime period. 
Despite pushing some of the best teams in the country to their limit, the Colonials have just one point to show for their efforts. It's been heartbreaking, said Coach Paul Colontino, but it's also life. 
"Life isn't fair and it's not supposed to be. So deal with it. Find a way to make the unfairness a non-issue. It's going to be everywhere, so find a way to get past adversity. Fight through it," he said. 
This could have been the kind of demoralizing stretch that sinks a season before it really even start, but Colontino isn't worried about that at all. Despite having just three seniors on the roster, he thinks of his squad as incredibly mature. 
When coaches talk about building a program and creating a culture, they're talking about what's happened at Robert Morris in the past few years. They've won three straight regular-season titles after never having done so before. They earned their first-ever NCAA tournament bid in 2017. And they just keep getting better. 
They averaged 2.56 goals per game last season, but are scoring at a clip of four goals per game thus far. Last season they were just 20% on the power play, but are scoring on 34% of their player advantages this season. Lexi Templeman was second on the team with 26 assists in 36 games played in 2018-19. She has 11 helpers through six games so far. Emily Curlett had 11 goals and 10 assists in 36 games last season and has five goals and five assists to her name already in 2019. Jaycee Gebhard has already scored a third of the number of goals she did last season. 
"The level that they're competing at is extraordinary. Sometimes it's pretty, sometimes it isn't, but either way, the roster top to bottom is extremely competitive and they want to win. They buy into systems, they buy into philosophies," said Colontino. "(They're asking themselves) 'Now, how do we do what we did, yet find another way to add one or two more percent on everything so that we get the win the next time. How do we get a little bit better?'"
Playing in College Hockey America (CHA), with just five other teams, Robert Morris has to schedule 14 out of conference games to fill their schedule. And Colontino isn't shy about filling that schedule with elite talent, even if it means the kind of brutal run to start the season they're playing through right now. 
It's not the result of some master plan, it's just how the schedule works out sometimes, said Colontino. 
"The truth is, with 14 non-conference games that we need to schedule, we'll play anybody anywhere. If Minnesota's only time to play us is early October, same with Clarkson and same with Cornell then, why not, let's play them. Let's stack the all up and see how we do. If you think of it in the sense of 'It doesn't break us, it makes us stronger,' it's a win-win situation."
Playing top-tier talent so early in the season can be daunting, but it also serves to help the coaching staff and the players to identify the areas of the Colonials' game that needs work. There's no missing some of the deficient areas when playing teams of Minnesota's caliber. 
"From a preparation standpoint, it's awesome to get exposed in in October versus December. When you get exposed in October, you've got some time to correct things. Good teams find areas of weakness and they go after them. (That's why it's worthwhile to play them)," he said. 
Purposely planned or not, this tough early-season schedule should leave the Colonials well-prepared for the rest of the season, both within their conference, but also at a national level, where they would be likely to face a team of that caliber again. 
While Colontino can claim the stacked schedule isn't a matter of intense planning and forethought, he can't say the same about what that schedule does for the mindset of his team and the culture of the club he's built in Moon Township. Expectations are high and they continue to rise. And no matter what happens at the end of the season, the Colonials will have learned something from playing the best of the best.
"If we're not going to make the NCAA Tournament every year, I want to play teams that do."