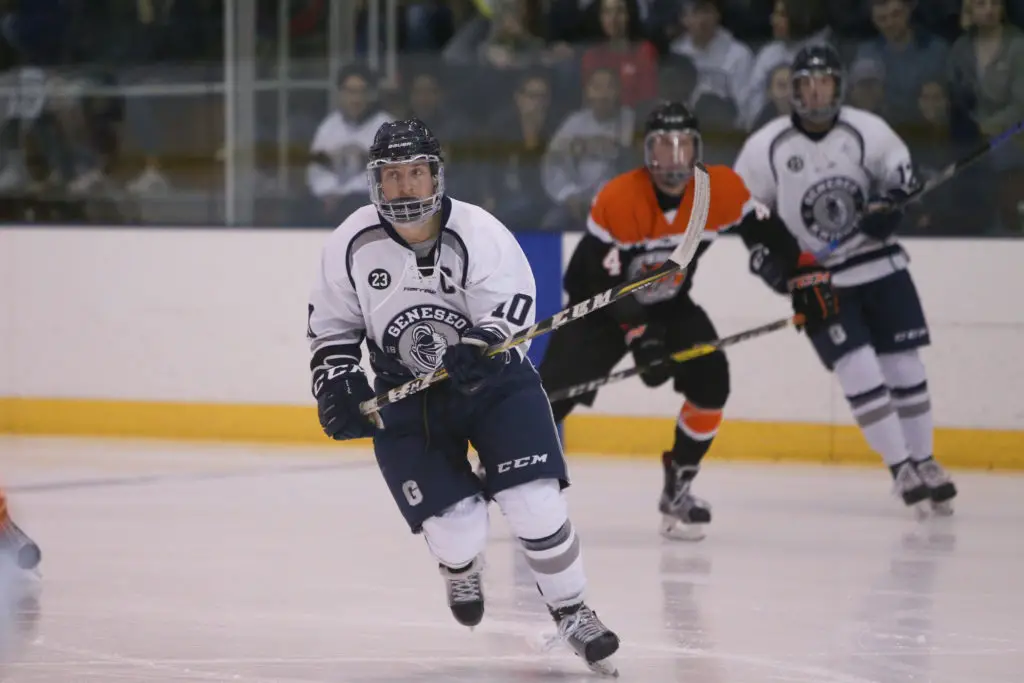 There is a new-old coach in Plattsburgh as long-time assistant Steve Moffat takes the reins following Bob Emery's retirement and move to become the Head of Hockey Operations at Merrimack College. Moffatt has a lot of familiarity with the Cardinal program and should have them battling among the favorites despite a young roster that includes 13 freshmen.
The Geneseo Knights led the pre-season coaches' poll, but head coach Chris Schultz isn't exactly sure why. "We lost the equivalent of an All-American goalie and two All-American caliber defensemen from the roster and some other teams haven't lost that kind of talent. Not expecting anything different this season as the league is always super competitive and we will have our work cut out for us starting this weekend."
The Favorite
Geneseo is looking for their third consecutive SUNYAC title and returns a ton of firepower upfront. Conlan Keenan, Tyson Empey, Andrew Romano and David Szmyd are all proven scorers with Romano and Keenan already having recorded more than 100 points in their first three seasons. Schultz will need to replace goaltender Devin MacDonald and his NCAA record number of shutouts last season. Look for junior Aaron MacKay and freshman Matt Petizian to split time early on in determining a rotation or the hot-hand in goal.
The Contenders
Oswego has a great group returning led by forward Josh Zizek and goaltender David Richer. There is depth and experience for Ed Gosek's team that includes just one freshman on the roster. The first four conference games at home should set the tone before the Lakers face Geneseo, Hobart and Salve Regina to show where they stand among the nation's elite.
Plattsburgh will be young, but a great goaltender can cover form some of those learning curves and the Cardinals have that experience in the crease in Jimmy Poreda. Seniors Philip Middleton and Joe Drabin will be looked to provide leadership for the fledgling Cardinals who will see there first real test hosting Geneseo on Saturday, 11/2.
Players to watch
Brockport: Connor Hutchins – forward; Hunter Laslo – forward
Buffalo State: Vadim Vasjonkin – forward; Michael Anthony Guerrera – defense
Cortland: Nick Modica – goaltender; Alex Storjohann – forward
Fredonia: Charlie Manley – defense; Victor Tracy – forward
Geneseo: Conlan Keenan – forward; Tyson Empey – forward
Morrisville: Nick DeVito – forward; Ryan Bochert – forward
Oswego: Josh Zizek – forward; David Richer – goaltender
Plattsburgh: Joe Drabin – forward; Jimmy Poreda – goaltender
Potsdam: Bryce Ferrell – forward; Vinny Guimond – forward
USCHO predicted finish
1. Geneseo
2. Oswego
3. Plattsburgh
4. Buffalo State
5. Fredonia
6. Brockport
7. Potsdam
8. Cortland
9. Morrisville
November puck drops are instantly battles for two-points as conference play begins the season for virtually all. Buffalo State hosts a high-level tournament that includes Manhattanville, Nichols and western power Adrian. The Bengals can be a contender if they come out of the gates fast starting in their own tournament.