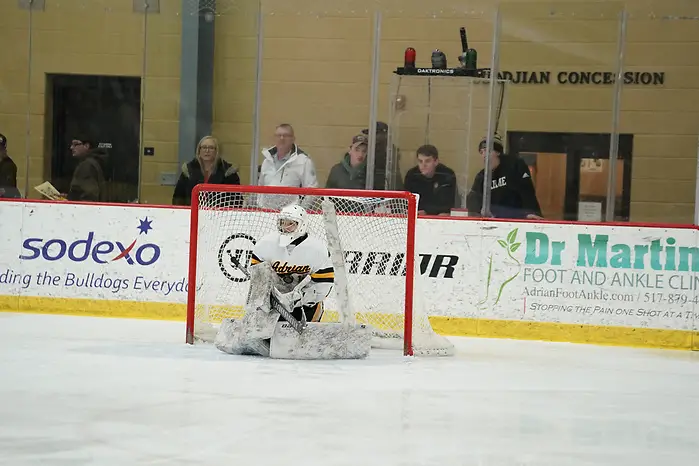 Adrian starts strong
The Adrian Bulldogs went 3-0 on the weekend, including an impressive 4-1 win over No. 2 Hamline on Friday night. Adrian go on the board first with a short-handed tally from Brianna Buchanan, but Hamline's Jordan Hansen tied it with a power-play goal at 17:31 of the second. Toward the later end of the game, Buchanan scored again to put Adrian in front, and Nicole Guagliardo then tallied two late goals, one an empty-netter at 18:53, to seal the win. Guagliardo also assisted on Buchanan's first goal. Goale Denisa Jandová made 40 saves in the win. Buchanan then got an assist in each game of the two-game sweep of Saint Mary's Saturday and Sunday, while junior Abbie Grias provided much of the scoring, notching two goals and an assist in Saturday's 3-2 win and adding a goal and assist in Sunday's 8-0 win.
Plattsburgh picks up where it left off
Defending national champion Plattsburgh opened its campaign by sweeping Buffalo State, 5-0 and 8-0. Freshman Ivy Boric kicked her collegiate career into gear with two goals and two assists on the weekend, while sophomore Sara Krauseneck notched three goals and two assists. Sophomore goalie Ashley Davis, who spent much of her freshman year in the shadow of Kassi Abbott, made 25 saves in five periods of action before being replaced for one period by rookie Lilla Nease. Though Plattsburgh lost three key players from last year's team, it seems the Cardinals have just reloaded.
Upsets on the weekend
While most of the ranked teams all faired well, No. 5 St. Thomas lost to St. Scholastica Saturday, 2-1. St. Scholastica goalie Lexi Thomeczek made 37 saves in the win, and Rachel Anderson scored twice in the third period to lift the Saints to the upset win.
William Smith sweeps
After winning its first two playoff games in program history last year in the UCHC tournament, expectations were high for William Smith to start this season, as the Herons were picked second in the preseason UCHC poll. The Herons started with a bang, sweeping Salve Region, 3-2 (OT) and 5-1. On Friday, Mia LaPlante got the game-winner just 58 seconds into overtime. It was all the more impressive to see how the Herons regrouped after giving up the typing goal to Amanda Fantasia with just 20 seconds left in the game. Saturday, LaPlante got the Herons going at 9:58 of the first period, and they never looked back, building a 5-0 lead through two periods before Caroline Prezioso spoiled Amanda Aalto's shutout bid at 11:25 of the third.