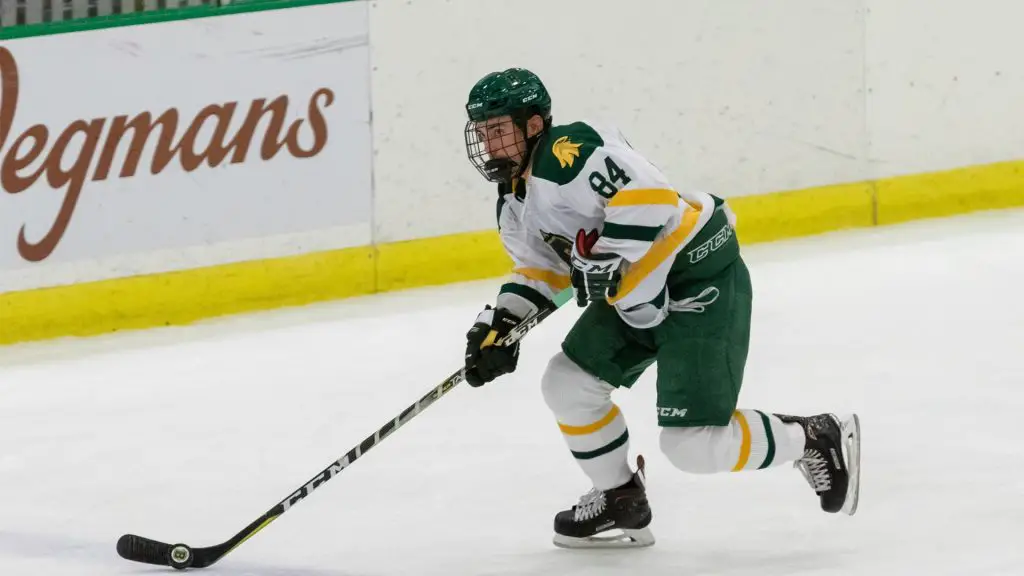 If you wanted to see lots of goal scoring then this was the weekend for you as teams like UNE, Norwich and Hobart showed off some firepower in conference play. The UCHC saw a lot of goals too as Elmira, Nazareth and Utica all had big offensive nights in big conference wins. Great action everywhere over the weekend and it will be interesting to see if the high-scoring games continue to signify a trend with more goals and some very lopsided outcomes.
Here is the recap of the D-III action in the East:
CCC
After being shutout in their opening game by Norwich, the University of New England kicked their offense into high gear with a pair of wins over Becker. Brent Hill recorded a hat trick in Friday's 6-1 win and Brett Mecrones picked up four points with a goal and three assists in Saturday's 10-2 rout.
Salve Regina took both games against Nichols with John McLean's power play goal being the difference in Friday's 3-2 win. On Saturday, the game was a penalty filled affair with Vincent Marino's power play goal in the second period proving to be the game-winner. Louis-Felix St. Jean picked up both wins making 74 saves in the two games.
Curry and Endicott split their two-game series with both teams winning on home ice. On Friday, the Gulls made goals from James Winkler and Luke Rodgers stand up for a 2-1 win. On Saturday, the Colonels returned the favor with goals by Michael Curran and Viktor Jansson overcoming a 1-0 deficit for the 2-1 win. Both games saw neither team able to score with the man advantage going a combined 0-23 on the weekend.
Independents
After a 1-1 tie with Albertus Magnus on Friday night, Anna Maria played Fitchburg State looking to stay unbeaten in their first four games. The Falcons raced out to an early lead and sealed the 5-2 win with goals from Christopher Vicario and Adam Kusior just 26 seconds apart in the third period. The loss sees the AmCats at 2-1-1 to open the season.
Canton dropped a pair of games during the week. On Tuesday, the Kangaroos surrendered a lost minute tying goal to St. Michael's before Jeremy Routh gave the Purple Knights the overtime win. On Saturday, Canton ran into a Geneseo offense that put up 10 goals in a 10-2 win that ran Canton's record to 1-2-1.
MASCAC
Massachusetts-Dartmouth took advantage of Cameron Mack's hat trick and cruised to an 8-1 win over Framingham State on Tuesday night.
Plymouth State's Andreas Pettersson stopped 31 shots and added an assist as the Panthers opened conference play with a 4-1 win over Fitchburg State on Thursday night.
Despite outshooting the hosts 59-35, Westfield State needed a rally in the third period from a two-goal deficit to tie Post, 3-3. Goals by Daniel Backstrom and Justin Alves, assisted by Backstrom, earned the overtime tie for the Owls.
NE-10
Assumption opened NE-10 play with a 6-4 win on Friday over Stonehill. Six different players scored for the Greyhounds. On Saturday, Assumption needed overtime to down Post, 4-3. Michael Zampanti gave Assumption the lead in the third period only to see Post's Jake Raleigh tie the game with an extra-attacker goal in the final 30 seconds of regulation. Alexander Mavrogiannis scored with less than a minute remaining in the overtime period to give the visitors a 4-3 win.
Another overtime thriller saw St. Anslem beat St. Michaels's on Saturday, 3-2. Mike Ferraro's second goal of the game tied the score at 2-2 and teammate Trey Aiello scored the game winner at 4:44 of the five-minute overtime session.
NEHC
Norwich continues to play strong defense as the Cadets picked up shutout wins over New England College and Southern Maine. The offense was on display Friday with Felix Brassard scoring one goal and assisting on three more in the 7-0 win. On Saturday, things were a little tighter as Braedyn Aubin's first goal stood up as the only goal netminder Tom Aubrun would need in a 1-0 win over the Huskies.
Hobart scored 16 goals in wins over Johnson & Wales and Suffolk. The Statesmen received two goals from Zack Tyson and single markers from seven other players in the 9-0 runaway win. On Saturday, Brenden Howell scored a pair of goals and five other teammates added goals in the 7-4 win over Suffolk.
Skidmore also picked up a pair of wins in NEHC play. William Brochu scored twice, and Brandon Kasel made 19 saves to earn a shutout in the 5-0 win over Suffolk. On Saturday, Mike Gelatt scored two goals and added two assists in a 6-2 win over Johnson & Wales.
SUNYAC
Oswego continued Plattsburgh's early season woes with a 3-0 win on Friday night. Anthony Passero, Carter Allen and Tyler Currie scored for the Lakers and David Richer stopped all 25 Cardinal shots to earn the shutout. On Saturday, Oswego opened up the offense in an 8-1 win over Potsdam. Travis Broughman was the offensive leader with two goals and two assists in the decisive win.
Brockport continued their hot start on Friday with a 6-0 win over Morrisville led by four points from Connor Hutchins and three points each from Doc Gentzler and Anthony Hora. On Saturday, Morrisville joined Brockport at 3-1-0 with a 4-1 win. Jared Young made 25 saves to lead the Mustangs and give Brockport their first loss of the season.
UCHC
Utica picked up two key road wins over the weekend. Friday night Brandon Osmundson's natural hat trick broke open a 2-2 on the way to a 5-2 win over Manhattanville. On Saturday night against Neumann, a four-goal third period including power play goals from Daniel Fritz and Dante Zapata led the Pioneers to a 6-2 win and weekend sweep in conference play.
Wilkes also doubled down on conference wins with a 4-3 win over Lebanon Valley followed by Saturday's 5-3 win over Elmira. Tyson Araujo scored twice and Phil Erickson's goal with less than two minutes in regulation led to the win over the Flying Dutchmen. Against Elmira, two power play and one shorthanded goal in the second period rallied the hosts back from a two-goal deficit. After Elmira tied the game at 3-3 early in the third period, Wilkes' Billy Berry's unassisted goal proved to be the game winner with Donald Flynn adding insurance in the final minute for the 5-3 final.
Three Biscuits
Andrew Romano – Geneseo – picked up six points for the Knights in Saturday's 10-2 win over Canton. Romano scored two goals and added four assists in the runaway win.
Cameron Mack – Massachusetts-Dartmouth – the Corsair forward recorded a hat trick in Tuesday's 8-1 win over Framingham State. Mack scored one goal on the power play, one goal shorthanded and one goal at even strength to pace the win.
Nikita Pintusov – New England College – paced the Pilgrim offense with four goals in Saturday's bounce-back win over Castleton, 9-3. Pintusov staked NEC to a 2-0 first period lead before adding power play goals in the second and third periods.
Some expected contenders flexed their muscles early while others are still looking for that winning formula. All leagues will be in action with NESCAC joining the fray this upcoming weekend.