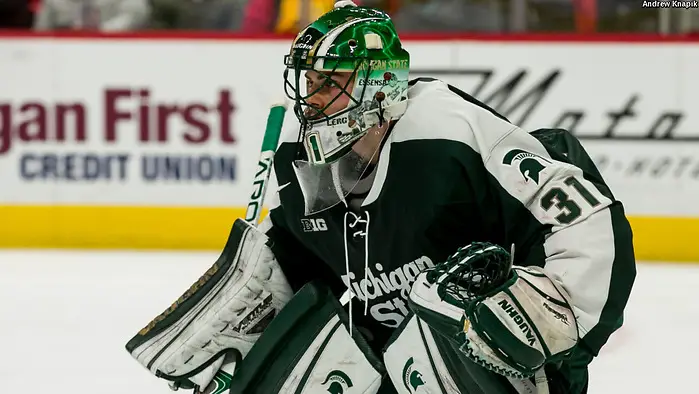 Each week, USCHO.com will pick the top 10 moments from the past weekend in our Monday 10 feature.
1. Minnesota Duluth has shaken off its early blahs
After opening the season 1-3, with uncharacteristic defensive lapses, the two-time defending national champion Minnesota Duluth Bulldogs are back in sync. The Bulldogs rallied from a 3-1 third-period deficit to tie Denver, 3-3, on Friday and then followed that with a convincing 5-2 win the next night. After losing seven straight to Denver at one point, Duluth has been on a tear of late against the Pioneers, going 4-1-1. Duluth is also 3-0-1 in its last four games.
Duluth had to rally in both games. In Friday's game, Noah Cates completed the rally by scoring with just 31 seconds left in the game. The two overtimes resolved nothing, and Brett Stapley scored on the shootout to give Denver the extra point. On Saturday, after Denver took a 2-1 lead early in the second period, Luke Loheit put the Bulldogs up 3-2 with a goal at 11:25 of the second, and Cates and Cole Koepke scored late in the third to seal the win.
One impressive stat in Duluth's recent play against Denver has been its third period performance. Through last season's five games and the two this season, Duluth has outscored Denver in the third period and OT, 14-2, and outshot the Pioneers in those periods, 87-43.
2. Ties rule the roost
Ties were the name of the game on Friday night, as nine games ended in ties. A 10th game went to OT, with No. 5 Notre Dame edging No. 9 Ohio State 3-2 behind Pierce Crawford's goal at 3:59 of the OT.
When it comes to ties, no one does it better of late than St. Cloud State, which after tying Northern Michigan, 3-3, on Friday, has four ties on the year. Friday's was particularly tough to swallow, as the Huskies blew a three-goal lead in the third period when the Wildcats struck three times on a five-on-three five-minute major, with André Ghantous scoring two of those goals. St. Cloud almost duplicated that ignominious feat Saturday, again managing to blow a three-goal third-period lead, but Nick Perbix scored at 3:53 of OT to give the Huskies the win. St. Cloud has struggled mightily on defense this year after its amazing season last year, giving up on average 3.12 goals per game, 45th in the country.
3. Notre Dame makes a statement
Last season, Ohio State captured the Big Ten crown, running away with the league by a nine-point margin over second-place Notre Dame. Two seasons ago, it was the opposite, with the Fighting Irish winning the league crown by an eight-point margin over second-place OSU.
In the first series between the two this season, the Fighting Irish came away with two one-goal wins, edging the Buckeyes in OT Friday and following it with a 2-1 win on Saturday, as Cam Burke's goal at 12:05 capped a two-goal rally in the third period. Goalie Cale Morris made 24 saves in the win that put Notre Dame in the early lead in the Big Ten.
4. Arizona State splits as road struggles continue
Arizona State split with Alaska on the weekend, losing 4-3 on Friday but rebounding for a 4-0 win on Saturday. Last season, the Sun Devils were a Cinderella team, making it to the NCAA tournament, but this year has been more of a struggle, mainly due to a middling 3-3 record on the road.
The Sun Devils will need to better their road performance if they want to return to the NCAA tournament.
5. Massachusetts upset by resurgent New Hampshire
One team that won't take advantage of Denver's slip is No. 2 Massachusetts, which fell to New Hampshire 3-1 on Sunday.
Jackson Pierson had two assists, and Max Gildon's second-period power-play goal at 8:29 proved the game-winner.
New Hampshire has quietly been building toward something, opening its season with a 5-2-1 record, including two wins over ranked teams. Pierson leads the team in scoring with 13 points, good for 10th in the nation, while Gildon is right behind with 12 points. Mike Robinson has a .918 save percentage and 1.95 goals-against in six games.
USCHO's Hockey East columnists picked UNH to finish seventh and eighth respectively, and those predictions could still come true, but for now, the former Hockey East power seems resurgent, tied for third in the league standings.
6. North Dakota back on track
You could hear the wails from Grand Forks last year when the state's beloved Fighting Hawks missed out on the postseason for the second consecutive season. For a team that had not missed the NCAA tournament since 2003 and hadn't missed the tournament in consecutive years since the mid '90s, this was monumental.
It's still early, but North Dakota seems back on track, as the Fighting Hawks swept Miami on the weekend to improve to 7-1-1 on the year. The big thing that has improved is offense. North Dakota struggled to score the last two years, but through eight games is averaging over four goals a game and is ranked third nationally in team offense. Junior Jordan Kawaguchi has 13 points so far, and Westin Michaud, a graduate transfer from Colorado College, has eight points, tied for second on the team. Also making a statement early is freshman Harrison Blaisdell, who has seven points, all at even strength.
This weekend, the Fighting Hawks will race league rival Denver on the road in what is always an intense series. The intensity will likely be upped, as Denver ended North Dakota's season last year by sweeping the first-round NCHC series between the two. North Dakota was 1-4-1 against the Pioneers last season.
7. Michigan State upsets Penn State
If you looked at shots alone, you'd have thought Penn State dominated Michigan State on Friday night, and perhaps they did in puck possession, but goaltender John Lethemon stopped all 48 Penn State shots as Michigan State upset No. 6 Penn State 2-0.
The 48 saves were a career-high for Lethemon. Saturday, the Spartans gave the Nittany Lions another run, but Penn State came away with a 6-4 win. Penn State built a 5-1 lead late in the second, but Michigan State almost rallied, as Patrick Khodorenko scored with 12 seconds left in the second to start the rally. He scored again at 18:53 of the third to pull Michigan State within one, but Denis Smirnov sealed the win with an empty-net goal.
8. Minnesota State continues to roll
No. 3 Minnesota State swept its weekend road series with struggling Michigan Tech, 3-0 and 2-1. The Mavericks sit atop the WCHA standings with a 5-1 league record and 8-1-1 overall record.
Sophomore Dryden McKay has an impressive .946 save percentage and 1.31 goals-against, while freshmen forwards Lucas Sowder and Nathan Smith have been important cogs in the offense, each averaging a point a game.
9. Providence, Northeastern back in win column
After a four-game stretch without a win, the No. 11 Providence Friars finally got a victory with a 6-5 decision over Boston University on Saturday. Tyce Thompson's goal at 13:45 of the second period broke a 4-4 tie, and the Friars held on for the 6-5 win as both the Terriers and Friars scored in the third.
Providence need the confidence boost, as this weekend they will face No. 13 Northeastern in a home-and-home series. The Huskies had likewise been without a win in their previous four games before they edged Merrimack, 3-1, on Saturday behind Aidan McDonough's two goals and 19 saves from Craig Pantano.
This weekend, Providence will host Friday and Northeastern Saturday/
10. Three teams still undefeated
With Denver falling from the undefeated ranks on Saturday, three teams remain without a loss on the year: No. 5 Notre Dame (7-0-1), No. 4 Cornell (4-0), and No. 18 Harvard (3-0). The latter looked particularly impressive with its 7-2 win over No. 15 Quinnipiac Saturday. The Crimson raced to a 3-0 lead in the first period and never looked back. All seven of Harvard's goals were scored by different players. Quinnipiac, which is 0-3-1 in its last four games, will likely fall out of the USCHO.com poll later today.