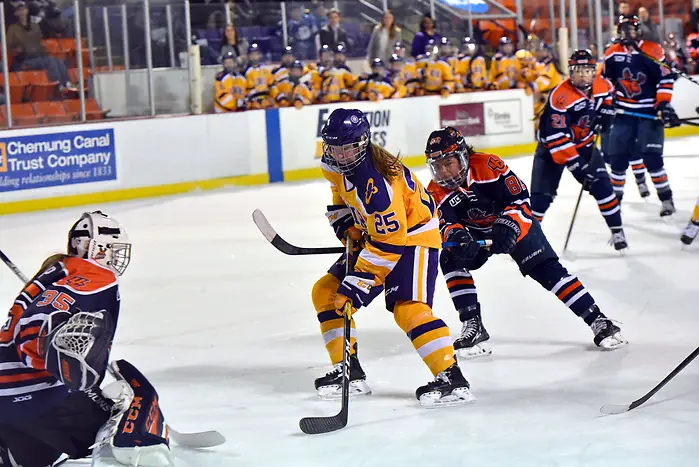 Elmira explodes
No. 3 Elmira opened its season in explosive fashion, winning 12-0 over Wilkes Friday and following it with a 6-0 win Saturday against King's. Junior Emma Crocker had nine points on the weekend for a ridiculous 4.5 points per game average, while freshman Holley Riva debuted with four points on the weekend. There are 12 players who had at least two points. Goalies Elizabeth Hanson and Stephanie Martin weren't challenged much, as Hanson only had to make five saves against King's and Martin only had to make eight saves against Wilkes.
Gustavus Adolphus scores lone upset
While a couple of ranked teams had ties, only No. 7 Wisconsin-Eau Claire suffered a loss, a 1-0 decision Gustavus Adolphus. Hailey Holland scored the only goal of the game at 13:19 of the first period, and Francesca Gerardi made 19 saves for the shutout. It was the first loss of the year for Eau Claire.
Hamline in the win column
After going winless in its first two games of the season, No. 4 Hamline finally got in the win column with a convincing 6-1 win over Concordia (Wis.) on Saturday. Michaela Arnold and Olivia Arkell each scored two goals, while Sophie Rausch and Madison Davis each had two assists. The Pipers fired 43 shots on net in the win, while goalie McKenna Hulslander only faced 13. The Pipers have a home-and-home with Augsburg looming this weekend.
Plattsburgh still rolling
The defending national champion Plattsburgh Cardinals continue to roll, posting an impressive midweek 3-1 win over No. 8 Norwich and following that with a 7-0 and 3-1 sweep of Oswego. Against Norwich, Sarah Wolf broke a 1-1 deadlock with a goal at 10:35 of the second, and Kaitlin Drew-Mead added a late goal in the third to seal the win. What's perhaps most impressive is that through its first six games, Plattsburgh has rotated three goaltenders, all of whom have a win. In its first six games, Plattsburgh has only given up two goals.