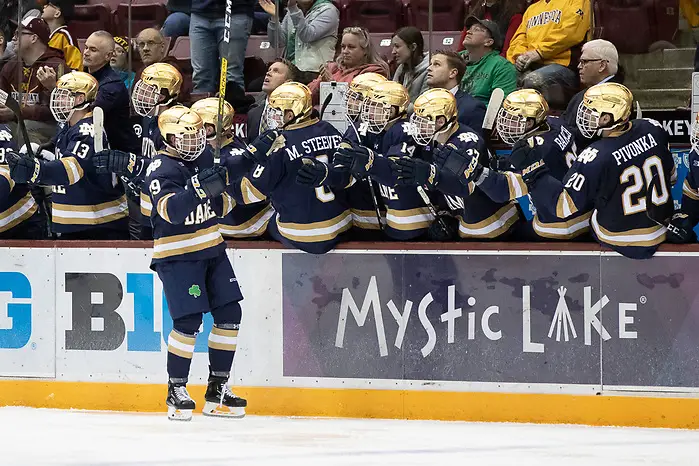 Each week during the season, we look at the big events and big games around Division I men's college hockey in Tuesday Morning Quarterback.
Jim: Let's start off this week's TMQ by welcoming back Dan Rubin, who is filling in admirably once again for Paula Weston.
And Dan, we'll also start by welcoming Minnesota State back to the top spot in the USCHO.com poll. The Mavericks are no stranger to being No. 1, but this is the first time this season. Between Minnesota State's 8-1-1 start to the season and Denver's slip up at Minnesota Duluth, earning a tie and loss in the weekend series, the voters placed the Mavericks back in the top position.
That said, it wasn't an easy vote looking at the poll. Minnesota State received exactly half of the first-place votes, while four other teams – Denver (15 first-place votes), Cornell (5), Notre Dame (4) and UMass (1) – all got some consideration from the voters for the top spot.
I think we've learned over the years that when the nation's top team falters, the voting can be a little spread out the following Monday. But this seems borderline insane. I guess a case can be made for some of these teams (I'm not sure UMass deserves any consideration for No. 1 right now after losing to New Hampshire), but this lack of consensus maybe speaks to how wide-open this year's races – whether we're talking conference races or nationally – might be.
What are your thoughts on just how spread out this week's poll seems?
Dan: As always, I appreciate the offer to ride sidecar on this ride, and hopefully my hot takes won't scorch our readers too much.
When it comes to our poll, I always recognize it as a snapshot of how things are currently going along in college hockey. I don't view it as the be-all, end-all, but I also enjoy putting a good amount of merit into how people view some teams versus another. It's also always good for revealing if the voters have a bias towards a particular program or league based on how teams rise and fall with any weekly performance.
Any time a No. 1 team loses, there's that anticipation that a team behind it can swipe the top slot, so it's not a surprise to me to see Minnesota State take the top ranking from Denver. It also doesn't surprise me that Denver retained a number of votes out of respect to Minnesota Duluth and the NCHC, even though Duluth's overall record isn't where anyone probably expected the two-time defending national champs to be.
It's also a measure that you can look at Duluth's barely-over-.500 record and drop the Bulldogs into a ranking ahead of Clarkson, Penn State and even North Dakota. It's all a measure of local apprehensions around voters that see teams versus people who watch other teams. I know I love Cornell, and I almost put the Big Red at No. 1. But I recognize that I watch more ECAC than NCHC, and the temptation came from my respect for the Big Red's current performance over the Mavericks' performance.
That doesn't mean Minnesota State isn't worthy of No. 1 and ultimately, I put the Mavericks in that spot in my own poll, but it's a conversation piece, if nothing else.
It's like UMass in this situation. The Minutemen lost to New Hampshire, but it now becomes a sign of respect for the Wildcats more than it does a knock against UMass. That win boosts UNH more than it hurts UMass, at least in one voter's mind.
The one thing I do take mild umbrage at is the lack of respect for Atlantic Hockey throughout the polls, but I recognize that "my league" still struggles to consistently win non-league games. RIT has had a really hard time cracking through, but I fail to think that a 7-1-2 record with a 3-1 non-league record would keep a team from any other league out of the Top 20 except for a lack of awareness or knowledge or perspective compared to the better-known teams.
I'm not sure if you agree with that statement, so I'll ask you about your perspective about that and for your perspective on how Atlantic Hockey, despite its advances in the NCAA tournament, somehow still manages to inconsistently win non-league games?
Jim: I agree 100 percent with your take on Atlantic Hockey. For many seasons, it was reasonable to place the conference a peg below all of the other five. To me, though, that no longer is sensible.
An Atlantic Hockey has won an NCAA tournament game in each of the last three seasons. Not every conference can make that claim. And when you compare all six conferences, you can see that, at least for the last three seasons, the ECAC, WCHA and Atlantic Hockey are all pretty much on even footing from top to bottom.
That said, Atlantic Hockey has a difficult time gaining the notoriety because of the lack of a large scale college hockey name. That is no fault of the conference or its members. But the ECAC has the Ivies and teams like Clarkson, Union and Quinnipiac to help its brand recognition. The WCHA might not have any teams with major recent cache, but Lake Superior State, Michigan Tech Northern Michigan and Bowling Green are all past national champions.
Atlantic Hockey's biggest brands are likely the military schools – Army West Point and Air Force. Sure, RIT might be better known for reaching the Frozen Four in 2010, and people very familiar with college hockey (especially North Dakota and Minnesota fans) won't forget the Holy Cross upset of Minnesota more than a decade ago. But the lack of a well-known brand continues to provide an excuse for people to forget all too often about Atlantic Hockey.
I know your work with Bentley places you closer to the league. I covered the conference when it first started, so both of us understand just what a massive progression this league has made. But we are the minority.
Dan: Atlantic Hockey schools are doing a really good job of building their brand in their own ways, but there's still that fight against the rising tides of tradition and history.
I know Bentley has done that more locally here in Boston, where the new arena and wins over Hockey East schools make it a legitimately hockey brand in the region. Watching the university get behind the hockey team helped create a wave of momentum, and there's no question that it's a player now in Metrowest Massachusetts. Likewise, AIC has done a good job of capitalizing on its run from last year, and the game against UMass this year felt like a true blue Western Massachusetts matchup between two hockey schools. So there's local growth, and that's a step in the right direction.
But you're absolutely right that there's an issue with branding nationally. Maybe it's a hint of how hockey is becoming part of the mainstream college sports lexicon because schools like Penn State and Ohio State will always have that name recognition factor, along with conventional "hockey schools" like Boston University and North Dakota, and until I see the change in the way the poll is voted, I'm going to probably retain that line of thinking.
That said, I know Atlantic Hockey is primed for a breakthrough in the national tournament, and I absolutely believe there's another Frozen Four or a first national champion coming, very quickly.
Speaking of hockey's changing tides, the story broke this week that the WCHA will continue with both Alaska programs through next season. I'm a huge supporter of those Alaska schools, and I think going to the Last Frontier is one of those things that just makes hockey more fun in a utopian setting. But I also think that the sport's shift is precarious for the teams that could be left behind in both Anchorage and Fairbanks. What was your reaction when you first read the news?
Jim: I think that the news about the two Alaska schools continuing to operating as independent programs in 2020-21 is a positive step… for one year.
Realistically, they've already been deserted – as has Alabama Huntsville – by the seven other members of the WCHA who will break off from the league at the end of the 2020-21 season. As if both Alaskas and Alabama Huntsville didn't have enough problems already, that move over the summer to basically desert those schools and the WCHA could signal a sad future for parts of college hockey.
Yes, for the two Alaskans schools, this is their problem. Funding for these programs is inadequate and needs to be bolstered and not reduced. But if you're an administrator at these schools or someone who holds the purse strings in the Alaskan government, do you give more of less when you see that these programs are becoming, for lack of a better term, orphans.
I am fine with change, so I won't criticize the realignment that has gone on in recent years. But I hate to see contraction in college hockey in a time where it seems like the sports is flourishing around the world. More people are playing the game globally, but t the Division I level in NCAA hockey, it seems like too many are okay with reducing the number of opportunities rather than expanding them.
Dan: I am with you 100 percent here. I love the growth of the game, and I think there's a ton of compelling opportunities within that expansion. I think the new teams are going to find their way to nationally-branded schools like Penn State and Arizona State, and the next stage is going to really latch into the areas where the game is excelling. Hockey has done a really good job of using itself to create popularity in previously-unknown or unrecognized markets. It's created a talent pool that's deeper than ever, and there's a spillover effect. I mean, turn on the NHL on any given night, and the level of competition is off the charts now.
That's why it's so important for college hockey to come to a consensus and work together for all 60 – or more – programs. There's no reason why the tide can't change without retaining interest in the success of all programs. If the WCHA programs want to break away from Alaska, Alaska Anchorage and Alabama Huntsville, that may ultimately be the right decision. I'm just afraid that it's done without the interest of the total sum of parts. If contraction ultimately happens, it shouldn't be because other schools forced a situation where a program doesn't exist because a state legislature or board of directors or regents have to pony up more money that it simply doesn't have.
It can be done, and I point to Atlantic Hockey as living proof. When the first round of realignment went through, there were rumors everywhere about which teams wanted to join the CCHA or create a new league or join Hockey East. Everyone had a theory, though nothing was public. Eventually, Atlantic Hockey sat down as a collective unit and dedicated itself to the league in terms of infrastructure, scholarships, investment, etc. Everything looked inward. It's created an incredibly compelling and competitive league that's unquestionably an indication of "growth," as I've pointed out plenty today.
The only other thing I'll mention is a personal fear. If this sets a precedent where league teams can meet and break away from its members, I don't know if that creates a future warning that it could happen to another program that's part of the breakaway. I have no proof to back up that it might happen, but there's always that potentially-slippery slope. Just worth mentioning, if nothing else.
Like you, I'm totally fine with change and support anything that makes college hockey more competitive in the long run, but I want the scenario to include everyone. I love the game itself, and anything that we can do to save players, coaches and opportunities at a time of unprecedented success? Maybe I'm idealistic, but that's what I want – and I think we can do it.