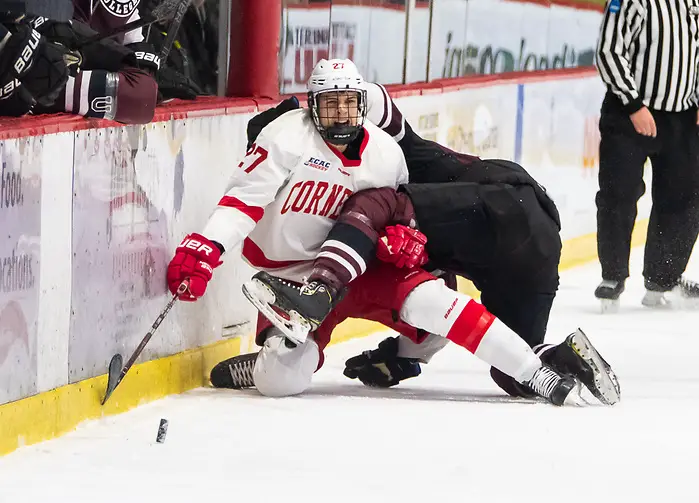 Understandably, Morgan Barron had a few butterflies in his stomach before getting on the ice with NHL superstars Sidney Crosby, Nathan MacKinnon and Brad Marchand at home in Halifax, Nova Scotia, over the summer.
"I expected it to be a little worse than it was in terms of me being nervous," said Barron, the leading scorer on a 6-0 Cornell team that looks like it could be headed for big things this season.
"They are all super-nice guys and approachable, so that makes it a lot easier. You're just trying to stay out of their way as much as you can. Once I got out there and started skating, hockey is hockey no matter who you are playing against or training with. I felt pretty good once things got rolling."
Barron is definitely rolling right now with 12 points (six goals and six assists) in six games for the unbeaten Big Red. His average of two points per game is second only to Providence's Jack Dugan (2.16 per game) and puts him on the early list of Hobey Baker Award contenders.
The 6-foot-3, 217-pound junior left wing has a future in the pro game. He was selected in the sixth round of the NHL Draft by the New York Rangers in 2017.
Barron, 20, has watched as a former Ivy League opponent, Harvard defenseman Adam Fox, has gotten off to a good start in the NHL with the Rangers.
"Obviously, between me and him there's a lot of fundamental differences in the way we play and our positions. The main thing is that it's reassuring to see those guys go on and have success,'' Barron said. "He's looked pretty comfortable just based on the way he plays the game and I'm sure he's exceeded everyone else's expectations, so it's pretty cool."
Barron is not the only member of his family who is an NHL prospect.
His 18-year-old brother, Justin, is in his third season with the QMJHL's Halifax Mooseheads and is a potential first-round pick in the 2020 NHL Draft.
"He's a real good player and a real smart kid on and off the ice. It's been a little different from my experience, playing major junior, but it's been fun to watch him and support him along the way. I think he's going to be a great player no matter which team ends up taking him," said Barron, who is one of Cornell's captains.
The Big Red opened their season with a pair of road wins against Michigan State and haven't looked back. They've outscored opponents, 29-10, thanks in part to the nation's best power play, which is converting at 42.3 percent.
The explosive offense might be a surprise to some college hockey observers given Cornell's longstanding reputation as a defensive team. Barron praises coach Mike Schafer's approach.
"Right from the second I got here, he's done a good job of putting an emphasis on defense first but understanding that we want to and need to score goals to win games. It's been great for me to develop my defensive side of the game as well as my offensive side,'' said Barron. "He lets us play free-minded and make plays and score. It's awesome."
Cornell is heading into a difficult stretch that includes games against Quinnipiac at home on Friday, Boston University at Madison Square Garden on Nov. 30, and at Harvard (also currently undefeated at 5-0) on Dec. 6.
"We're put ourselves in a good position. The last (five) games before Christmas break are going to be pretty tough. We're gearing up and trying to keep that going," said Barron.
Aces on the draw
In junior Jack Badini and sophomore Jack Drury, Harvard has a faceoff duo that few opponents can match.
Badini was 258-133 on draws last season for a win rate of 66 percent, second-best in the nation behind Jake Paganelli of Princeton (44-19, 69.8 percent).
Drury was 371-266 for 58.2 percent, 19th in the NCAA.
Through five games this season, Badini is 41-32 (56.1 percent) and Drury is 57-43 (57 percent).
"Playing hockey growing up, my teams liked to run a lot of faceoff plays, so if you can't win the faceoff, you can't run the play," said Badini.
The Crimson take a team approach.
"There's definitely a healthy competition (with Drury), but we both want each other to win as many draws as we can because, obviously, that's a big part of helping the team win, having possession of the puck. All the guys in the locker room will bounce ideas off each other and, as the game progresses, talk about what's working and what's not," said Badini.
"Both those guys put a lot of work in and take a lot of pride in it," added Harvard coach Ted Donato. "It ends up being a one-on-one battle, ultimately. They do a great job. With a lead late in the game, to have guys that can win their share of faceoffs is very helpful."
Wires crossed on PP
Colgate's power-play futility continued last weekend.
After scoring their first goal of the season while on the man advantage against RIT on Oct. 5, the Raiders have whiffed on their last 43 power plays. Their PP success rate is 2.3 percent, last in the country.
Last season Colgate's power play was fifth-worst at 13.1 percent.
The last time a team finished with a PP under 10 percent was Brown, 7.6 percent in 2016-17.
Bravo, Brosseau
Earn your undergrad degree in three years? Check.
Help your team to two straight trips to the NCAA tournament? All set.
Assistant captain as a sophomore, co-captain as a junior, captain as a senior? Done, done and done.
Devin Brosseau has accomplished a lot at Clarkson already and he continues to add to his resume with each weekend's games.
Last Saturday, he piled up four assists against Colgate, leaving him with 17 points in 10 games this season and an even 100 points in three-plus seasons for the Golden Knights.
Brosseau was selected as the ECAC Hockey Student-Athlete of the Year Award for 2018-19 and received his bachelor's degree in financial information analysis last spring. He could have gone to another school and played another season, as other players have done recently, but chose to continue at Clarkson as a grad student.
"We've got someone special there," said Clarkson coach Casey Jones. "He's invested in Clarkson, invested in the community. It speaks volumes for what he thinks of our culture and our program here."