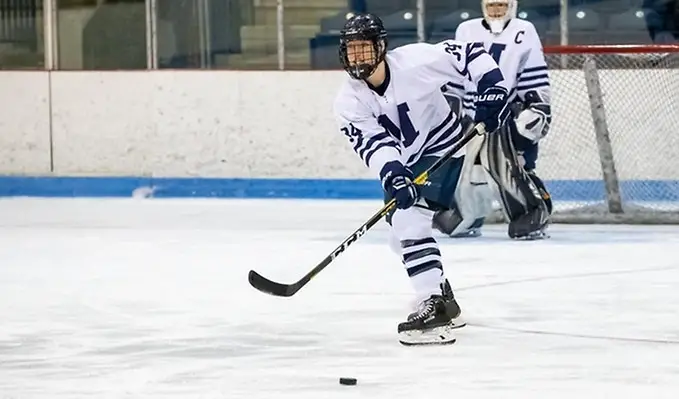 If you are a fan of women's D-III hockey, there is really only one place your attention is this weekend, as Middlebury hosts the Panther/Classic, a preeminent tournament that this year, in addition to the host (and current eighth-ranked team in the country), also boasts No. 1 Plattsburgh, No. 2 Adrian, and No. 7 Wisconsin-River Falls. The tournament rotates between Plattsburgh and Middlebury as hosts, and Plattsburgh is the defending champion, as well as the winner of six of the last seven titles.
Only four games into their season (due to NESCAC rules) Middlebury is gearing up for perhaps its biggest weekend of the year with less game experience than the other three teams in the tournament, but coach Bill Mandigo says that's not something he or the team focuses on.
"It is what it is," he said emphatically. "The NESCAC rules are what the NESCAC rules are. There's no whining. Nobody here is saying anything about it. I don't think we're at any disadvantage. I think that we're excited to play. We're excited to have these teams come to Vermont, and we're excited to be able to play some of the best teams in the country."
Middlebury is off to a 3-0-1 start after a tie and win over division rival Amherst last weekend. Mandigo is happy with the performance of his young team so far.
"I think we're off to a pretty good start. They're working hard. It's a good group. They're very young. We only have three seniors, but I think they're doing a good job showing the young kids the way. And like I said, they're working hard. They're a nice group, and they're fun to be around."
Mandigo, now in his 32nd year coaching at Middlebury, is the winningest coach in all women's college hockey, with a 580-155-46 record (.772). The team is currently led in scoring by sophomore Jenna Letterie and junior Madie Leidt.
"In a lot of ways, they are great leaders," said Mandigo of Letterie and Leidt. "They both work really well together. They complement one another, and they seem to know where to go to be in the right spots at the right times. They work really hard, but they're also extremely intelligent, and I think the hockey-sense piece is really important."
While Middlebury is getting a lot of offense from its depth, no one player is lighting the stats board on fire yet. What has the team off to a good start is defense. Middlebury is first in the country on defense, and is a perfect 12-for-12 on the penalty kill. That defense starts with senior Anna Zumwinkle, who provides a steady presence.
"It's good to have senior leadership with the defense," said Mandigo. "She's been right in the thick of things since her freshman year. She's a stalwart for us defensively. She kills penalties. She's out there in the important situations, and she's also on the power play. She's got a great shot. And she's so positive. She's a great leader with the younger kids. She's positive, she's energetic, and she does everything she can to help the younger ones become better players."
That strong defense is also notable because unlike many other coaches, Mandigo platoons his goalies. So far, junior Anna Goldstein and senior Lin Han have each played two games. The two also split time in net last season.
"I think we've got two really good goalies and they work with each other and support each other and can help each other," said Mandigo. "We've always done this. Since I've been here, when we've had two good goalies we've always played them. It's just been our philosophy, for a variety of reasons. I think both of our goalies are very good, and both come from very strong programs, Lin from Mississauga and Anna from Edina High School, where she won a state championship in Minnesota.
"You start from the goal out, defensively anyway. You want to have good goalies that you can count on but also that the players are comfortable with and the players have confidence in. I think our players are very confident with both of these young ladies because of the way that they approach the game and the way they approach practice and how they compete in practice. I think that's a bonus when you've got it."
Getting back to this weekend's tournament, Middlebury opens with Adrian, a team that is currently undefeated and boasts the top scorer in women's D-III in Nicole Guagliardo, a transfer who previously played at D-I programs Mercyhurst and Lindenwood. Guagliardo has 15 points in just seven games for the undefeated Bulldogs, who have six players averaging a point or more per game. The Bulldogs will be a stout test for the Middlebury defense, but Mandigo said his players are excited for the challenge.
"We're excited to host this tournament. It's always great to have the real good teams come to Vermont to play. We know that Adrian is very good. Plattsburgh is the number one team, Adrian's number two, and River Falls, I think they are seven. We know that we've got our work cut out for us and that our kids are going to have to play their best to be in the game with these teams."