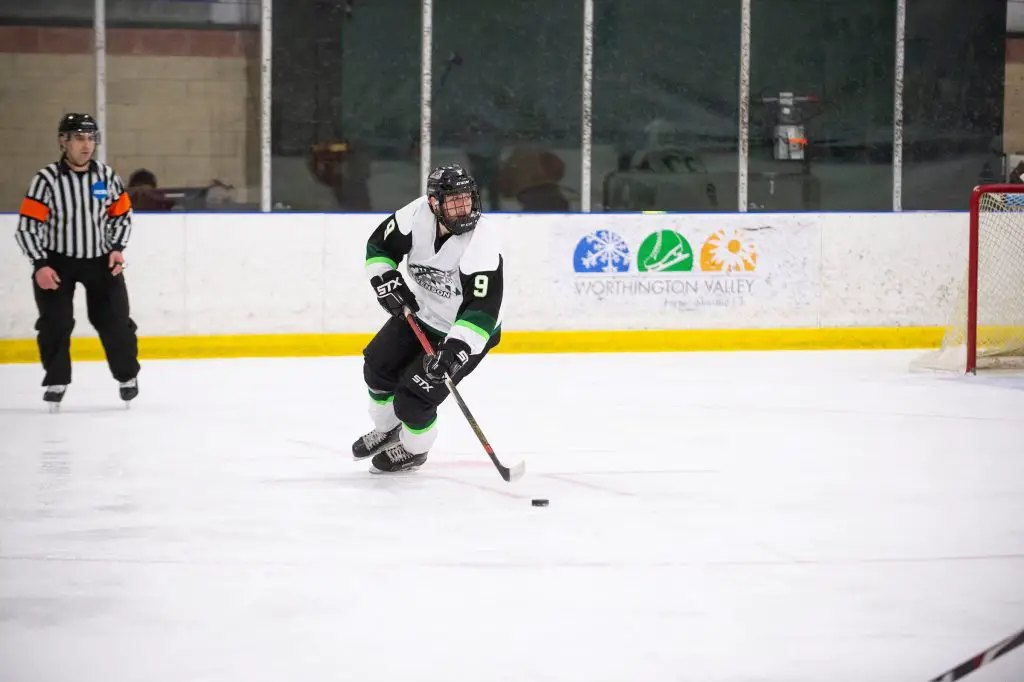 The Stevenson College Mustangs finished last season with a disappointing 10-15-0 overall record and finished 7-11-0 in UCHC play just one season removed from competing near the top of the league standings. So far this season the team is 7-1-0 overall and 4-1-0 in the league and benefiting from "hitting the reset button" after last year's unsatisfactory results.
"We just knew that last season was not where we wanted to be as a team," stated head coach Dominick Dawes. "We had some key injuries to some forwards that impacted us not only on the ice, but I think also in the locker room and we just couldn't overcome that as a group. So, we all hit the reset button after last year and committed to be better overall as a team. I give the boys in the room all the credit that they have put in the work to get us off to a good start this season."
The 7-1-0 record includes some quality wins over perennial powers and NCAA tournament participants like Manhattanville and last Weekend, St. Norbert. The home win over the Green Knights was an important win for the team in building momentum in the first half but also benchmarking where the program would like to be competing regularly against pedigreed D-III programs.
"We have played St. Norbert's a couple of times now," said Dawes. "It is important as a still young program that we play teams like St. Norbert and Geneseo, so our kids know what it takes to compete with the elite programs at the D-III level. Those teams are perennially competing for their conference championship and on the national stage in March. We want to evolve into one of those teams. I thought it showed a lot of character for team to rally from a 3-1 deficit against St. Norbert last weekend and earn a very exciting 6-5 win."
One of the key differences in the reset Mustangs has been the offensive productivity exhibited by the team early in the season. They have scored five or more goals five times already this season and are a +125 in shots versus their opponents in their first eight games. Forwards Dominic Brenza and Ryan Patrick already have 13 points ion the season and five different players have scored four goals or more on the young season.
"There is a big difference in the productivity from last year to this year," noted Dawes. "Certainly, being healthy and having some of our key skill guys back in the line-up that we have missed since last Thanksgiving is a key element in the offense. We also have seen the benefit of the hard work in the off-season with some of the younger guys who had to step up into more playing time and situational play due to injuries last season which has improved our depth and balance in the line-up. Last year we outshot many opponents by big margins but were losing a lot of one-goal games. This season the pucks seem to be going in the net with the continued outshooting opponents and that has helped us with our confidence in winning hockey games."
This weekend the Mustangs close out their first half with a pair of important UCHC opponents at home. Friday night they host perennial favorite Utica fresh off their winning their own Thanksgiving tournament and close out before the break with a tough Nazareth squad.
"It's a big weekend but we can only focus on Friday and a tough Utica team coming in here," stated Dawes. "We would like to carry our momentum from last week and know how important points are in this league since always gets tight in the race for playoff positions and standings. It would be great to close out the first half on our home ice with more points, but we are focused on Friday and getting ready for another one of those quality teams that we want to show we can compete with and win."
Stevenson currently sits tied for second in the conference standings behind Wilkes and just two points ahead of Utica and three points ahead of Nazareth, this week's opponents.